Rapidly setting up a research project in times of Covid: The experience of 'Livelihood impacts of Coping with Covid-19 in rural Africa' (CwC)
Rapidly setting up a research project in times of Covid: The experience of 'Livelihood impacts of Coping with Covid-19 in rural Africa' (CwC)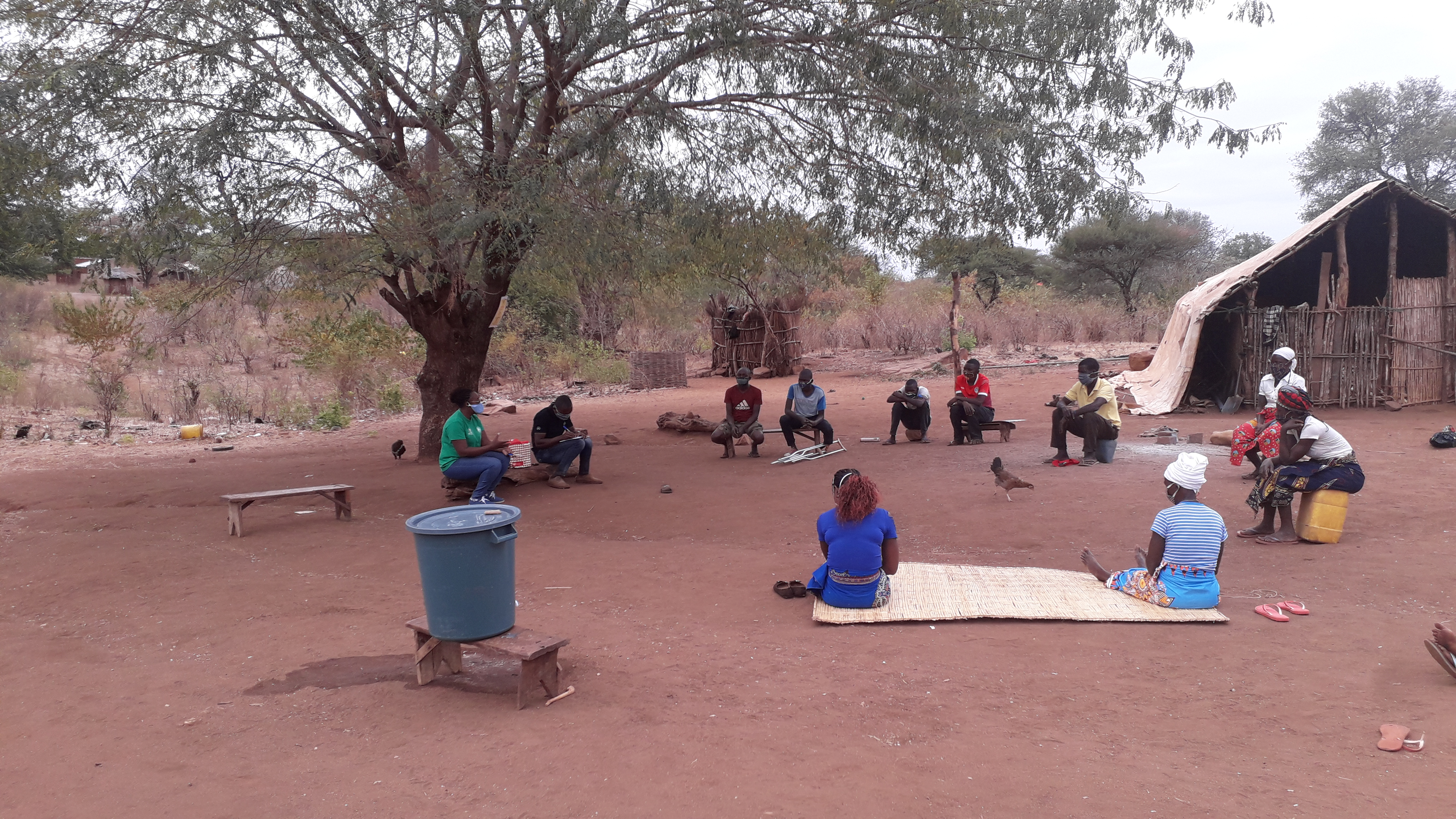 Socially distanced village meeting to set up the CwC project in central Mozambique. Photo: A. Kingman, MICAIA
Reposted from the blog at SIID
By the CwC team.
A group of researchers from the Universities of Edinburgh (Scotland), Sheffield and Manchester (UK) and the Universidade Eduardo Mondlane(Mozambique) as well as the MICAIA foundation collaborated on a successful bid for 3.5 months' worth of funding to work on 'Livelihood impacts of coping with Covid-19 in rural Africa'. The main objective of the project is to assess the impacts of the COVID pandemic in rural households and to evaluate how rural communities are coping with the associated lockdown.
But how exactly do you ensure in these distanced times that the collaboration and particularly, the interaction, with research participants is ethically and methodologically sound? Here, we reflect on some important principles in building our joint project.
Build on longstanding partnerships
In April, funding from the UK Government's Global Challenges Research Fund was designated by the University of Edinburgh to be spent on Covid-related research in the Global South before the end of July 2020. The short deadline for both submission and funding necessitated building on longstanding partnerships and study sites with which researchers already had a deep familiarity.
Dr Casey Ryan (University of Edinburgh), principal investigator of the project, used longstanding links with the Universidade Eduardo Mondlane (Maputo, Mozambique) on research projects around charcoal (ACES, REFORMA) to bring in the expertise of Prof Luis Artur, Prof Natasha Ribeiro and Jone Fernando Jr (UEM). He also liaised with Prof Dan Brockington, University of Sheffield, and the UK/Mozambique MICAIA Foundation led by Dr Milagre Nuvunga and Andrew Kingman, who equally are longstanding collaborators.
Together with post-docs Dr Rose Pritchard, University of Manchester, and Dr Judith Krauss, University of Sheffield, who also have long collaborated with different parts of the team, a bid was assembled centred on co-creating research questions among this group of research partners. In times of Covid, a key focus was prioritising the voices of research partners and creating research benefits for research participants.
Collaborative distance-working for co-production and co-benefits
In some senses, Covid has not changed much for this research collaboration, while in other senses, it has changed everything.
Any research collaboration involving colleagues in a multitude of locations will have to rely on distance-working practices, including coordination meetings via video-conferencing and iterative consultation by e-mail. In that sense, there is not much different here: coordination takes place through a weekly check-in call, iterative documents including methodological plans, interview questions and sampling tables are shared with colleagues by e-mail or through online platforms. So far, so "normal".
In another sense, the Covid-19 pandemic has accentuated the need to make collaborations more equitable. Collaborators on this project strive to work in equitable, equal research partnerships that reject any notion of 'Direction being contributed by the Global North, Data by the Global South'. This stance is all the more important when looking into the on-the-ground consequences of a pandemic unprecedented in recent history.
Similarly, as the project does not involve any travel and shared presence between colleagues, it requires more trust in each other's working practices. Physical distance, Covid-related logistical challenges, and heightened caring responsibilities also necessitate being more sensitive to each others' workloads and challenges, which can be more difficult to gauge remotely. Again, the long-standing collaborations are a basis for making this work.
Finally, there are ways in which Covid has changed everything.
For one, it is a key part of the project's focus, looking at how coping with Covid is impacting livelihoods in rural Africa. Travel restrictions, shop closures, as well as restrictions on movement are affecting livelihoods. As further restrictions around Covid-19 may be enforced as the disease spreads, there is a need to analyse how the disease and responses to it have already, and will in the future, affect what may already be precarious livelihoods.
Secondly, the research project was designed to involve as little inter-person contact as possible, given an ethical imperative not to increase infection risks in settings with poor health care. While necessary, this minimisation of inter-personal contact,  raises a number of ethical, methodological and practical challenges: they include obtaining informed consent from panel members for regular phone interviews, distributing phones, all the while trying yo involve vulnerable groups, who may not be very familiar with phones. We will report on these challenges, and how we continually revisit our current arrangements as the situation changes, in coming weeks.
Throughout the early stages of establishing this project, two other principles have been key:
Engage in open, fruitful discussions on logistical, ethical and methodological challenges with contributions from all involved
Try and accept error especially in fast-moving situations, such as this pandemic
In short, if there is something worth underlining at this beginning point of the project, building long-term partnerships and horizontal relationships always pays off, especially to respond to unexpected events in a multitude of places and engaging multiple actors.
In these difficult times, we feel it has been, and will be, a privilege to learn from each other and from our research participants through this project.
EM PORTUGUÊS
Como desenvolver um projecto de pesquisa em tempos de Covid? A experiencia do 'impacto do Covid 19 sobre os meios de subsistência das zonas ruais africanas' (CwC)
Universidades de EdinburghSheffieldManchesterUniversidade Eduardo MondlaneFundação MICAIAimpactos do Covid-19 sobre os meios de subsistência nas zonas rurais de Africa'
Contudo, como se pode garantir, nestes tempos de distanciamento, que a colaboração e interação com os participantes da pesquisa é eticamente e metodologicamente adequada? Aqui nos reflectirmos sobre alguns princípios importantes na construção do nosso projecto conjunto.
Construindo sobre parcerias duradouras
O financiamento do Fundo Global para os Desafios de Pesquisa (Global Challenges Research Fund) do Governo do Reino Unido foi designado pela Universidade de Edinburgh para ser usado em pesquisas relacionadas com o Covid no Hemisfério Sul até Julho de 2020. Os curtos prazos tanto para a submissão assim como para o financiamento necessitavam da construção de parcerias duradouras e áreas de estudo com as quais os pesquisadores já estão familiarizados.
Dr Casey Ryan (Universidade de Edinburgh), investigador principal do projecto, usou contactos antigos com a Universidade Eduardo Mondlane (Maputo, Moçambique) ligados a projectos de pesquisa sobre carvão vegetal (ACES, REFORMA) para convidar os especialistas Prof Luís Artur, Prof Natacha Ribeiro e o Eng Jone Fernando Jr (UEM). Ele também coordenou com o Prof Dan Brockington (Universidade de Sheffield) assim como com o Dr Milagre Nuvunga e Andrew Kingman, responsáveis pela parceria Reino Unido e Moçambique denominada Fundação MICAIA, para que fizessem parte da rede de pesquisa.
Juntamente com a Pos-Dra Rose Pritchard, da Universidade de Manchester e a Dra Judith Krauss, da Universidade de Sheffield, que também já tem colaborado há muito tempo em diferentes partes da rede de pesquisa, foi feito um esforço conjunto com vista a criação coordenada das questões de pesquisa com este grupo de parceiros de pesquisa. Em tempos de Covid, um foco chave foi a priorização das vozes dos parceiros de pesquisa e a criação de benefícios de pesquisa para os seus participantes.
Trabalho colaborativo a distancia para coprodução e beneficiamento mútuo
De certo modo, Covid não mudou muito esta colaboração de pesquisa, no entanto mudou tudo.
Qualquer colaboração de pesquisa envolvendo colegas em uma multiplicidade de lugares dentro e entre países vai ter de depender das práticas de trabalho a distancia incluído encontros coordenados por meios de videoconferências e consultas interactivas por e-mail. Nesse sentido, não há muita mudança para este projecto: a coordenação tem lugar, por exemplo, por meio de chamadas semanais, documentos interactivos incluído os primeiros passos metodológicos, questões de entrevistas e tabelas de amostragem são partilhadas com colegas por e-mail ou por meio de plataformas online. Até então tudo esta "normal", apesar dos desafios da variação da conexão de Internet nos diferentes lugares.
Num outro sentido, Covid tem acentuado a necessidade de tornar a colaboração mais equitativa. Os colaboradores deste projecto têm-se esforçado para trabalhar de forma equitativa e com igualdade de parcerias de pesquisa que até rejeitam qualquer noção de 'Direcção que é a contribuição do hemisfério Norte (Global Norte), dados providenciados pelo Hemisfério Sul (Global South) '. Este sentido é ainda mais importante quando se olha para as consequências da pandemia no terreno, que é sem precedentes na história recente.
Similarmente, visto que o projecto não envolve nenhuma viagem e nem reunião presencial dos colegas dos Hemisférios Norte e Sul, há uma maior necessidade de confiança entre as práticas de trabalho de cada um. O distanciamento físico, os desafios da logística relacionados com o Covid e as acrescidas responsabilidades de cuidados também necessitam que se seja mais sensível aos desafios e tarefas de cada um, que podem ser mais difíceis estimar mesmo que de forma remota. De realçar que as colaborações duradouras são a base para fazer este projecto funcionar.
Finalmente, há formas pelas quais o Covid mudou tudo.
Pesquisar como é que os mecanismos de fazer face ao Covid está a impactar sobre os meios de vida nas zonas rurais de Africa, é uma parte chave do foco deste projecto. As restrições de viagens, compras limitadas e restrições no movimento estão a afectar os meios de subsistência. Uma vez que as restrições relacionadas ao Covid-19 ainda podem ser reforçadas a medida que a doença se espalha, há uma necessidade de analisar como a doença e a resposta adoptada contra ela afetam e ainda vão afectar, os já precários meios de subsistência.
Em segundo lugar, o projecto de pesquisa foi desenhado para envolver o mínimo possível contacto interpessoal dado ao imperativo ético de não aumentar o risco de infecção ao desafiar as recomendações dos cuidados de saúde. Apesar de necessária, esta minimização do contacto interpessoal, levanta, em terceiro lugar, um conjunto de desafios éticos e metodológicos: que incluem a obtenção de consentimento informado dos membros do painel para entrevistas telefónicas contínuas, a distribuição de celulares, assim como o envolvimento efectivo de grupos vulneráveis que podem não estar familiarizados com o uso de celulares. Nós vamos repórter estes desafios, e como nós continuamente revisitamos a nossa organização actual a medida em que a situação vai mudando, a cada semana.
Desde as fases iniciais do estabelecimento do projecto, dois outros princípios tem sido chave:
Engajamento aberto, discussões frutuosas sobre logística, desafios éticos e metodológicos com contribuições de todos os envolvidos
Tentar e aceitar erros especialmente num ambiente em movimento rápido como esta pandemia
Em suma, se há algo que vale a pena sublinhar neste ponto inicial do projecto, é que contruir parcerias de longo termo e parcerias horizontais sempre trazem benefícios, especialmente em resposta a inesperados eventos numa diversidade de locais e engajando de actores múltiplos.
Nestes tempos difíceis, sentimos que tem sido, e será, um privilégio aprender um com o outro bem como a partir dos participantes da pesquisa durante a vigência do projecto.
(CDC/ Alissa Eckert, MS; Dan Higgins, MAM / Public domain)
Share