The Royal society pairing scheme: my week in Westminster
The Royal society pairing scheme: my week in Westminster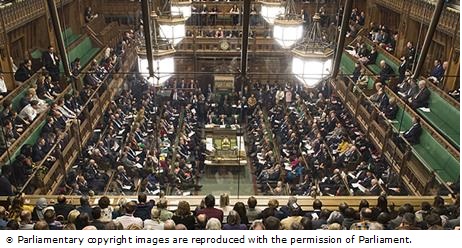 Science intersects many problems tackled by policy-makers and governments. As a scientist, it can be all too easy to get caught up in the world of academia, but the truth is that for our research to make a real difference, we need to be engaging with policymakers. The Royal Society's Pairing Scheme 'gives policymakers and research scientists an opportunity to experience each other's worlds', a four-day scheme in Westminster that really does give you a glimpse into the world of politics and policymaking.
I was delighted to be selected to take part in the Royal Society Pairing Scheme. As a health data scientist, I am interested in how scientific evidence is used by policymakers to inform strategy and policy development related to health. In particular, my research examines socioeconomic and genetic effects on oral, general and mental health. I am therefore interested in how the research I am involved with is used by parliamentarians to make policy decisions which affect public health.
This year, 28 scientists from academia and industry took part and were paired with 13 civil servants, 13 members of parliament (MPs) and two members of the House of Lords. I shadowed MP Carol Monaghan, who sits on the House of Commons Science and Technology Select Committee.
Day 1. Introductions
Day one of the scheme started with a tour of the Palace of Westminster. The meeting place of the House of Commons and the House of Lords, the two houses of the Parliament of the United Kingdom. I had not realised, before this experience, that anyone can arrive at the Palace of Westminster and ask for a tour. It is something that I would highly recommend.
The afternoon of day one consisted of a series of talks on how parliament works and how research can inform policy. We were then asked to come up with a question to the Commons Science and Technology committee. I lead a discussion and presented our case to Bill Hartnett (Director of Communications at Royal Society) on whether digital self-sovereignty needs to be reclaimed for the British public.
The first day was rounded off with a reception "Science: Thinking globally, delivering locally" with talks from Norman Lamb MP; Chair of the Commons Science and Technology Committee, Chi Onwurah MP, Shadow Minister for Industrial Strategy Science and Innovation and Professor Brian Foster, Vice President of the Royal Society. It was incredibly inspiring to hear such influential people from the worlds of science and politics speak with such passion on the role of science in policymaking. I was also privileged to be able to discuss my research, and the importance of integrating oral and overall health with Lord Fox (Liberal Democrat Lords Spokesperson for Business, Energy and Industrial Strategy) and MP Chi Onwurah. I further discussed my research and its potential impact on public health with Norman Lamb MP who invited me to submit my case to the Commons Science and Technology Select Committee (published).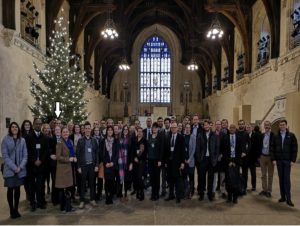 Royal Society 2018 Pairing Scheme participants at the Palace of Westminster.
Day 2. Observing how evidence is gathered and evaluated in policymaking  
On day two of my visit, I got to see first-hand how evidence is gathered and used by policymakers to shape their decision making.
In the morning I attended the first evidence session on the Science and Technology Committee Digital Government inquiry. The witnesses included Tom Loosemore, former Deputy Director of GDS, Tom Dafydd Vaughan, a former Digital Architect at GDS, who raised concerns that progress and momentum of Digital Government in the UK is not as fast as other countries. You can view the transcript of that evidence session here.
In the afternoon I attended a Health and Social Care Committee oral evidence session on the likely impact of the Brexit withdrawal agreement on the sector. The witnesses included Rt Hon Matt Hancock MP, Secretary of State for Health and Social Care, Simon Stevens, Chief Executive, NHS England, Sir Chris Wormald, Permanent Secretary, Department of Health and Social Care, Ian Dalton, Chief Executive, NHS Improvement, and  Professor Tamara Hervey, Jean Monnet Professor of European Union Law, University of Sheffield, Mark Dayan, Policy and Public Affairs Analyst, Nuffield Trust, and Nick Fahy, Senior Researcher, University of Oxford Medical Sciences who presented evidence on the likely impact of the withdrawal agreement on health and social care workforces that rely considerably on staff who are EU nationals; the impact on future trading relationships, which could affect the affordability and supply of drugs and other products. You can view the transcript of that evidence session here.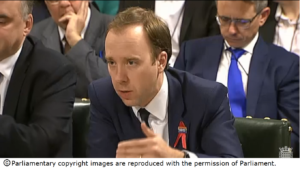 Rt Hon Matt Hancock MP being questioned during the oral evidence session on the likely impact of the withdrawal agreement on the health and social care sector.
Day 3. Shadowing MP Carol Monaghan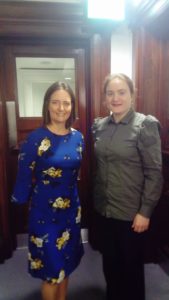 MP Carol Monaghan pictured with me inside 53 Parliament Street.
On day three I was fortunate to be shadowing MP Carol Monaghan for many of her daily engagements at the House of Commons.  From this, I learned how MP's can support scientists in their work by asking parliamentary questions, organising events for lobbying, and by engaging with learned societies and charities. Carol is one of two members of the Science and Technology committee with a science background. We discussed whether there should be more policymakers with science backgrounds within the government. We also discussed our common interests in methodological rigor in research. Carol has led the campaign in the UK Parliament to change attitudes towards Myalgic Encephalomyelitis (ME), leading two landmark debates on the research and treatment on the condition (see video) and on the controversial PACE trial (see video).  I also had the opportunity to share my health data research with Carol, and to explain how it can be used to improve people's lives. Carol also invited me to attend Prime Minister's Questions.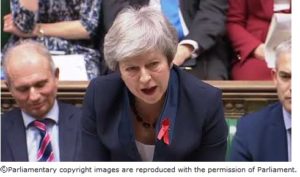 Prime Minister Theresa May answering MPs questions on the 28 November 2018.
In the afternoon, all participants on the scheme met back for a Mock Select Committee to discuss whether the UK should have an Office of Scientific Responsibility. Where we as a group, posed questions too expert panel of witnesses including Lord Patel (Chair of the Lords Science and Technology Committee), Dr. Sarah Main, Clair Mathys, and Dr. Grant Hill-Cawthorne. The discussion and questions were themed around, how do we know when scientific evidence is true, particularly when two different scientists may come to different conclusions.
Day 4. Government Office for Science
The final sessions focused on the Government Office for Science and covered a wide range of issues including R&D investment and private sector leverage, open access, transparency of evidence, citizen science and collaboration between science and the arts. Dr. Alan Pitt (Government Office for Science, Deputy Director) led a discussion on how scientists can engage more with the government.  Finally, the day was concluded with a Q&A session from Sir Patrick Vallance (Government Chief Scientific Adviser) who said 'we don't frame enough of science around tackling problems'.
Take home message from my week in Westminster
You are an expert in your field. Established evidence in your field, may be useful to policymakers, particularly if it relates to public health.
Call to action
My time in Westminster was an invaluable experience. It was highly informative and empowering. I have taken away a fresh perspective on how research findings can help inform the creation, scrutiny, and revision of policy, as well as a better understanding of how researchers can get involved in the process. Speaking to MP Monaghan and other MPs and civil servants has made me realise that politicians want to learn from us. We need to get involved and help them in their decision making.  I am the first person from my institute to take part in the Pairing Scheme. This experience has broken barriers to mutual benefit. We need to be proactive and make sure that our MPs know about the research we are doing, and how it can be used to improve people's lives. We must invite local MPs to our labs, to explain what research is going on in their constituency. I highly recommend the scheme to anyone interested in science policy.
Thank you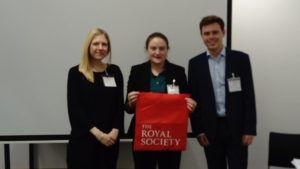 Becky Purvis and Joe Edwards from the Royal Society pictured with me inside the Department for Business, Energy and Industrial Strategy Conference Centre, 1 Victoria Street.
It really was a privilege to take part in this year's scheme.  The scheme has undoubtedly improved my knowledge of the wider political stage on which research evidence is considered in policymaking. The combination of the events hosted by the Royal Society and the experience of being paired with MP Monaghan provided me with an invaluable opportunity and a newfound appreciation of how science is used by policymakers. Taking part in the scheme has also helped me understand how I as a scientist can produce evidence in a way that is responsive to prevailing public issues and accessible to policymakers. I offer my sincere thanks to everyone that made this experience possible, particularly Joe Edwards (Public Affairs Adviser) and Becky Purvis (Head of Public Affairs) from the Royal Society. Carol Monaghan MP who show me how MP's can support scientists in their research. Finally, to everyone who was on the scheme who made my time in Westminster so memorable. The scheme ends with a reciprocal visit from our Parliamentary partner, so I am looking forward to welcoming MP Carol Monagh to our lab.  I hope that I can offer insight into how scientific research is designed, conducted and disseminated. I would have no hesitation in recommending the Royal Society Pairing Scheme to any scientists with a desire to learn more about how science and their research is used by parliamentarians and civil servants.