Reading Time:
3
minutes
---
Programme of Study and Year: Cognitive Science (Informatics), Year 2
Hobbies: Reading and going to the cinema
Intern Position: Digital Safety Support Intern
Fun fact about your internship: I post funny gifs on Teams every morning when I check in to work. Or, at least I think they're very funny!
Describe your role in 4 words:  Online security awareness/education
---
What I did
I found out about this internship through an advertisement sent to the undergraduate mailing list for my school – this particular position immediately caught my eye because it seemed relevant to my interdisciplinary degree, a version of Cognitive Science that focuses on computer science and philosophy.
My role is quite complex and not entirely what I expected it to be, but it has been very interesting and rewarding. For example, I took a fair bit of time looking over and suggesting improvements for the Digital Safety web hub, and making promotional materials for awareness campaigns. These tasks involve writing and editing various articles for mostly student audiences, plus plenty of image editing using platforms like Canva, all of which can be very interesting if you have a penchant for creativity.
I've also spent a lot of time working on how we can improve outreach with international student communities. Being familiar with the Chinese student community in Edinburgh, I really enjoyed sharing my experiences and learning about the administrative side of things at the University. It's also fun being that one friend with insider information about how everything works at the University.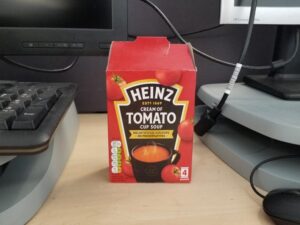 A bit more about what I did
Something cool that I've done on the job is running a focus group study to gain student insight on the effectiveness of our digital safety resources, and how we can enhance our promotion strategies. This involved getting together a room of six other ISG interns and having a carefully managed hour-and-a-half-long conversation with them. The idea of facilitating a session like this seemed terrifying to me at the time, but it went smoothly with meticulous planning and the help of my manager. Meeting my fellow interns and having a structured but casual discussion with them was an enjoyable experience. I never thought I'd say this, but I'm more than willing to do it again.
My manager and I also went on a quest to discover how we can put digital safety messaging on platforms popular with international students. We were met with various challenges throughout but found a working solution in the end, so all is well. What made this interesting was that I got a first-hand look at the University's operational procedures with a focus on technological considerations. This is precisely what I signed up for when I accepted the job offer, and quite relevant to the fields I would like to pursue in the future.
My bosses are amazing and really made the experience for me
Working at the ISG has been pretty great and there are a lot of benefits: working times can be reasonably flexible and I get the most fantastic view of Arthur's Seat straight from the spot in Argyle House where I eat lunch. But my time here would not have been nearly as enjoyable as it is without my excellent managers, Vicki and Satu. So props to them, and thank you for reading this post. Also, as I couldn't end this post without dishing out some digital safety advice, don't forget to use complex passwords and enable multi-factor authentication!