Reading Time:
2
minutes
---
Programme of Study and Year: 3rd year Architecture
Hobbies: Painting, drawing, design
Internship: Design System and Web Platform Media Intern
Fun fact about your internship experience: When it's really sunny, I can open my window to tan from my desk whilst working at home.
Describe your role in 4 words: Designing things for people.
---
The ideal internship!
Through completing my own self-directed portfolio work this semester, I discovered that I was really interested in user interface design. I spent many hours looking through internships with anything to do with interface design. Despite the long job title, the role I applied for included everything I hoped to learn in this field.
I work with the design system team who are focused on developing and maintaining a 'design system', a collection of standardised website components and assets to be used throughout Edinburgh university digital platforms. I have created digital assets such as website buttons and grids. I have also been tasked with creating some explainer videos to help university staff understand what the design system is and how it can help them.
Gaining some first-hand experience in a field I hope to work in after university has felt incredibly valuable to me. Seeing my contributions to the design system actually being used on the university website has also felt rewarding.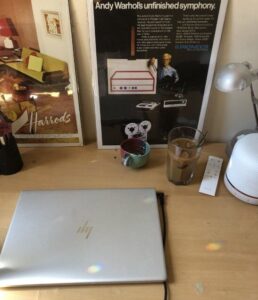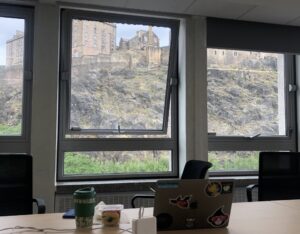 Soaking up the summer sun whilst working
I am working in a hybrid style so have enjoyed experiencing both the office and home working environments. Working in argyle house has offered fantastic views all over Edinburgh – working next to an incredible view of the Edinburgh castle has made the architecture student inside of me so happy! Working from home has also been a great experience. Moving into a new flat with south facing windows has allowed me to really soak up the summer sun whilst working. My new sun-catcher also fills my desk space with lots of colourful rainbows – an amazing work environment!
My internship has offered an amazing insight into what working a 9-5 truly entails. I have gained so much knowledge in not only web design, but in how to work alongside other professionals who have truly enhanced my experience whilst working for ISG.
I hope to apply the skills I have gained so far in my future career post-university, and I am excited to continue gaining valuable experience in my role.