Reading Time:
3
minutes
---
Programme of Study and Year: Sociology, going into fourth year
Hobbies: I love reading and exploring all the bookshops in Edinburgh
Intern Position: Recruitment Intern
Fun Fact: I cried after the interview I never thought I was going to get the role!
Describe your role in 4 words: Exciting, Fun, creative , different
---
The Internship so far
I found out about this internship when I was looking on MyCareer Hub for experiences over the summer. I had applied for some of the Employ.ed Internships and some internships which were external to the university. However, I saw this internship and it was exactly what I had been looking for, so I had to apply! My role is very diverse, whilst the main part of my role is to aid the recruitment process as we hire student workers for various roles within ISG, I have also been responsible for hosting events to create a community amongst our workers. Every day is different, you never know what kind of queries you will get each day, and I really enjoy being able to interact with my fellow interns to gain feedback on the events and what they would like to see during their internships.
I have really enjoyed learning more about the recruitment process and how it works within the university specifically. This is a sector which I had been interested in going into after university, so it has been great to learn more and see if I like it! However, I must say that I have really enjoyed the creative aspect of my role, creating posters for the Student Intern Lunch and creating posts on Canva for our Instagram page.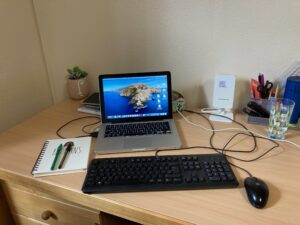 Becoming a social media guru!
Part of my role has been to create an Instagram account for the Unitemps Edinburgh branch as many students on campus don't know who we are! I found this interesting when I started because where I am from Unitemps is very well-known as a lot of universities in the Midlands have Unitemps branches, we were even told to apply for jobs through Unitemps before we had even started university.
It has been a lot of fun being creative on Canva, creating so many different backgrounds and getting feedback from the team when we are in the office. This was also very new to me, I had never created Instagram posts on Canva before so it was so much fun being able to play around with all of the different features! There is definitely still a lot to learn about running a social media account, but I am really enjoying the process.
I was also able to help plan the welcome lunch for the interns, whilst this was stressful at first trying to get the catering sorted it was a really rewarding process, seeing everyone interacting and enjoying the event made it all worth it! I have learnt so much during this internship and not just about the job either, during the lunch I heard about all the items which have been donated to the university over the years such as a sword – the blade was made from a Swordfish's nose!
I am so grateful for this opportunity; I can't wait to plan more events for the student workers and work on the Instagram account! I feel as though I have really fit in with the team and I hope that all of the other interns are having as good of an experience as I am!