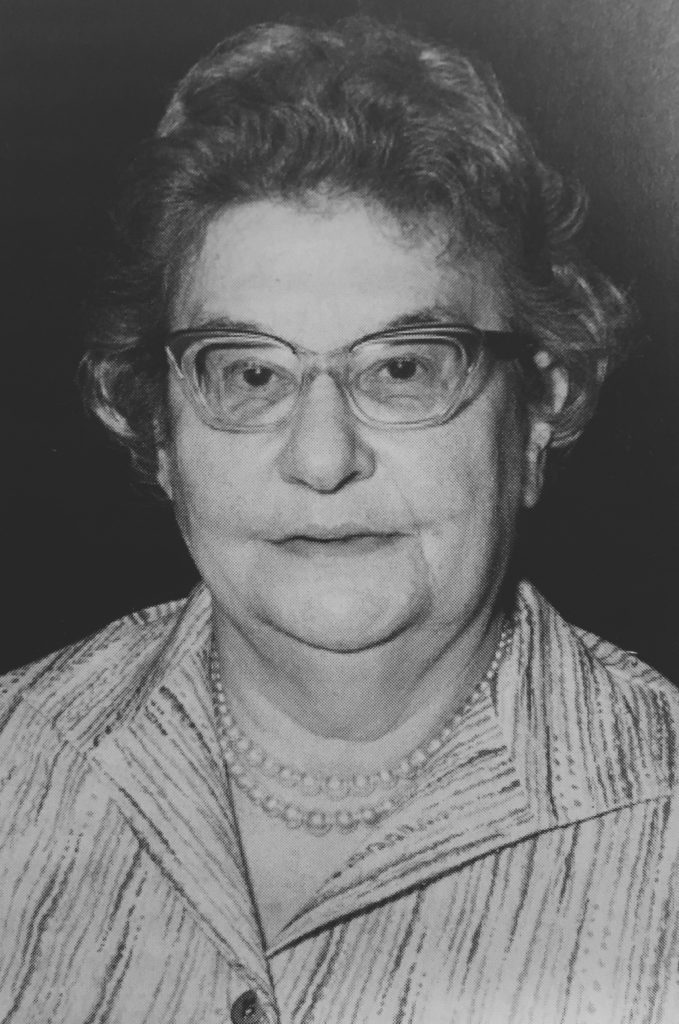 Born in Vienna on 18th February 1919, Annie Altschul spent her formative years in Austria before moving to England in the wake of Hitler's invasion of Austria in 1938. Years later, recalling her departure from her home country, Annie wrote in the Journal of Mental Health Nursing:
 As a socialist with Jewish background, it was really rather urgent that I leave.
Leaving the place where she grew up proved initially difficult for Annie, who began her life in London working as a nanny to try to improve her English. Yet, as Annie herself often put it, 'having confidence in people facilitates success,' and, thanks to her positive attitude, she soon became a proficient speaker and a well-respected member of her new community.
Then, with the official start of the war in Britain, Annie decided to enrol for training as a nurse, a decision that would change her life forever. After beginning her education as a general nurse in a voluntary hospital in Ealing, London, Annie promptly moved on to become a staff nurse at the Mill Hill Hospital, which, after the end of the war, was returned to its original grounds at Mauldsley Hospital, a renowned psychiatric centre. At Mill Hill first, and Maudsley then, Annie's interest for psychiatric nursing was sparked, an interest that would last a lifetime.
Indeed, soon after the end of the war, alongside her duties as a nurse and her part-time position as a mother's help to the Parfit's family –a job that led Annie to a lifelong friendship with Jessie Parfit–, Annie started taking evening classes at Birkbeck College, classes that eventually resulted in a degree in Psychology.
It was exactly the combination of nursing and psychiatric services that won Annie, in 1964, a one-year, WHO-funded post at the University of Edinburgh. Having proved herself an invaluable asset for the University, at the expiration of her one-year post, Annie was invited to become a full-time member of staff in the relatively new department of Nursing Studies. There, Annie was able to reach the position of senior lecturer in just a handful of years, before becoming the University's second ever Professor of Nursing and Chair of Nursing Studies in 1976.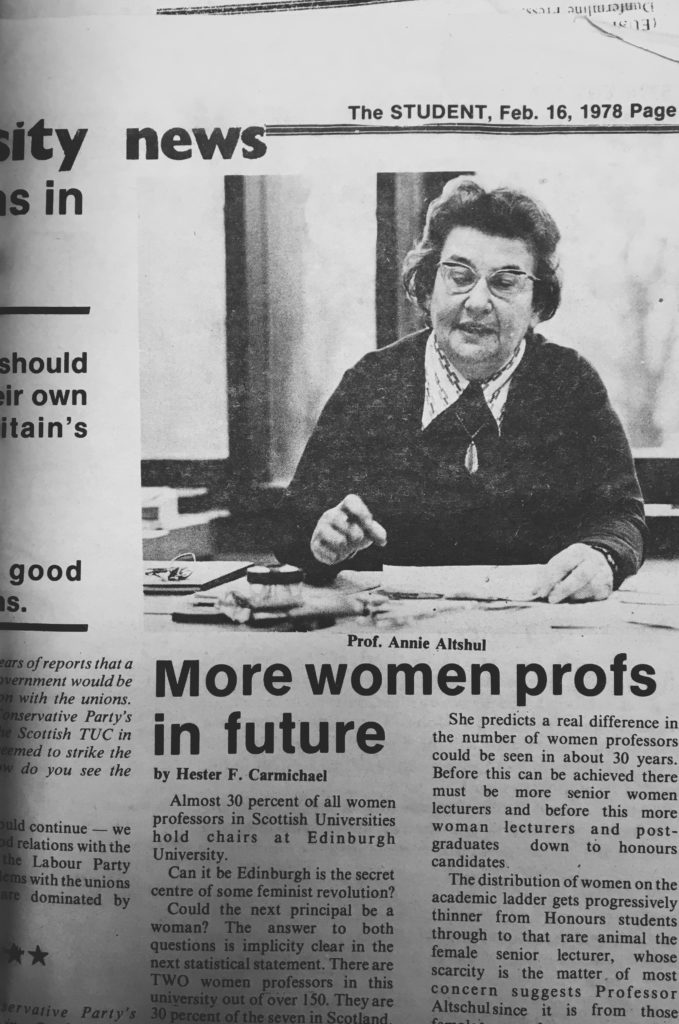 During her tenure, Professor Altschul oversaw the introduction of master's courses in nursing administration, nursing education, and health education. In 1978, she was awarded a Fellowship by the Royal College of Nursing,
In recognition of the contribution […] made to the advancement of the science and art of nursing, in particular […] psychiatric nursing.
Of her work at the intersection of nurses education and psychiatric nurses, Professor Altschul said,
In some kind of a way, I represent something of a unified nursing profession; but only in some sort of a way. And in other sort of ways I feel I have a great deal more in common with some other professions who care about the mentally ill […] than I have with certain kinds of general nurses.
In 1983, following an illustrious career, Professor Altschul decided to retire from the University of Edinburgh in order to
leave the way clear for a younger woman, who by dint of youth will be "full of ideas."
Upon her retirement, Professor Altschul was awarded the title of Emeritus Professor, as well as a CBE in recognition of her services to mental health nursing.
Of her attitude toward patient care in psychiatric nursing, Professor Altschul wrote in 1999:
At some point I came to the conclusion that what a schizophrenic person is saying makes sense to them, and my business is to try to understand it. They code messages differently from the way other people code them, rather like some forms of painting or music. And if I don't understand the meaning, that's my fault.
It was this attitude, as well as her expertise and knowledge of the nursing profession that rendered Professor Altschul a pillar of the nursing community:
She project the modest, down-to-earth, honest, practical, straight-talking, genial, humorous, self-effacing, challenging and, all too often, irreverent characteristics that many nurses believe lie at the human heart of psychiatric nursing.