Reading Time:
4
minutes
My first blog was due to happen soon, so I might as well start with something I love
My friends ask me why I don't start documenting my food experiments and restaurant visits in a food blog (they are probably tired of me steering all conversations towards food and consider it would be more worthwhile to focus my energy into a constructive avenue). My work colleagues suggest I blog as a tool of reflecting on my work experience and potentially providing a start for my CMALT portfolio (hopefully more on that in another post). So I'm going to try to combine these topics, into a 'food I had at work' blog. Well, sort of…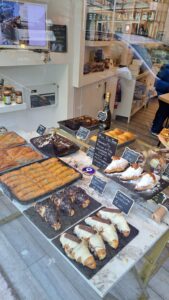 Every time I come into the Argyle House office I feel tempted by the myriad of lovely shops around the Grassmarket area: ice-cream from Mary's Milk Bar, cake from Tasty Buns, coffee from the Source, spanakopita from the Greek Artisan Pastries are just a handful of my favourites that come to mind. Yesterday I added a new discovery to that list: the relatively recently opened Slice of Greece, on Morrison Street. As I waltzed into the shop, my eyes were instantly drawn to the mastic desserts in the display. The one I chose was a Galaktompoureko, a mastic flavoured custard filled phyllo pastry pie. Why, you are asking, among all the chocolate covered croissants, baklavas and mousse pots?
Mastic, or mastiha, happens to be one of my favourite flavours in the world! Sadly, I don't come across it as often as I'd like to, especially in the UK, it is an underdog. In all the GBBO seasons I've watched (admittedly, not all, so somebody PLEASE correct me if I'm wrong) I've only seen it used once in season 12 when George made brandy snaps filled with an orange blossom and mastic creme pat, and mentioned once on their recipe page (https://thegreatbritishbakeoff.co.uk/recipes/all/paul-hollywood-flaounas/).
But what exactly is mastic?

Mastic is the resin extracted from the Pistacia lentiscus aka the Chios mastic tree, a little shrub like tree. The resin is 'revealed' by cutting into the tree bark, which releases the 'tears' of resin. These harden and are then collected and cleaned.  It is used as a flavouring in lots of deserts (list) as well as in mastica, an alcoholic sweet liqueur similar to ouzo, and in cosmetic products due to its nice smell and supposed medicinal benefits. It is also the earliest known form of chewing gum: the Ancient Greeks aptly named the resin after the word mastikhan, "to gnash the teeth", which through a long linguistic journey via Latin and Old French also reached English: "to masticate, to chew".
Mastichochoria, the mastic villages in the south of the island, are the main (and only constant) producers of mastic in the world. There are small groves in the Çeşme peninsula in Turkey, and the Japanese tried importing and growing the trees but the unique soil and climate of Chios made planting the trees elsewhere an impossible task.
The taste is very unique and hard to describe. It always takes me a while to come up with an answer when someone asks me to describe it, and I always wish I had a piece of gum to hand them, as it would make the process a lot easier. I'd say it tastes 'resin-y' (what a surprise!) herbally and pine-y. It is definitely an aquired taste. So far I've only used it in a Maraş style ice-cream and flavoured custard.
A bit of a (his)story*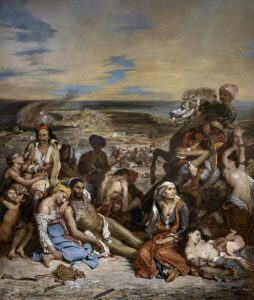 To me, mastic is a taste of summer holidays in Turkey (I know, Greek people please be patient). My dad would always have a packet of mastic chewing gum in his car, and it would the first thing I tasted upon my arrival in Turkey. However, it was not until this summer that I visited the 'home' of mastic- the island of Chios. The 5th biggest Greek island, it is located only 3.5 miles (5.5 km) from the Turkish coast. And as the location suggests, it has a very turbulent history.
Archaeological research on Chios has found evidence of habitation as early as the Neolithic era, and the island has gone through the hands of multiple occupiers: Persians, Greeks, Romans, Byzantine, Genoese, Ottoman and eventually back to the Greek, after the First Balkan War in 1912. All of which left an imprint on the island. There is still quite a bit of animosity between the Greek and the Turkish people of the island, one of the most interesting examples being the removal and re-addition of the replica of Eugene Delacroix's "The Massacre of Chios" from the Byzantine museum on Chios (incidentally, the museum is located in the old mosque). In 2009, a copy of the painting was displayed in the museum, swiftly withdrawn a few months later in a "good faith initiative" for the improvement of Greek-Turkish relations. However, the Greeks protested its removal, leading to the copy being brought back on display.
So here it is, a blog about the food I had at work, turned travel blog, turned love declaration to mastic.
Oh, and please give Slice of Greece a try. I did lie a bit at the start, I also got a couple of mousse pots because I couldn't resist them – the black forest and the caramel ones. Also, the next day I returned for a (huge) slice of baklava, it had to be tested! I can now also confirm they do one of the best baklavas I've had in Edinburgh- laden with syrup, walnuts and cinnamon, and not overly sweet, which was a nice surprise.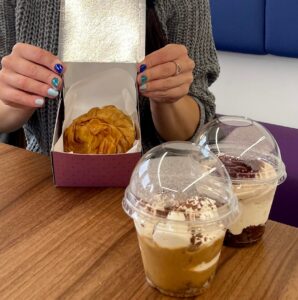 *historic facts borrowed from https://en.wikipedia.org/wiki/Chios
Share