The previous 'CRITICAL: Cultural Heritage Risk and Impact Tools for Integrated and Collaborative Learning' (CRITICAL Phase 1) project explored heritage impacts from disasters and climate change in Indonesia, South Africa, and Sri Lanka (01/09/2020- 30/06/2022).
We are excited to share the news that we successfully secured funds to share the research outcomes and deliver adaptation actions. CRITICAL Phase 2 is divided into two projects by different funding sources: 1) CRITICAL Food heritage as a tool for adaptation: Climate change resilience through hybrid indigenous knowledge systems in South Africa (CRITICAL Food) funded by Arts and Humanities Research Council (AHRC) and 2) CRITICAL Nature: Indigenous knowledge systems for climate change solutions in Sri Lanka and Indonesia funded by UKRI ODA Impact & Development Fund.
Who is part of the team?
CRITICAL phase 2 continues collaborative research with research teams in South Africa, Sri Lanka, Indonesia and Scotland, applying Participatory Action Research (PAR) with local communities.
The team at the University of Edinburgh include Dr Kate Crowley (PI), Prof Marisa Wilson (Co-PI) and Dr YoungHwa Cha. In South Africa, research delivers a heritage garden in Elandskloof's community-owned orchard led by Prof Siona O'Connell and Dr Dominque Wnuczek-Lobaczewski with community leaders and youth climate champions. In Sri Lanka, Dr Dulma Karunarathna is working on IKS mapping around the Mee Tree (tree of the life), restoring inherited naturally sourced crafting and knowledge to harvest, produce and use Mee tree products. Finally, in Indonesia, Dr Arry Retnowati and Esti Anantasari are developing community tools to learn and share the locally-led sustainable development and climate change adaptation across communities around river code.
What are we going to do?
We aim to assist in building resilient places and communities that fit into the community of interests through co-develop communicative tools and locally-led actions.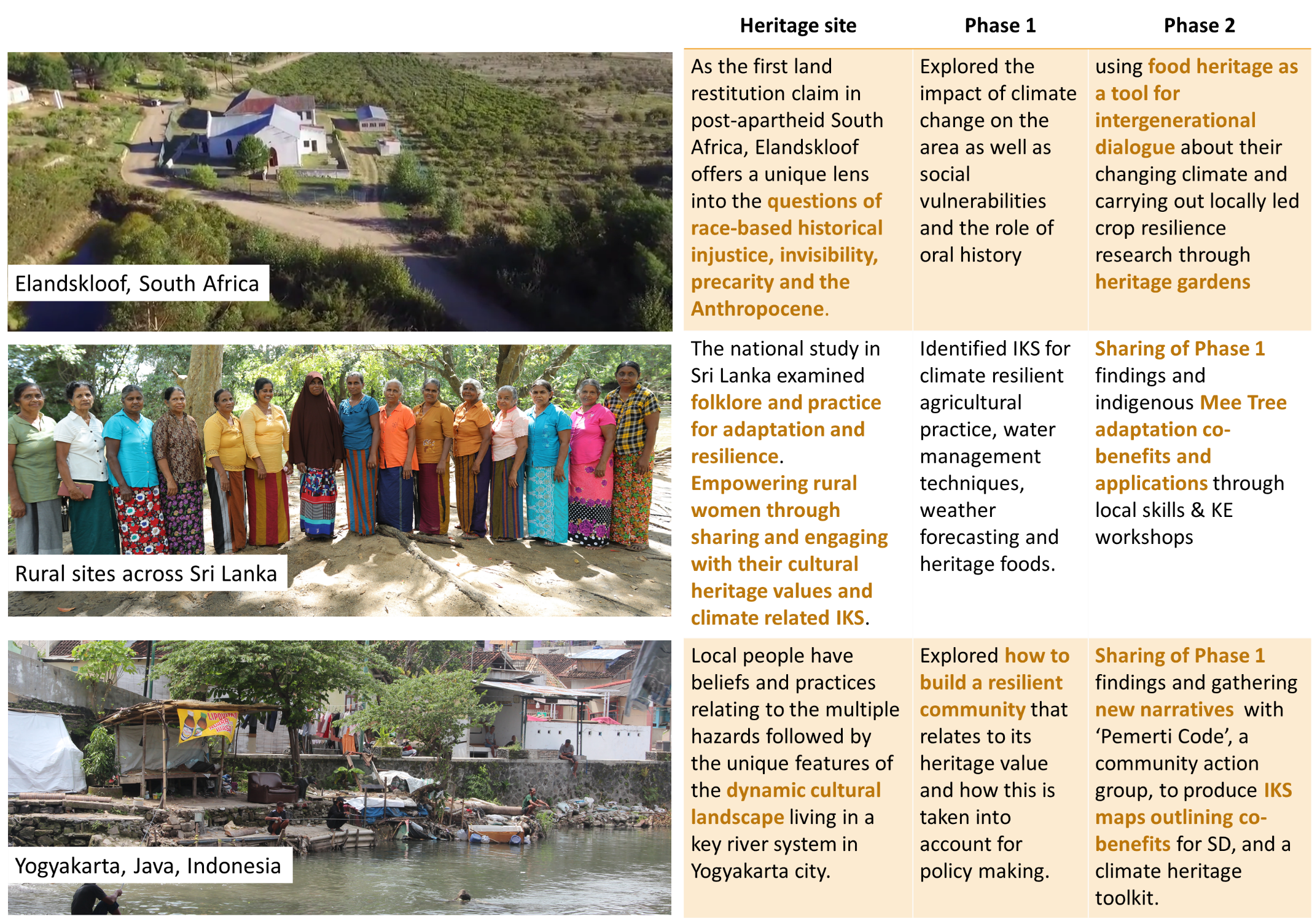 What is the focus of the CRITICAL Phase 2?
The project CRITICAL Food (01/10/2022-31/09/2023) focuses on the marginalised and isolated Elandskloof settlement to strengthen cultural memory and climate resilience through food heritage. This site was identified as extremely vulnerable due to its turbulent and violent history of forced removals, loss of cultural memory, and rapidly changing climate. We apply alternative framing, 'thinking differently' about heritage, not as a vulnerable or static asset to be preserved but as a tool for adaptive capacity. This alternative framing for heritage enables us to explore and address the root causes of social vulnerability to disasters, as well as strengthen local and cross-boundary indigenous knowledge systems (IKS).
CRITICAL Nature (01/10/2022-31/03/2023) is working in partnership to extend the original CRITICAL project impact at the regional and local level in both Sri Lanka and Indonesia through local language community toolkits, Indigenous knowledge exchange workshops and regional targeted policy briefs outlining the role of heritage as a tool for adaptation and mitigation.
You can check key outcomes of CRITICAL Phase 1 here:
ArcGIS StoryMaps:
Access the full online course materials: Re-thinking Cultural Heritage and Climate Change Adaptation course
Policy Brief: "Issue 3. Heritage is a dynamic tool for climate change adaptation and resilience building" in the policy report "

Cultural heritage in the context of disasters and climate change. Insights from the DCMS-AHRC Cultural Heritage and Climate Change Cohort

" available to download

HERE

(DOI:

10.48785/100/107

). 

 
Academic Paper: Crowley, K., et al. (2022) Cultural Heritage and Risk Assessments: Gaps, challenges and future research directions for the inclusion of heritage within climate change adaptation and disaster management, Journal of Climate Resilience and Sustainability.(DOI: 1002/cli2.45).
Watch this space for updates, resources and ideas!