Hosting Online Events 3: Ensuring Accessibility, Data and Recordings, Post-Event Actions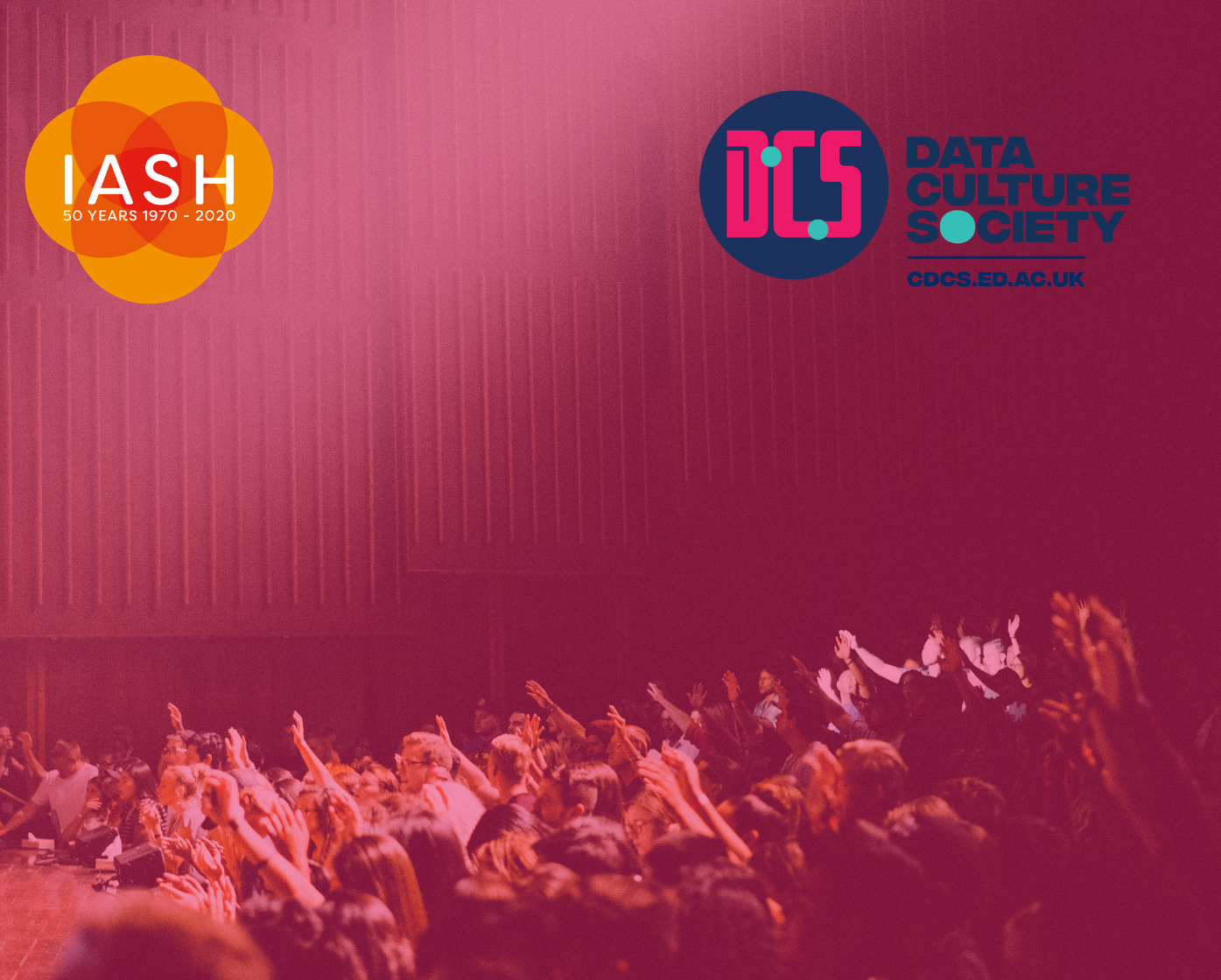 This is the third of a series of posts providing details about how we approach hosting online events.  They contain material presented at knowledge-sharing events hosted by CDCS and the Institute for Advanced Studies in the Humanities (IASH), and have been written collaboratively with our IASH colleague, Dr Ben Fletcher-Watson.
The other posts in the series are:
1: Our Experience, Platforms and Challenges
Beyond the event itself, virtual platforms offer a wealth of additional options, from high-quality recordings to live auto-transcription. Online events can be markedly more accessible than IRL events, but meticulous planning is needed to ensure that the correct options are made available.
Accessibility
Virtual events allow people to attend who may otherwise be unable to participate, whether because of disability, affordability or geographical location. Attendance figures for many events over the past year have gone up enormously as venues and universities pivot to digital delivery. However, it's unwise to assume that simply offering a Zoom link is enough to make people feel welcome and comfortable.
Always ask your attendees in advance "do you have any access requirements?" – this should be done at registration (Eventbrite offers options for people to note down their preferences, for example), again in confirmation emails and again during opening remarks/housekeeping. Having an assistant who can be responsible for ensuring that access requirements are logged and acted upon will make the planning much easier.
It may not be possible to accommodate everyone's access needs – e.g. providing a BSL interpreter is expensive and requires a degree of planning in advance, although it is feasible if you budget for access from the start. But many accessibility options are cheap or even free.
You can support neurodiverse communication preferences by allowing interaction in a variety of formats, rather than requiring attendees to respond verbally; the Chat and Q&A functions in Zoom are familiar to most people by now, but you could also gather questions by using a hashtag on Twitter. You may need to ensure that an assistant is on hand to monitor all these channels and pass on questions to the chair. It's also important to allow people time to process what they have heard, for example by sharing slides in advance if speakers are willing, or having a pre-prepared question from the chair to get the ball rolling.
Captioning and subtitles make spoken-word events much more accessible. Zoom Webinars has an option for professional captioners to transcribe speech live, but also offers a reasonably accurate auto-transcription service, using AI speech recognition. For speakers who use Powerpoint during their presentations, Microsoft Office now has high-quality live subtitling, although this requires users to share their screen, rather than uploading slides to a server. For pre-recorded talks, this live subtitling is excellent, and should become the default.
Zoom and Teams recordings can be auto-transcribed after the event, making your recording more accessible when placed on YouTube or Vimeo. This can also be uploaded separately as a transcript.
Here are some links to find out more:
Auto transcription in Zoom recordings
A useful general guide to accessibility in online events from autism research charity Autistica
To encourage a welcoming atmosphere for LGBTQI+ audiences, we suggest that you ask attendees, especially speakers, to put gender pronouns in their usernames, e.g. John Smith (he/him). This can be done in User Preferences within Zoom. It is harder to change usernames in Teams, as the names are managed by IS, but you can add text to an image using Photoshop or other image-editing software, and then display it as your background, like this: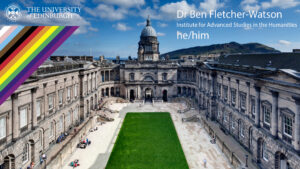 Data and Recordings
Making a recording of your event available afterwards is a great way to increase the reach of your activities, especially for people who are unable to attend at the time. Again, careful planning is vital to ensure you adhere to data protection regulations, copyright restrictions and other issues.
At the planning stage, you should decide on and advertise in advance the timescale for availability of any recordings you produce. Perhaps a period of only a week is appropriate, or perhaps you would like to keep the recording online permanently – the timescale will depend on your speakers, your audience and your topic.
There are a number of platforms to choose from:
YouTube is best for the general public. It's well-known, and offers useful extras like auto-subtitling, comments and password protection. YouTube can host low-quality or high-quality recordings, and is optimised for mobile viewing.
Vimeo is popular for password-protected or high-resolution recordings; it is similar to YouTube in terms of ease-of-use, but lacks some of the latest functionality. However, it is ad-free and supports several recording formats that YouTube does not, including 3G2, DIVX and DV. There is no time limit on Vimeo files.
Media Hopper Create is the University's media asset management system. It is recommended for videos intended only for internal use, as it is integrated with Learn and offers multiple privacy levels. Auto-subtitling is available on request. A variety of licensing options allow you to control how your media can be used.
Copyright is a key consideration when making recordings, especially for images and music. If you make a recording of an event publicly available, you will need to ensure that your speakers adhere to copyright guidelines of any media that they display on their slides – images ripped from Google may not be copyright-free, for example. Similarly, speakers may have concerns about their own content being copyrighted, and may prefer not to be recorded.
Waivers or a 'permission to record' document should be circulated to speakers in advance. These documents make clear their rights and responsibilities regarding copyright and recordings, and are a useful prompt to ensure they comply with the university's policies.
Lastly, it is imperative that you advertise to attendees in advance if a recording will be made. It is no longer acceptable simply to announce this just before the start of an event (although you should also do this as a reminder), because people may have specific reasons for not wishing to appear as part of a recording, or to have their attendance noted. A simple notification in the confirmation email allows attendees to plan ahead.
Post-Event Actions
Zoom stores attendee data and records chat, so this can be reviewed after the event. It can be interesting to see how long people have stayed, whether any section of the event had greater attendance than others  etc.  If you have used the poll function to gather data during the event, this can also be downloaded as a discrete data set.
Looking to the future, it is hard to imagine going back to the old-style ways of delivering in-person events. So much has been learned and audiences now expect much greater accessibility from university events.
Hybrid events (especially as we emerge from the pandemic) seem likely to be popular in the short- to medium-term. This could mean recorded sessions offered alongside live presentations, or livestreaming our sessions to online audiences. New technologies such as the Meeting Owl will make it easier to bring audiences together online and in real spaces simultaneously. As we reassess our travel plans in light of the university's environmental policies, flying to a conference on the other side of the world to give a 15-minute paper may now seem bizarre, and it will become much easier to involve scholars from the Global South who can now contribute digitally. Perhaps our travel budgets will now be redirected to support early career scholars and non-salaried / independent researchers. It's up to all of us to seek out and embrace new ways of disseminating knowledge, breaking down barriers to access, and welcoming those voices which have been ignored.
You might be interested in:
1: Our Experience, Platforms and Challenges
Share