Reading Time:
< 1
minute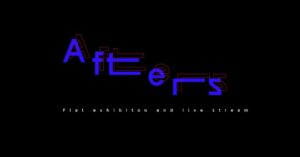 https://www.facebook.com/events/874219240039356
AFTERS is an experimental exhibition spanning a range of disciplines, broadcast straight from our flat to yours. With so much focus on the the future, we want to collapse the distances between making and exhibiting, now and what will be, what has come and what comes next. In the absence of studios and galleries, we would like to invite you to our spaces, share our works in progress and have some fun…
And so, we invite you to AFTERS.
We are four final year students sharing a flat and studying at the Edinburgh College of Art: Maria Wrang-Rasmussen, Miriam Craddock, Alliyah Enyo and Gabriel Levine Brislin. Our work covers a wide array of mediums and interests, yet throughout this confined and confused year we have collaborated on projects together and created within the spaces we share. AFTERS will showcase our individual work, as well as a livestream incorporating elements of all of our practices, followed by a DJ set with live-coded visuals.
The website will go live at 7:00PM on Friday 19th of February; the livestream will begin at 8:00PM in the living room.
We hope to see you all there!