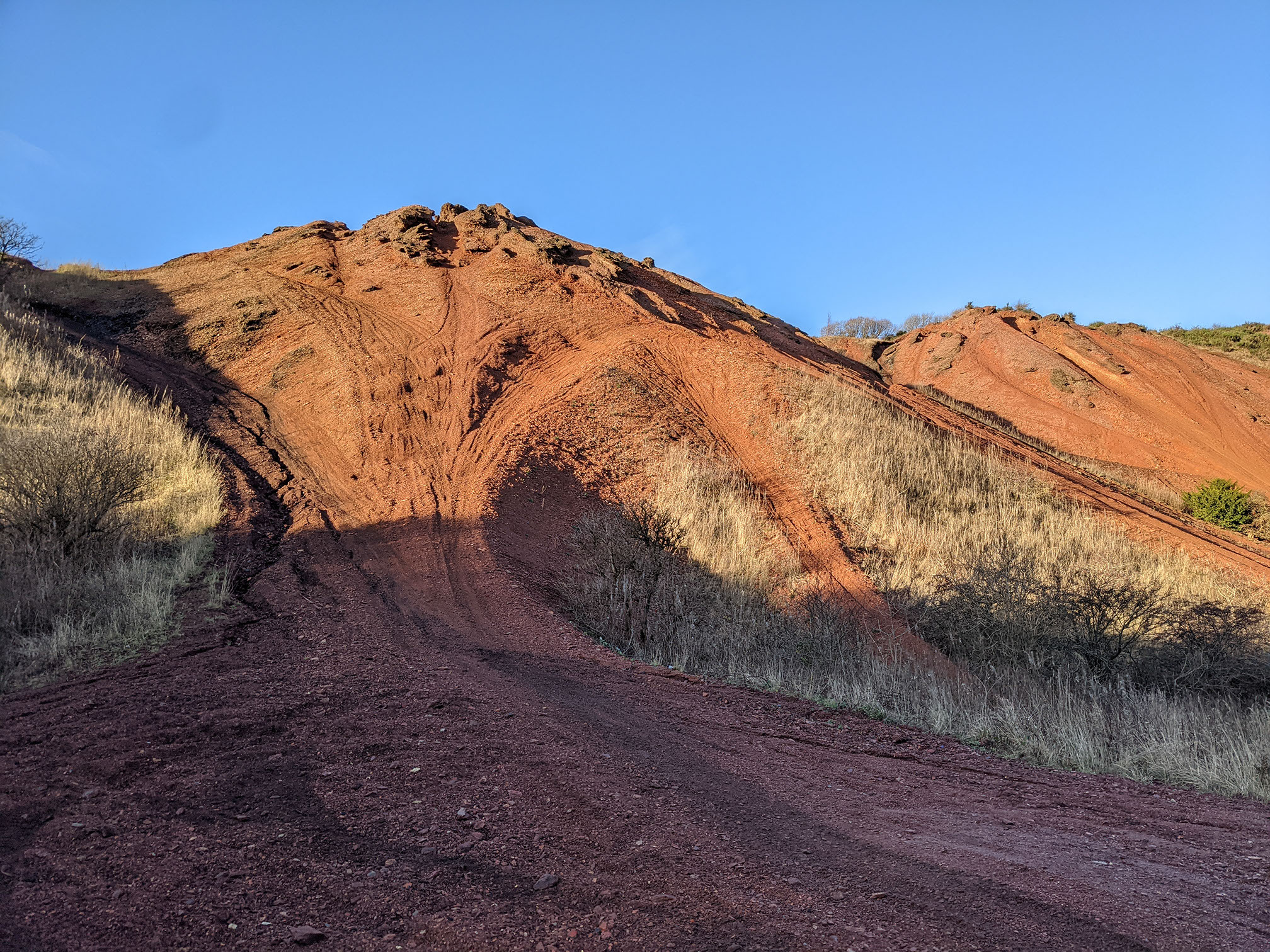 Oil Shale Bings, Broxburn and Winchburgh,
West Lothian
About the case study
In West Lothian around 19 monumental artifical hills remain scattered across the region as a remnant of the nineteenth and early twentieth century shale oil industry.
I am researching four of these heaps – known locally as bings – located approximately 9 km west of Edinburgh, between the town of Broxburn and village of Winchburgh. The four bings are: Greendykes, Albyn, Faucheldean, and Niddrie. These are selected because of they represent some fo the largest and best preserved waste landscape shere, with Greendykes one of olnly two protected bings in West Lothian (along with the Five Siters/Westwood Bing near Livingston). These are also selecte because of their role in the work of artist John Latham (below).
The bings rise up to 95m high and are formed of billoins of fragments of the waste shale (soemties called 'bales')  that were produced from the extraction of shale oil during the operation of the industry between the 1850s and 1962. The industry was kick-started through the innovations of James 'paraffin' Young who first exploited cannel coal for paraffin nearby at Bathgate (obtianing a patent for this in 1851), before turning his attention to the oil shale along with others. Many  more mines and works followed in his wake, and the industry is sometimes called the world's first commerically successful oil industry. Oil shale mining and refining survived here until 1962 though was ultimately outcompeted by cheaper, conventional  oil extraction in the Middle East and USA from the late nineteenteeh century onwards.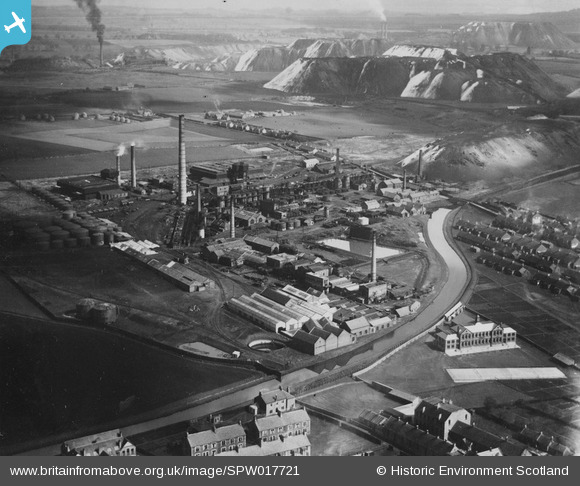 During the operations of the industry, oil shale rock (found in Carboniferous strata) was extracted from shafts and mines up to 450 m deep and was then brought to one of several nearby oil works operated by different companies. In these works, the shale rock was heated in retorts at temperatures of around 500 degres celsius to extract crude oil vapour that could then be condensed and further refined into useful oil fractions (the waste blaes being removed after heating and this evaporation was complete). The major product of the industry was paraffin (kerosene) for lighting, but other products included ammonium sulphate used in fertilisers, heabvy oil, machine and lubricating oils, sulphuric acid, and, later, petrol and detergents. For every gallon of oil produced it is said seven tons of waste blaes was generated. Major technological innovations in 'cracking' oil into these fractions – distilling different petrochemical products – were developed by the early industry and are seen as an important ancestor to today's modern hydrocarbon industry and thus, a crucial foundation of our contemporary civilisation. 
After the last oil works closed in 1962, the four bings I research here were proclaimed as a ready-made art work, and 'monuments to the period we live in' by John Latham in 1976 while working fo the UK government's Scottish Development Agency, in part, tasked with redvelopeing areas of former-industrial land). Latham argued that the Greendyles complex of bings resembled a massive prehistoric earthwork in the form of woman's body that he named 'Niddry Woman'. He said that the bings should not be regarded as 'eyesores' or simply mined for aggregate, but instead must be preserved as an important and globally significant testament to humanity's existence and endeavours.
Latham's intervention ultimately can be said to have influenced the protection of some of the bings as industrial heritage sites (although not as artworks). That said the bings remain mostly unknown outisde the local area and and are hard to access today.
The Research
The four bings here and the others across West Lothian  have variously been seen as waste, eyesores, raw material,  heritage sites (both natural and cultural) and indeed, as an artwork. My selection of the bings as a case study for the project aims to investigate these contested valuations and to examine, how as legacy of the shale oil industry, the bings both commemorate and exceed their origins.
Research has so far included archival investigations, map regeression, and on-site fieldwork. Extensive art historical research has also been undertaken into Latham's work and I have conducted interviews with artists and others who work with the bings today.
Findings
Research is ongoing but my work so far has revealed different aspects of how the bings are valued at different periods and how waste can indeed become seen as both monumental or simply disregarded and ignored.
Outputs
Elements of this research are published in a forthcoming chapter  in an edited Routledge volume entitled Toxic Heritage (out 2023).