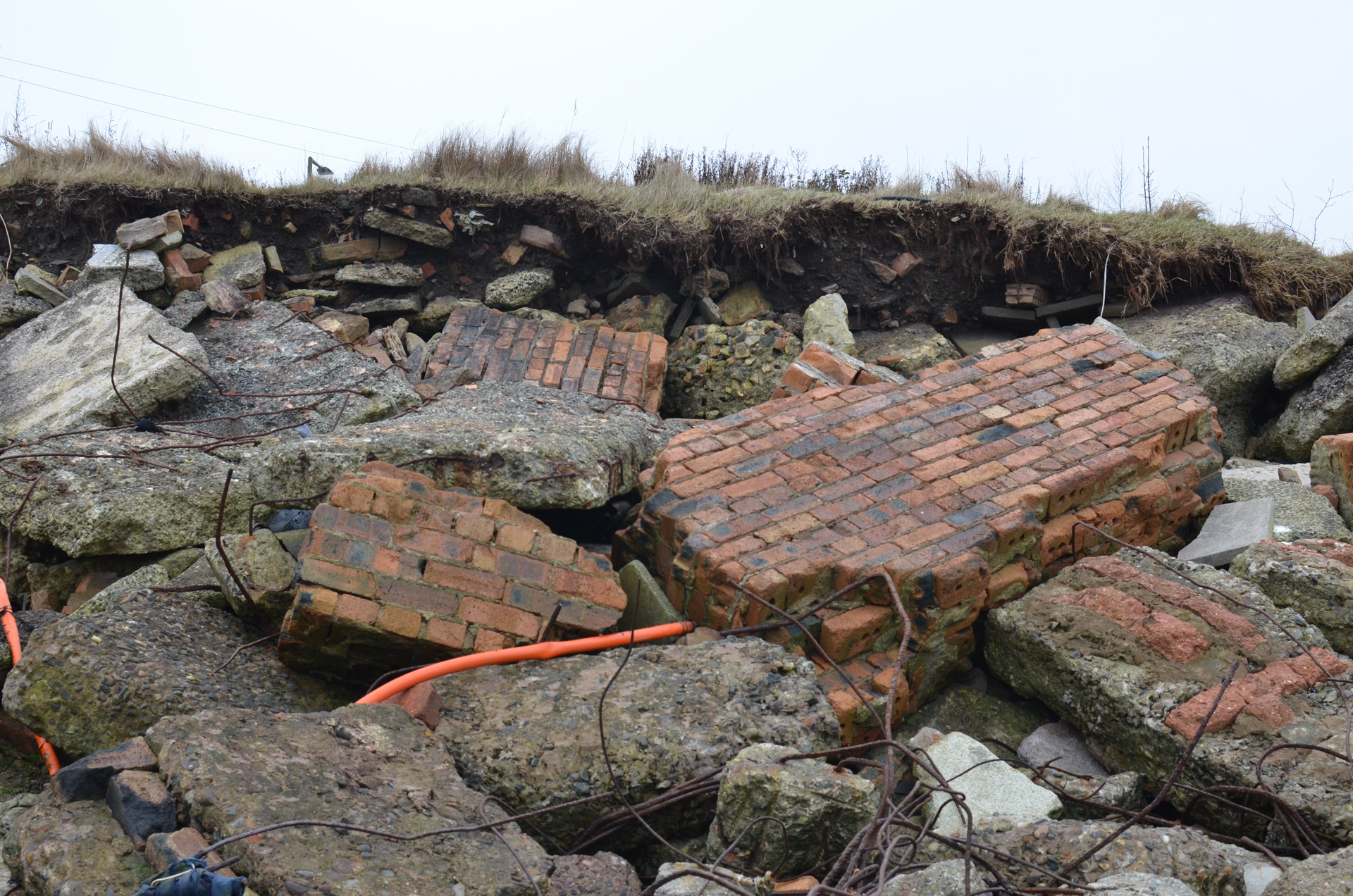 About the case study
Walking during a pandemic-induced lockdown near to where I live in Granton, Edinburgh, I came across a rather unusual beach on the city's northern coastline . This, I later discovered, was Royston Beach (sometimes called Granton Beach or just 'the Brick Beach'). The site comprises the beach itself  and area of reclaimed land and adjacent to Granton harbor (built 1863). The beach is covered with demolition rubble while the reclaimed land contains similar material but is covered over with grass, trees and both active and disused industrial premises.
The rubble, made up of hundreds-of-thousands of fragments of concrete foundations, building stones, and bricks, spills out of the earth behind the shoreline and extends below the water's edge, almost completely covering the sand and underlying geology in parts of the beach.
The dumping here seems to have taken place as an intentional project of land reclamation between various owners, including Forth Ports and the predecessors of the City of Edinburgh Council. Map regression indicates this began in the 1950s with the shoreline gradually advancing outwards until the 1990s.
A council planning brochure from the 1960s describes huge plans for reimagining and redeveloping Edinburgh and mentions this program land reclamation taking place for new industrial land at Granton and (unrealised) plans for similar reclamation at Wardie Bay to the east. (see the brochure here).
The origins of the material dumped here is unclear and records are scant, but anecdotal evidence would suggest the majority of it came from, so-called, slum clearances of neighbourhoods like St James' and Greenside in central Edinburgh, as well as the later demolition of industrial premises across the city in unknown locations.
The Beach itself is approximately 3 hectares (with around half covered by rubble) with the higher reclaimed occupying 1.6 hectares and backing onto West Shore Road. This reclaimed area is formed of rubble up to 6m thick and had several industrial units on it (most now demolished) including the still-operating Hanson Cement plant (originally opening as Pioneer Concrete in 1973).
The western portion of the Beach is mainly covered with bricks and local building stones (i.e sandstone), while the west is comprised of large concrete footings, floor and wall panels, and what appears to be dumped concrete slurry.
The whole site is subject to strong tidal forces and storms, with much of the rubble submerged at low tide. The eastern side of the Beach is subject to erosion and areas of the reclaimed land are slowly collapsing into the sea (photo above).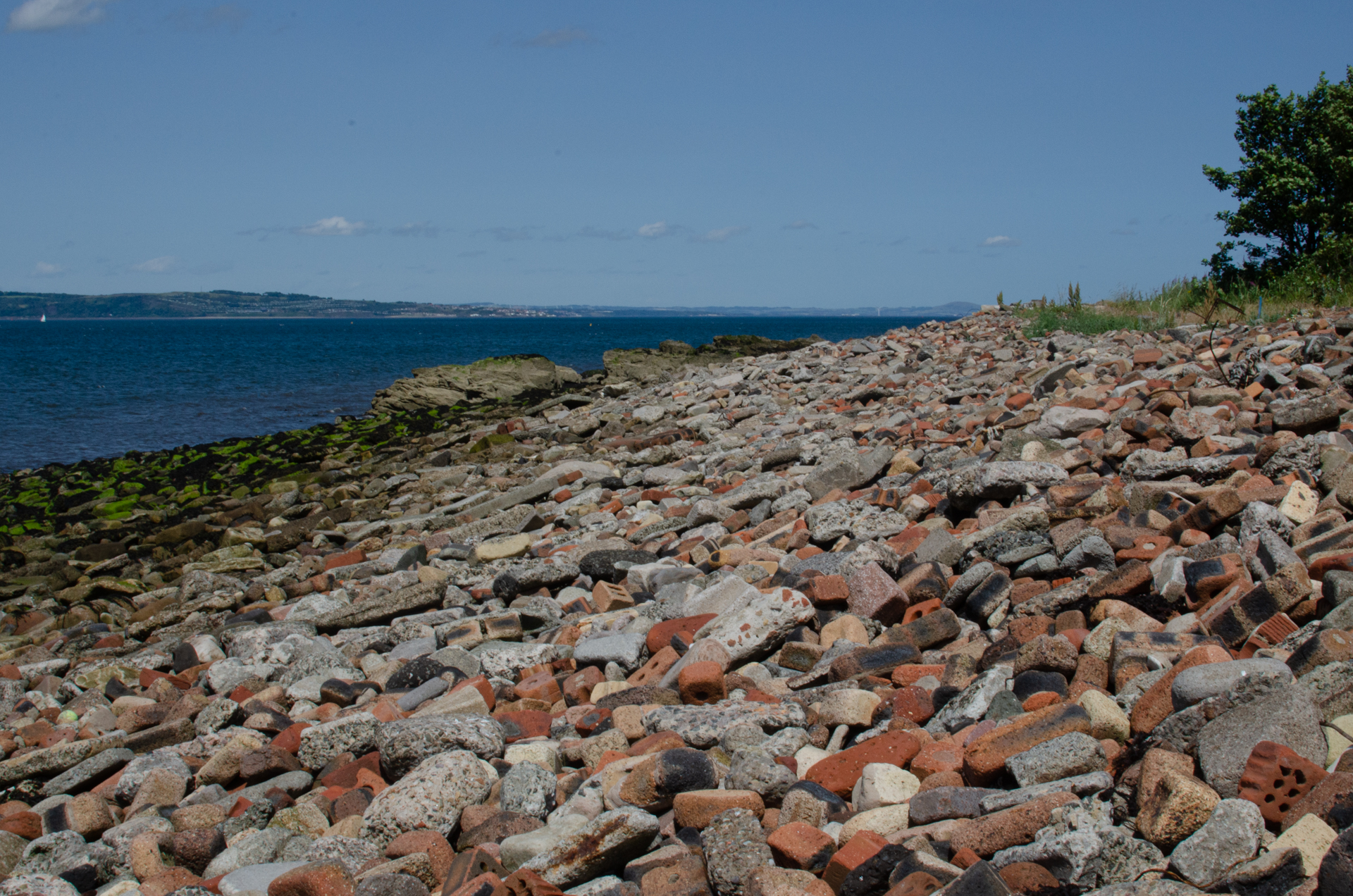 The Research
My research investigates both the history of this site – how it came to be; where this material came from; plans for its future transformation – and how it is used and valued by people today, particularly artists and others who use it creatively.
I use a combination of archival and mapping research, on site fieldwork and photography, and interviews with artists who use this and other sites (and their materials) nearby. I have also developed a creative research project called 'Brick Holidays' which seeks to document how waste (and specifically brick rubble) transforms in this place over time and how we can map connections between extraction, production, use and disposal (more here).
Findings
Research began here in late 2020 with regular fieldwork visits to the site. This fieldwork documented the composition of the beach, the different materials, local ecology, and how the Beach was used for artistic and leisure purposes.
This was followed by more in depth attempts to document where some fo the material came from including the recording of 30 varieties of Brick with photography and mapping – the brick stamps allowed me to establish where these were produced and a relative date. However, it remains a mystery which demolished buildings these materials came from.
This work has established a probable orgin for the material in slum clerance programs generally, the fact that the beach was an intentioanl act of land reclamation rathe than an ad hoc project and has shown that this was a long term process.
My work interviewing artists here took place in summer 2020 and revealed a  variety of uses and opinions on this and nearby waste sites, and in this I documented how examples of how bricks and other waste materials were put to use in creative practice. I also discovered how the Beach itself can be a place of art-making in the use of bricks and other rubble in the making of sculptures, forms, and furniture such as benches, BBQs and a fish smoker in-situ by persons unknown.
The results of this work as a site of reclamation will be compared with the very different examples of Leyton and Hackney Marshes (also rubble, but produced from wartime damage and demolition) as well as the other case studies.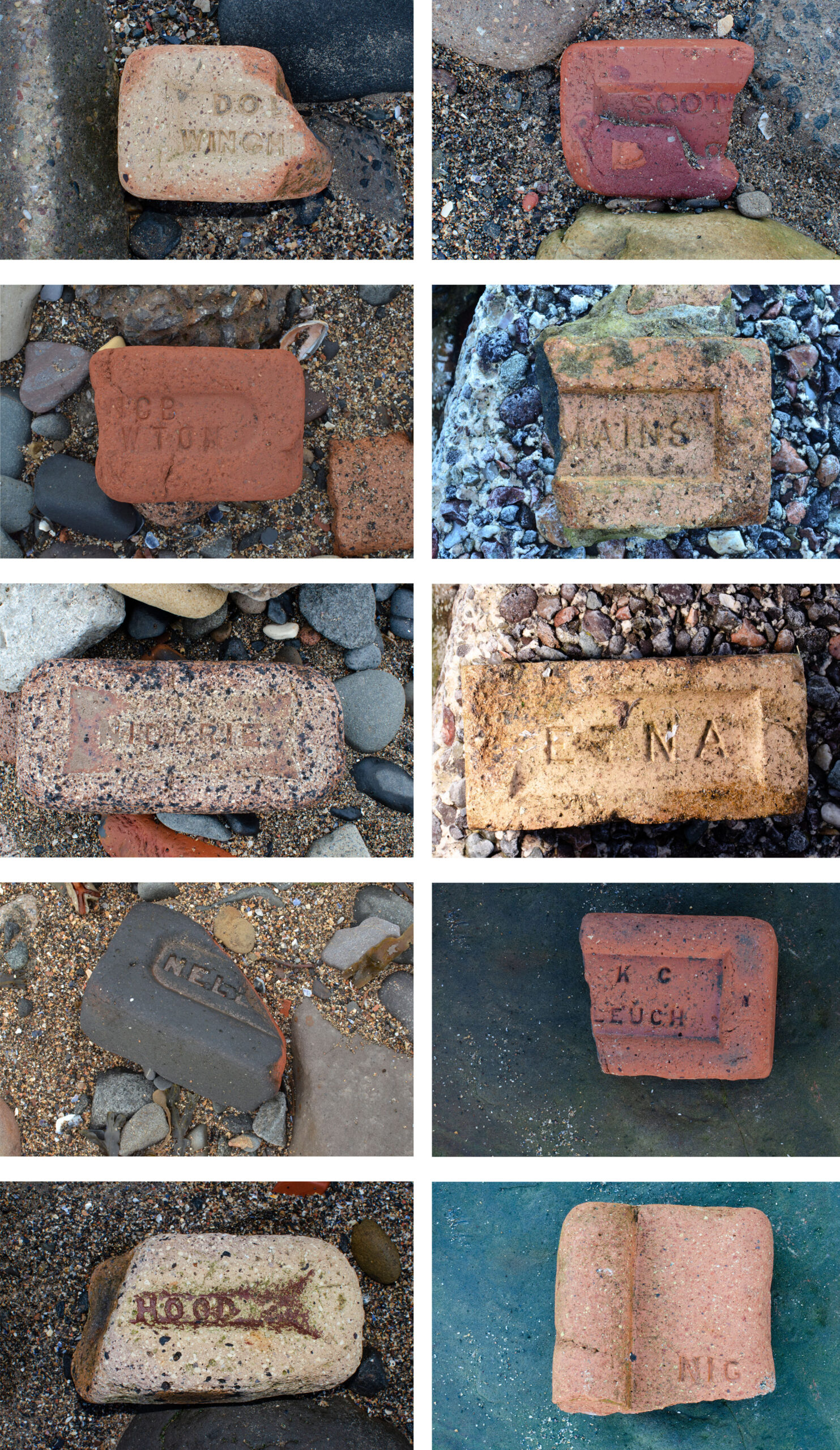 Outputs
Two publications that draw on these findings – one for Historical Archaeology journal and another as a chapter in a Routledge edited volume on Toxic Heritage are are currently under review/in-press. These will be added here once published.