When I get asked the inevitable question of 'what do you do?', I always struggle to give a good answer. My work is slightly confusing, I am a Chemistry student, who is funded by Geosciences, and spends the majority of my time in Biology buildings. In addition, I am situated in the Organic Chemistry section of the Chemistry department, but do work closer to Inorganic Materials Chemistry. If I don't understand what world I fit in to, how can I ever explain what I do to anyone in a way that's understandable?
I would love to say I like being asked 'What do you do?', but that would be a lie. I'm sure this isn't unique to doing a PhD though. What I normally tell people is that I study algae. Then I say I study the mechanism of biologically controlled crystallization in a species of algae that live in the ocean. When people say 'what does that mean', my response is something along the lines of 'well, living things produce materials and they are very well suited to carry out a specific task. So if we can study and understand what they do, then we can use these techniques in other areas'. People normally give up after that, I think that means I should probably work on my communication skills.
Obviously, this is an overview of my work, it's not actually what I do on a day-to-day basis. A better way to describe my PhD, a more authentic explanation, is that I grow small algae cells, experiment on the cells, and then look at them under a microscope. That makes it seem much simpler. In all fairness, it completely removes all context of why I'm doing what I'm doing, which is what is interesting. Maybe that's why I don't give it as an explanation when I get asked the question.
Microscopy is interesting. You can see super small objects in detail. What's not to like about that? For reference, when I say small, I mean micrometres. The cells I study are between 1 and 10 micrometres. The average diameter of a human hair is 50 micrometres. Microscopy is not only limited to what's happening on the outside of cells. You can also observe what is going on inside a cell, by splitting it open or adding a chemical that will colour the objects inside the cell. So to go slightly further with the simplified definition of my PhD, I can use these principles of microscopy to understand what these algae cells are doing, and how they produce the complex materials which I am interested in.
Spending all my time doing microscopy does mean making a sacrifice though. I need to do everything in darkness. This means I spend the majority of my time either sat in dark rooms or rooms lit by artificial lighting. To further compound me to never seeing sunlight, my office is situated in a small room with small windows, which seem to be afraid of the sun. This may sound bleak, but actually, sitting in a dark room for hours on end, looking at weird environments unimaginable to the human eye, allows for complete seclusion from the outside world. The time just flies by. So I am more than happy to sit in a windowless room most of the day, the name for this blog wasn't chosen at random after all.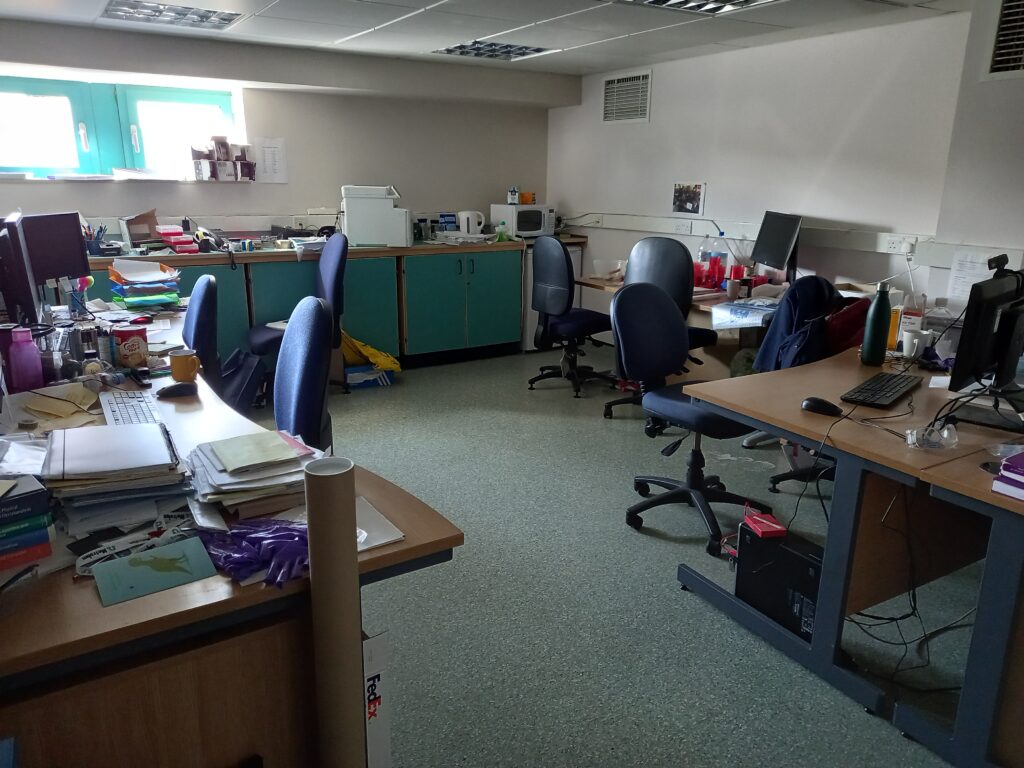 A picture of my (messy) office, on a sunny cloudless day. This is as bright as it gets.