ARCHITECTURAL CONSERVATION MASTERCLASS
double bill organised in conjunction with New Architectures : World Heritage [0728]
Main Lecture Theatre, Edinburgh College of Art
University of Edinburgh, 74 Lauriston Place, Edinburgh EH3 9DF, See map here
6.30 – 7.30pm
(followed by a wine and nibbles reception on the balcony of the Sculpture Court)
Museum Buildings: Meanings and Methodologies
Julian Harrap, Julian Harrap Architects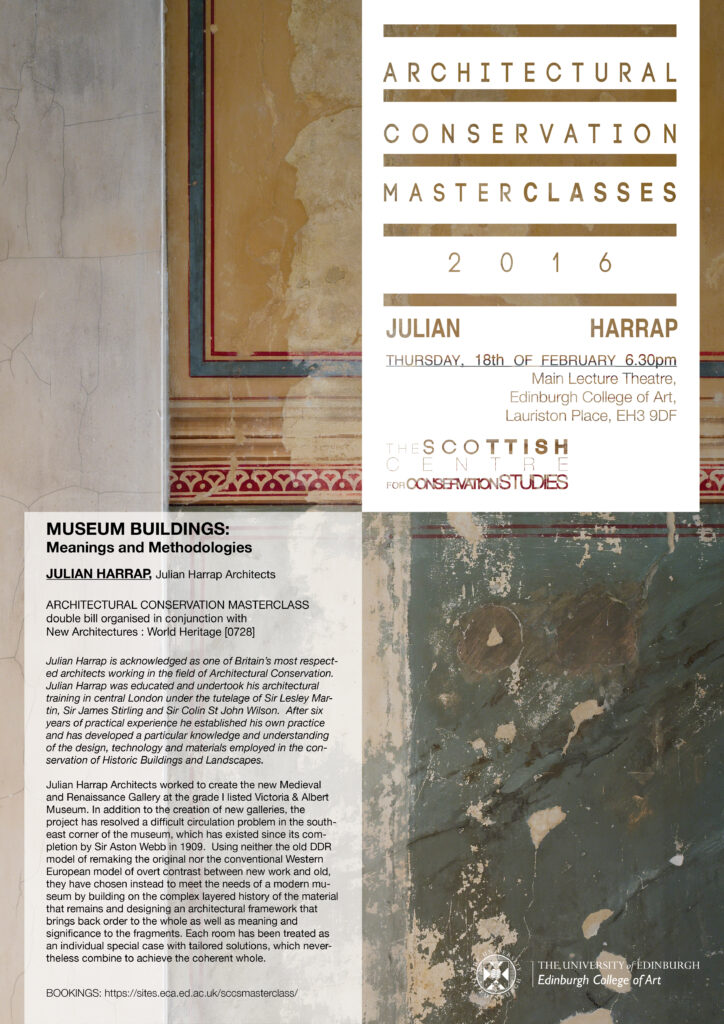 Julian Harrap Architects worked to create the new Medieval and Renaissance Gallery at the grade I listed Victoria &Albert Museum. In addition to the creation of new galleries, the project has resolved a difficult circulation problem in the south-east corner of the museum, which has existed since its completion by Sir Aston Webb in 1909.  In order to resolve the problem a new staircase and lift were created in a little used service area between Gallery 50 and the Perimeter Galleries, running along Exhibition Road, which was opened up to form a new Daylit Gallery.
Using neither the old DDR model of remaking the original nor the conventional Western European model of overt contrast between new work and old, we have chosen instead to meet the needs of a modern museum by building on the complex layered history of the material that remains and designing an architectural framework that brings back order to the whole as well as meaning and significance to the fragments. Each room has been treated as an individual special case with tailored solutions, which nevertheless combine to achieve the coherent whole.
Julian Harrap is acknowledged as one of Britain's most respected architects working in the field of Architectural Conservation.   Julian Harrap was educated and undertook his architectural training in central London under the tutelage of Sir Lesley Martin, Sir James Stirling and Sir Colin St John Wilson.  After six years of practical experience he established his own practice and has developed a particular knowledge and understanding of the design, technology and materials employed in the conservation of Historic Buildings and Landscapes.
BOOKINGS       
e-pay Full series      £180 (45 students)
e-pay Individual masterclasses      £20 (£5 students)
Students must present a valid ID card at the door.
EVENTBRITE     UoE staff and students only (with valid ID card)