ARCHITECTURAL CONSERVATION MASTERCLASS
Main Lecture Theatre, Edinburgh College of Art
University of Edinburgh, 74 Lauriston Place, Edinburgh EH3 9DF, See map here
5.30 – 7.00pm
(followed by a wine and nibbles reception on the balcony of the Sculpture Court)
Foregrounding the 'background': current debates on the wider cultural landscape
Dr. Patricia Macdonald and Prof. Angus Macdonald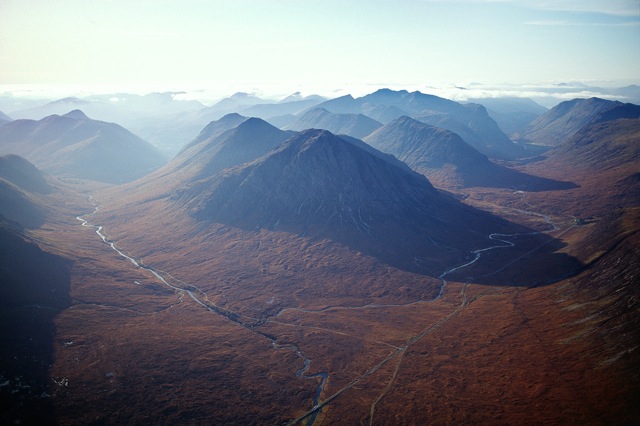 P & A Macdonald: Treeless, heavily grazed landscape, Rannoch Moor, Glen Etive and Glencoe, Scotland
The talk will discuss some current debates concerning the conservation management of the wider cultural landscapes (the 'background') of upland Scotland, and of other similar parts of the UK, which are attracting increasingly widespread attention for a number of reasons:
• public-interest debates on land reform, landownership, wildlife crime, water supply, flooding, and the status of 'wild land';
• recent studies on the effects of intensive grazing and burning of moorland on soils, biodiversity, resilience, climate-change concerns, water quality and flood risk in urban and other populated areas downstream;
• and the progress of recent landscape-scale, ecological restoration or enhancement projects.
Dr Patricia Macdonald BSc FRSE FRSA FSA(Scot) Hon FSGS HonFICS is an environmental academic, artist-photographer, Honorary Fellow at the University of Edinburgh, and former board member of Scottish Natural Heritage.
Angus Macdonald BSc PhD FSA(Scot) Hon FSGS is Professor Emeritus, and a former Head of School, at the University of Edinburgh, and has served on the Royal Commission on the Ancient and Historical Monuments of Scotland.
The Macdonalds work together internationally – editorially and as artists – researching and interpreting cultural landscapes from the air. Their artworks are held in collections worldwide, and they are sole or joint authors of ten books and numerous exhibition catalogues and articles.
www.aerographica.org.uk.
P & A Macdonald: Burnt heather moorland, Lammermuir Hills, Scotland
BOOKINGS       
e-pay Full series      £180 (45 students)
e-pay Individual masterclasses      £20 (£5 students)
Students must present a valid ID card at the door.
EVENTBRITE     UoE staff and students only (with valid ID card)