Repair and Repurposing for Pandemic Resilience
Repair and Repurposing for Pandemic Resilience
"Repair and Repurposing for Pandemic Resilience" is a rapid research response to the challenges created by COVID-19 in humanitarian contexts.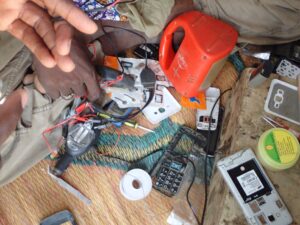 What happens when global supply chains for humanitarian technology and replacement parts are disrupted by a pandemic?
Repair is a highly visible and documented part of informal and refugee economies across Sub Saharan Africa.
Yet the importance of repair economies and cultures in sustaining access to essential services for energy, as well as water, sanitation and health during emergencies continues to be overlooked.
The COVID-19 pandemic has shown that disruptions to the global shipping and transportation of humanitarian technologies and replacement parts can have far-reaching implications for the continued health and wellbeing of displaced people.
The rapid response research project will collect examples of repair and repurposing that extended the working life of essential humanitarian technologies and equipment during the COVID-19 pandemic. These may range from quick, short term fixes to more long-lasting workarounds, involving everything from electronics to metals and plastics.
The project aims to expand the evidence base for evaluating the role of repair in delivering essential humanitarian energy, water, sanitation, and health services, and to highlight the importance of product repairability in procurement rules.
This 12-month project is a collaboration with the UNHCR's Innovation Service and Chatham House. The research is funded by the UK Government's Global Challenges Research Fund, through the Arts and Humanities Research Council.
The project is led by Professor Jamie Cross, Chair of Social and Economic Anthropology at the University of Edinburgh. For recent research on the role of repair in contexts of forced displacement, see the 2019 report Energy and Forced Displacement in Eight Objects, published by Chatham House.
We are currently collecting examples of repair or repurposing activity in refugee camps.
Do you know what happens to broken products in refugee camps? (We are particularly interested in technologies such as solar lights, mobile phones, water pumps, and refrigeration units, but other instances of repair or repurposing are also very welcome.)
Have you seen people repairing or repurposing broken technologies in refugee camps- possibly as a service or on personally owned products?  
Do you have photographs (or are able to take photographs) of any repair or repurposing activities you have seen?
If you think the answer is yes to any of these questions, we would be grateful to hear from you. We want to collect examples of repair or repurposing activity, regardless of scale or success! 
Please get in touch with Rowan Spear (rowan.spear@ed.ac.uk) to arrange a short interview about your experiences and contribute to the project, or for more information about the project aims.  
Project partners:


Funded by: