John L. Godlee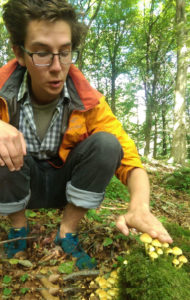 I am a PhD student in the School of GeoSciences, where I study interactions between plant biodiversity, the physical structure of tree canopies and biomass in Southern African Woodlands. I work mostly with data from plots in the SEOSAW network and Terrestrial Laser Scanning.
I sometimes help to run workshops and write online material for Coding Club, a University of Edinburgh peer to peer learning scheme which aims to improve proficiency in statistical analysis and programming.
I write website copy intermittently for Agricology, a website which offers advice on sustainable farming in the UK and I am in the process of reforesting an area of farmland in the Yorkshire Dales.
Publications
Godlee, J. L., Gonçalves, F. M., Tchamba, J. J., Chisingui, A. V., Muledi, J. I., Shutcha, M. N., Ryan, C. M., Brade, T. K., Dexter, K. G. (2020), Diversity and Structure of an Arid Woodland in Southwest Angola, with Comparison to the Wider Miombo Ecoregion. Diversity. doi:10.3390/d12040140
Daskalova, G. N., Myers-Smith, I. H. and Godlee, J. L. (2019), All is not decline across global vertebrate populations. bioRxiv (preprint). doi:10.1101/272898
Rowland, L., da Costa, A. C., Oliveira, A. A., Oliveira, R. S., Bittencourt, P. L., Costa, P. B., Giles, A. L., Sosa, A. I., Coughlin, I. , Godlee, J. L., Vasconcelos, S. S., Junior, J. A., Ferreira, L. V., Mencuccini, M. and Meir, P. (2018), Drought stress and tree size determine stem CO2 efflux in a tropical forest. New Phytol, 218: 1393-1405. doi:10.1111/nph.15024