Emma Sands
PhD Student, School of Geosciences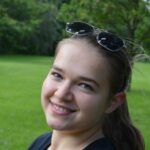 I am a PhD student within the SENSE CDT with a CASE partnership with the UK Met Office.
My research explores the relationship between land use change and atmospheric chemistry, with a focus on the role of biogenic volatile organic compounds. I plan to use a combination of satellite data and Earth System modelling to analyse the processes involved.
My supervisors are: Prof Ruth Doherty, Dr Fiona O'Connor, Dr Richard Pope, Dr Hugh Pumphrey and Dr Chris Wilson.
Email: e.g.sands@ed.ac.uk
Conferences
iCACGP-IGAC 2022 in Manchester, UK
I presented a poster titled 'Forest cover and atmospheric composition: identifying relationships in satellite observations', which showed some of the early results from my PhD research highlighting the role of fire emissions over areas of forest cover change in the southern Amazon.
The poster in PDF format is linked here (and a plain text version: here).
I was also part of the Early Career Researcher (ECR) Local Organising Committee. We organised lunchtime workshops on a range of topics related to working in academia, CV drop ins, well-being and social activities, as well as a space dedicated for ECRs to use during the conference for networking and relaxation.