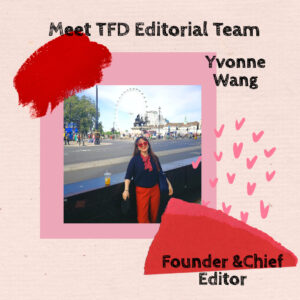 Yvonne Wang
Hi film cinephiles! I'm Yvonne, MSc Film Studies. I'm the Founder & Chief Editor of The Film Dispatch. My favourite film is The Dark Knight (2008), I can't resist such classic tragedy style of hero story. To see a slandered hero struggle to cling to his faith, strikes a chord in many of us. For me film mirrors the reality, reflecting vicissitudes of life. Its magic allows strangers to share connected emotions and bonds us all. Here we will appreciate the wonder of moving image, experience film-encapsulated lives together.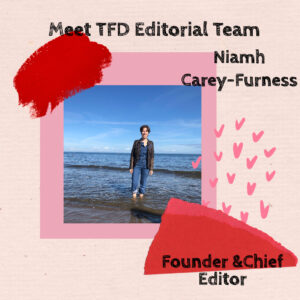 Niamh Carey-Furness
Hey everyone! I'm Niamh, MSc Film Studies – Founder & Chief Editor of The Film Dispatch. For me, having a favorite film is like having a favourite flavour of ice-cream – impossible to choose! Right now, my favourite film is Dune (2020). When I go the cinema, I'm chasing that strange magic that only watching moving pictures in a dark room full of strangers can give you. I'm looking to be transported. Dune gave me that feeling and I'll happily return to the deserts of Arrakis whenever I have a few hours to spare.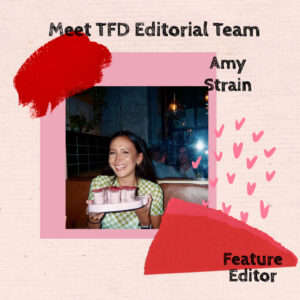 Amy Strain
Hi everyone! I'm Amy and I'm one of the Feature Editors for The Film Dispatch. My love for film was really found at undergrad while studying English, where I ended up writing my dissertation on Ratatouille (and yes, it is as weird as it sounds). My favourite films of all time are Atonement (2007) and Little Women (2019) – both of which make me cry for an hour every single time. I'm so excited to be sharing my love for studying film here at TFD – a particular interest of mine is feminist readings of popular films so I hope to share some articles like this with you soon!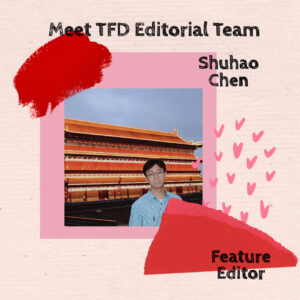 Shuhao Chen
Hi everyone! I'm Shuhao from MSc Film Studies and the Feature Editor of The Film Dispatch. The film is not only pure entertainment but a window we see the past, a mirror we see ourselves, and a dream we see the future. The film encourages us to explore more possibilities, and therefore, I am both fascinated with the sophisticated eastern beauty by Wong Kar-Wai and the crazy adventures by Quentin Tarantino at the same time. May films unite us all. Cheers!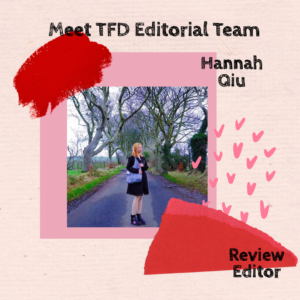 Hannah Qiu
Hi, this is Hannah, majoring in MSc Film Studies and the review editor of the film dispatch. For me, films that resonate with me I usually like because I see them as a conversation between the audience and films themselves. And film review is like a conversation between us and the film, which is why I chose this position. My favourite recent film is Czech director Věra Chytilová's Daisies(1966), which is a very unconventional use of the female perspective to break the rules of the male gaze. It is like a poetic collage that explores the meaning of existence in a seemingly depraved way. Anyway, hope you can all find your own voice and your own joy in the film~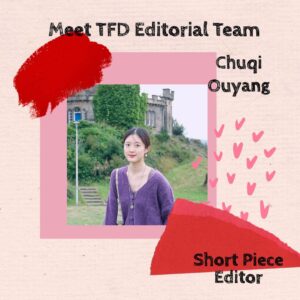 Chuqi Ouyang (from the second issue onwards)
Hi, film cinephiles! I'm Chuqi – MSc Comparative Literature. For me, film is an irresistible temptation! Right now, my favourite film is Midnight in Paris (2013). The film incredibly superimposes literary imagination over exquisite scenes of Paris. The poet-like protagonist writes his life story with a romantic attitude and consistent courage which makes the film inviting.
Aiden Lynch
Hello everyone, my name is Aiden Lynch, and I am the Guest Editor for The Film Dispatch. One thing I appreciate about my fellow cinephiles is the enjoyment of a good disagreement about a film. As much as I love watching a film — pouring over all of its details — I think I enjoy discussing it just as much, and the most interesting discussions I have had have been as a result of disagreement. Although there are a great many films that have prompted a lot of interesting discussions, I have most recently enjoyed seeing a re-release of 1961's West Side Story with two friends who wildly disagreed over the film. While I enjoy the film well enough, I enjoyed their disagreement and our discussion even more, and I think that is one of the great joys of being a cinephile: to be able to disagree but know that we all love and adore cinema. At the end of the day, we all want cinema to be amazing and enjoyable to us, and so I love hearing why and how people disagree.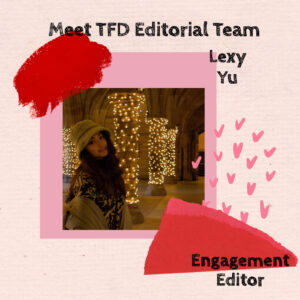 Hey, I am Lexy YU, MSc Film, Exhibition and Curation, and I am the Engagement Editor. The film has opened my eyes to the possibilities of different lives, so for me there is only "more love" in the film, not "most love". Zootopia (2016) is another wonderful Garden of Eden that Disney has created for me. It is a world that is always full of surprises and always makes me believe in the power of kindness, courage and love.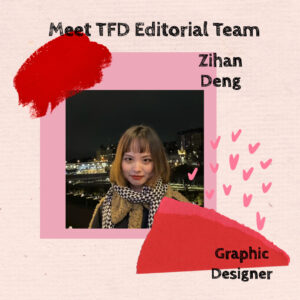 Zihan Deng
Hey everyone! I'm Zihan, MSc Film Studies – graphics designer. For me, cinema is the window to view different worlds of different people. It seems that films give me other life. The film that I want to recommend for you is Witness for the Prosecution (1957). Although it is black and white, its image is vivid enough. Also, it would give you strong emotional experience. Many times! I love magic reactions between films and the other arts, so I join in our magazine as a designer, expressing my love for film by graphic arts.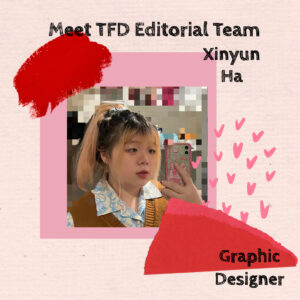 Xinyun Ha
Hello everyone! My name is Xinyun, I'm study undergraduate foundation programme now and I am the designer of The Film Dispatch. I like drawing and I want to study illustration design in the future. ヾ(๑╹ヮ╹๑)ノ"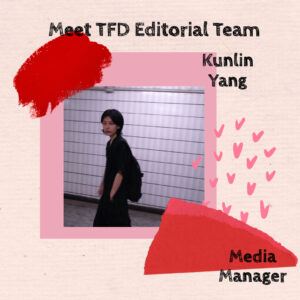 Kunlin Yang
Hi! I'm Yang, a student of MSc Film Studies and the Social Media Manger of The Film Dispatch. To me, film is the illusion that connects time, space and the earth we inhabit – reality. My favourite film is Agnès Varda's Jacquot de Nantes (1991). Before this year I had also put into practice filmmaking, particularly influenced by neo-realism, but I know film is not limited to this, so in the various media platforms of our magazine I wanted to show readers different aspects of cinema and hope you can enjoy these.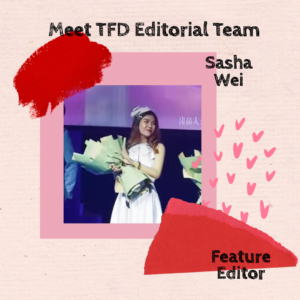 Sasha Wei
Hi, everyone! I am Sasha, majoring in MSc Film Studies. I am the website manager of The Film Dispatch. I love writing, meditating and films, film is the first card for the dominoes. Films enlighten me to meditate, and I always make these illusions tangible by writing down it. These thoughts are about and beyond the world, just like films. My favourite film is The Sun Also Rises (Jiang Wen, 2007). In my opinion, the greatness of a film is not embodied in how marvellous the story is, rather, it could be reflected in the process of a film influencing people. So I was longing for running across the forest, climbing up to the roof of the bamboo, chanting poems which could only be understood by myself. I want to start my exile, from the Chinese South-western tribe to the North-eastern ice lake, I would travel through the rain in summer, the flying maple leaf in fall, the snow in winter and the sandstorm in spring. I would wait, for the uncertain sunrise after the dark, for the uncertain happiness after the sufferings. That is what films taught me, when I watched a film, I was experiencing a hopeful exile.
Former Editorial Team Member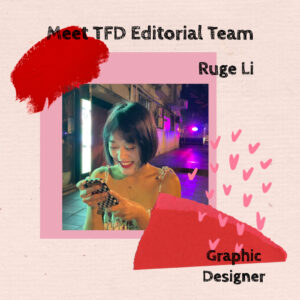 Ruge Li (Graphic Designer)
Hey this is Ruge! I am the graphic designer of TFD. I study animation at ECA and I am fascinated of storytelling and art making!