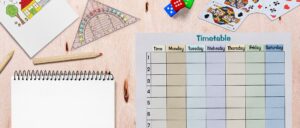 Many students struggle with time management and it is one of their key concerns. Research has shown that poor time management can lead to academic failure and stress. What can we do about this?  
It is not difficult to see why students struggle with time management. There is a lot to do – reading all of the books and papers assigned by lecturers, meeting assignment deadlines, participating in extracurricular activities, socialising with friends, and perhaps volunteering or working part-time jobs [1]. Many students also have family commitments and may be studying part-time alongside a full time job. Deciding how to allocate time to all these different needs and obligations is no easy task. It is therefore little wonder that students end up cramming and switching from writing one assignment to another, when they would be able to think more clearly if they focused on one at a time.  
Dr Ahmad Saleh Al Khatib, an Instructor in the College of Business Administration at Al Ain University of Science and Technology, conducted research with his Science and Technology students in 2014. He found that 75% of them had a low or moderate ability to manage time effectively [2]. In 1981, a study found that of forty different options, 67% of students at the University of Georgia identified time management as their greatest personal need [3]. It is unsurprising, then, that time management is one of students' key concerns.     
Research has shown that those who struggle most to balance time between different activities over the short- and long-term are also those most likely to get poor marks in their exams and experience stress at university [4].   
Time management is not just about allocating time to various activities, however. A student could plan to study for hours on end but that, in itself, does not mean that they will end up with excellent exam marks. It is also important how productive a student is during their allocated study hours, according to Dr Stella Cottrell, an academic who has written extensively on effective study skills [5].   
There are a range of factors that affect how productive (or not) students are when studying. To name a few: social media and news notifications; low energy levels; and poor mood due to untidy working environments.    
So, how can students manage time effectively?   
Plan and prioritise: it can be useful to have to-do lists or planners, with an A-D coding system (where A is high priority and D is low priority). By ticking items off these lists, you may feel a sense of accomplishment, making you more motivated to continue studying. Perhaps another good idea is that when you plan your day's activities, do not feel bad saying "no" to someone who asks you to do something during your study periods. If you struggle to do this, then you could try saying "no, but an alternative time I could do this would be…"    
Identify obstacles: by focusing on what is inhibiting effective study, you may be able boost productivity. One obstacle in the digital learning context might be that you get eye strain and lose concentration quite quickly when reading from a computer screen. So, it might be useful to plan to read for short periods of time, like half an hour, and take short breaks, say of ten minutes [5], and find apps that make reading more gentle on the eyes, like Adobe.   
Gretchen Rubin, author of "Better than Before: What I Learned About Making and Breaking Habits", suggests we put obstacles in the way of our obstacles  [6]. For example, if social media is an issue for you, you could delete it from your device or download apps, such as Forest or Pomodoro Timer, that block notifications from it during study periods.    
Something to consider for both planning and productivity is what kind of person you are and what works for you. If you are a morning person, for example, it might be worth thinking about doing difficult work in the morning and low-energy work later [7].    
An ability to manage time effectively is not something learned overnight. It takes time and being honest and accurate, and there is no one strategy that works for everyone. So, be forgiving with yourself as you try to become an effective time manager.  
The Study Hub Learning Resources have further resources on their Time management page.   
Reference List  
[1] Pozdeeva, E. (2019) "Students' Time Management in Higher Education: Review of the Literature." 8th International Conference "Social Science and Humanity". Available at: https://www.researchgate.net/publication/334093407_EDUCATION_STUDENTSSTUDENTSTIME_MANAGEMENT_IN_HIGHER_EDUCATION_REVIEW_OF_THE_LITERATURE [Accessed on 12th June, 2020]   
[2] Al Khatib, A. (2014) "Time Management and Its Relation to Students' Stress, Gender and Academic Achievement among Sample of Students at Al Ain University of Science and Technology, UAE." International Journal of Business and Social Research 4(5): 47-58. DOI: 10.18533/ijbsr.v4i5.498.   
[3] Britton, B. and Tesser, A. (1991) "Effects of Time-Management Practices on College Grades." Journal of Educational Psychology 83(3): 405-410. DOI: 10.1037/0022-0663.83.3.405.   
[4] Macan, T. and Shahani, C. (1990) "College Students' Time Management: Correlations With Academic Performance and Stress." Journal of Educational Psychology 82(4): 760-768. ISSN: 0022-0663.   
[5] Cottrell, S. (2019) The Study Skills Handbook: Fifth Edition. London: Red Globe Press. ISBN: 9781137610898 (e-book).   
[6] Rubin, G. (2016) Better Than Before: What I Learned About Making and Breaking Habits – to Sleep More, Quit Sugar, Procrastinate Less, and Generally Build a Happier Life. London: Two Roads. ISBN: 9780385348621.   
[7] Mind Tools Content Team (n.d.) "10 Common Time Management Mistakes: Avoiding Common Pitfalls." MindTools. Available at: https://www.mindtools.com/pages/article/time-management-mistakes.htm [Accessed on 12th June, 2020] 
Share