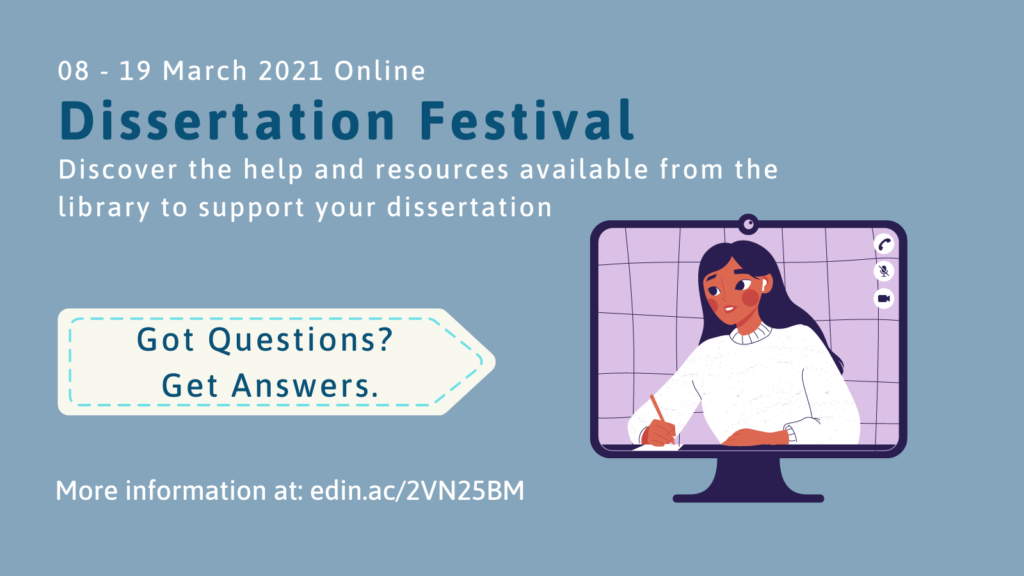 Our Highlights and Opportunities posts highlight various opportunities available from around the University of Edinburgh for Taught students.
Highlights and opportunities for…
Undergraduate Students
Study Skills Consultations
http://edin.ac/2Co9nR7
The IAD offers 30-minute one-to-one consultations with a study development adviser. They can help you develop effective study strategies and enhance current skills. New appointments open weekly.

Postgraduate Virtual Open Days
https://edin.ac/34fJnYc
Join us for our spring Postgraduate Virtual Open Days, an exciting programme of events for anyone considering on-campus postgraduate study at the University of Edinburgh.
Our Virtual Open Days 23 – 25 March 2021 are ideal for anyone considering on-campus postgraduate study. This includes taught programmes or research degrees. Whether you are considering starting in 2021 or beyond!
Postgraduate Students
Graduate Writing Centre Appointments
https://edin.ac/2uAclEq
The Graduate Writing Centre appointments are returning at the start of February and will run to the end of March.
English Language Education (ELE) offers one-to-one academic writing tutorials for all postgraduate students (PGT and PGR). These online sessions are approximately 45 minutes long and are designed to give you the opportunity to discuss specific areas of academic writing with an English for Academic Purposes expert.
All Taught Students
Click and Collect Services
https://edin.ac/2Quc7WO
Click & Collect is a service for University staff and students to request items in standard loan, short loan and reserve collections from the Main Library and University Collections Facility. Full details of how to request and collect items are provided on the Click & Collect web page.

Creative and Cultural Careers Festival (CCCF)
https://edin.ac/3pxGESP
CCCF, Creative & Cultural Careers Festival, is a week-long festival of events organised by the University of Edinburgh Careers Service taking place from Monday 1st March to Friday 5th March. The Festival is aimed at students of all levels, as well as recent graduates, from any subject who are interested in finding out more about working in the Creative Industries, Media or Cultural institutions. Through the events, we try to provide exposure to a range of sectors, industries, professions, crafts and skills.

Dissertation Festival 2021
https://edin.ac/39Od5rq
Want to find out more about the digital library resources available to research your dissertation question? Interested in learning how to manage the bibliographic and research data you've found? Thought about making your dissertation something special by using the fantastic collections available at the Centre for Research Collections?
Join us for two weeks of online events and learn what the Library can do for you to help you succeed with your dissertation.

EUSA: Find a Student Group
https://edin.ac/2GzsvSx
There are over 350 Student Groups at the University of Edinburgh – so you're sure to find one to help you meet new people, and develop your skills and interests.

Hardship Funding
https://edin.ac/2NK9iD3
Hardship funding available to support students at the University of Edinburgh.

LinkedIn Learning: Looking after your mental health and wellbeing
https://edin.ac/3bkeeGv
This LinkedIn Learning video collection contains a wide range of carefully selected videos covering resilience, motivation, managing stress, mindfulness, maintaining good mental health, and time management and planning.
Share