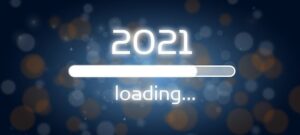 Welcome back! And for those students joining us for the first time: Welcome! We hope you have managed to rest, relax, regroup and recharge over the festive period.
Last year was difficult, but we've come through it! The word 'unprecendented' was used a lot, with good cause – we completely pivoted to remote teaching as part of a national lockdown, we had mass online exams, we had hybrid teaching for semester one… just some of the academic challenges we faced.
Some people have found they've enjoyed studying at home and the flexibility it offers. Others have found it unworkable and unsustainable. Maybe it was difficult to begin with but easier once you got into the groove of it. Or maybe you've been running out of steam and motivation as time has gone on.
The start of a new year and semester is a good time to reflect on what worked, and what didn't, building on last semester. Maybe your to-do list kept you on track and you got most things done. Great! Keep going with it. Or maybe you've found it not as effective to study whilst streaming something in the background – so maybe it's time to make some small changes to your study habits.
We don't know exactly what this year will look like, but as ever, there is advice and guidance for effective learning and studying available 24/7 in the Study Hub Blog and Learning resources. Our scheduled posts will re-start next week and you can read any of last semester's posts or search for particular categories.
Share