Green spaces…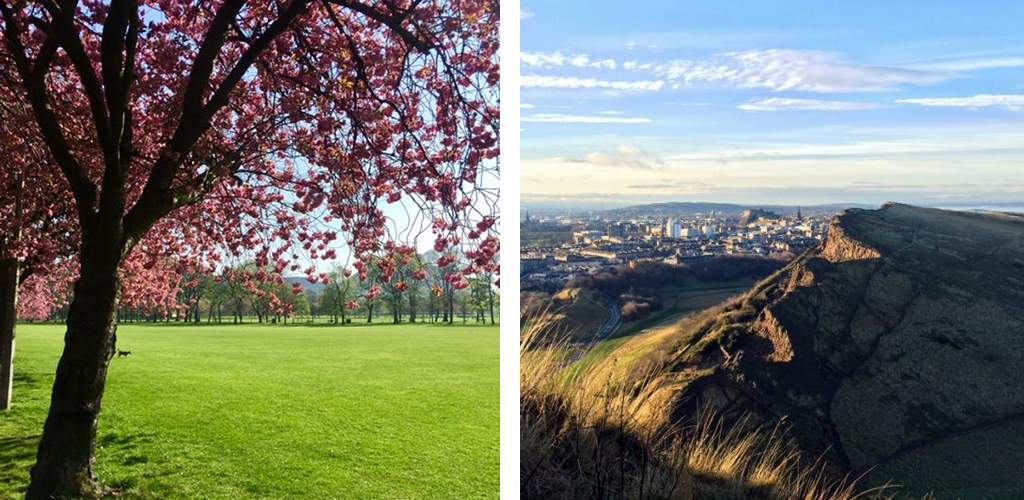 …by Lily / from the UK / studying MPhys Physics / 5th year
There are myriad green spaces in Edinburgh. In fact, it has previously been named the greenest city in the UK with almost 50% of it devoted to greenery. I'm going to give my top four a mention here, but there are so many smaller hidden gems if you take the time to wander. The beauty of Edinburgh is that there's always somewhere new to discover.
The Meadows
This is the name of one of Edinburgh's largest parks, and the heart of my university experience. Bordered by the university central campus on one side, and the popular student neighbourhood of Marchmont on the other, there is always something going on here. Barbecues, conversations, sports, slack-lining, fire juggling, and once even a full on jedi fight with lightsabers. You never know what you're going to see next. The pointed oval shaped green space is criss-crossed by paths lined with trees, which cast amazing shadows whenever the sun rises or sets. In the spring, they are covered with pink blossom. This amazing place is right next to the main university library, so if you can't get one of the coveted seats there with a Meadows view, then you can still go for a stroll if you want a break.
Holyrood Park and Arthur's seat
Not many cities can say they have an extinct volcano slap bang in the middle, but Edinburgh can. Arthur's Seat is its name, and it can be glimpsed poking through buildings in the distance as you walk around the city. It's a steep but short climb to the top, and if you do so you will be rewarded with extensive 360 degree views for miles and miles. If you visit often you can see the vista slowly evolve with the seasons. The main hill is attached to The Crags, which are a set of small cliffs. This miniature mountain is located within Holyrood Park, a very large green space about 20 minutes walk from the central campus. This entirely unique place is so easy to reach, and well worth the visit.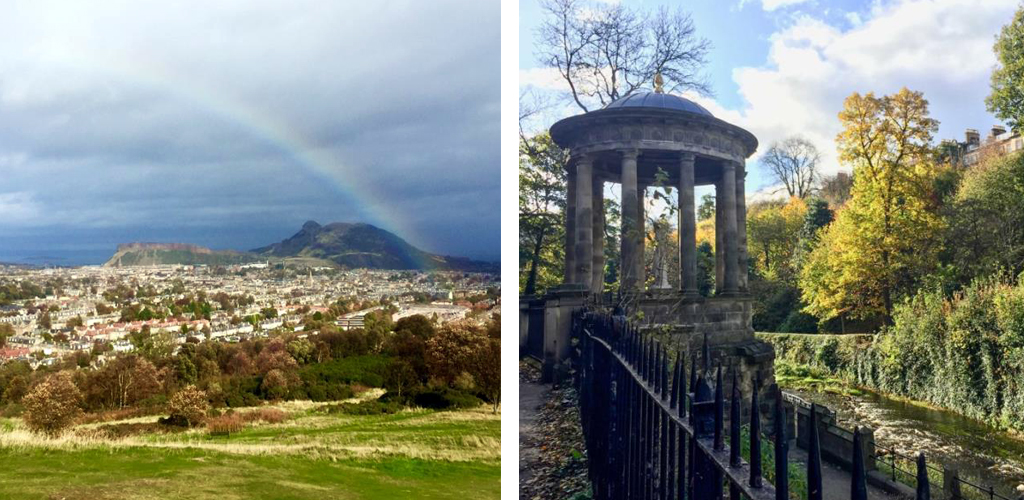 Blackford Hill
This is a slightly lesser-known Edinburgh beauty spot which hosts the Royal Observatory of Edinburgh as well the UK Astronomy Technology Centre and other scientific enterprises. However, it's almost entirely a green space formed mainly of a hill to rival Arthur's Seat. The view is brilliant, and once you've admired it you can make your way down the hill to walk along the Braid River, which is a great place to find bluebells in spring. It's just a ten minute walk from King's Buildings, the University's science campus. As a physics student I spend a lot of time here, so it's great to have a place like this even when I'm not near central campus.
Water of Leith Walkway
This walkway next to a river is hidden away in New Town in Edinburgh's north. The most popular section however goes to Dean Village, a medieval-looking collection of buildings nestled in a hollow. Along the way there's other things to spot such as tall arched bridge and St Bernard's Well. The whole walkway is actually over 12 miles long and stretches all the way from the Pentland Hills in the south to emerge at Leith, by the sea. It also passes the Scottish Gallery of Modern Art and Botanic Gardens, and is a great way to make a day out of visiting both.
These are just a very small collection of the outdoor spaces that Edinburgh has to offer, not to mention the places nearby within easy reach. At a time when indoor attractions may be less of an option this is definitely a plus.