What moving to Edinburgh as an international student actually looked like…
What moving to Edinburgh as an international student actually looked like…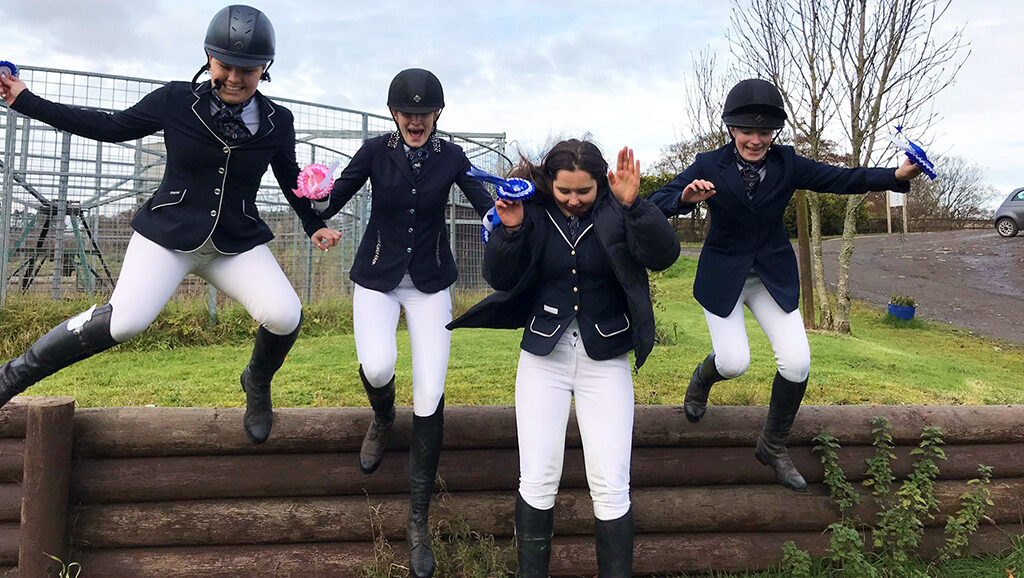 …by Margret / from Estonia / Studying MSc Digital Society / 1st year
When I got my acceptance letter in June I was absolutely thrilled, but there was only one problem – I had to wait two months until the start of uni, which seemed absolutely unbearable! I remember getting my first university email and being tremendously overwhelmed with all that the university has to offer – could it really be that there is a society here for everyone and is underwater hockey an actual thing?! I looked at all the societies I'd love to join and was feeling giddy about everything, until I remembered that I have to look at grown-up things first, like where I am going to live and applying for a SAAS loan.
Finding a home
When I started applying to universities, I told my partner that he'd have to move with me, so when I got accepted, I knew I was going to have to look at apartments. While I've understood from my course mates that finding a room in a dorm is relatively cheap and easy, this was not the case with apartments. When searching for a place to live, I almost got scammed! The scam was amazingly well done – they had created an Airbnb page which looked identical to Airbnb's own site, and when I contacted Airbnb support, even they could not tell the difference and told me that 'the reviews look good for this person'. The only giveaway was the HTML source code – the profile images of the reviewers were sourced to a random profile picture site. After that I was extremely cautious of every other listing that was not off an agency's site. I had no luck with agencies, and I am not going to lie – if you have not lived in the UK previously and don't have someone to view apartments for you in Edinburgh, you are going to have a tough time. Even though I had someone to view apartments for me, agencies (usually) require a UK guarantor and a previous reference and getting that UK guarantor was impossible for me. When I started feeling like I won't find a place to stay, I started contacting homeowners straight from Airbnb and I was surprised at how many people offered their home to me at a great price! I found my future home from Airbnb relatively quickly, so my advice: don't be afraid to contact people directly!
Should you struggle with finding accommodation, I've included a few weblinks at the end of this post that are super helpful.
Moving to Edinburgh
After I had flown to Edinburgh and brought all my bags to my apartment, I noticed I did not have any towels, bed sheets, bathroom rugs etc. so I decided to go to IKEA straight away. Coming from a country with no IKEA, this shop is an absolute blessing. Since the bus services are so great in Edinburgh, I took the bus there and back, however, getting back from IKEA was an absolute mess. Once I got on the bus, I realised I do not have enough hands to actually hold all of my things, which sent my impulse buy cactus flying around the bus. After shamelessly picking up my cactus and silently hoping it didn't hurt anyone, I got off the bus and had to walk home while trying to think happy thoughts as everything was constantly falling out of my hands. However, after setting everything up in my new home, all I had were happy thoughts, because I realised that this is my home now and soon I am starting a whole new chapter in my life. (As a side note, I had not realised that the homes in Edinburgh are SO COLD, so either bring warm house clothes or buy them as soon as you get there!)
Starting my studies
I knew that in order to fully enjoy my studies, I had to make friends in this new town. Thanks to the Internet, I had found a few people who were in the same programme as me and I promptly suggested that we should meet up. Meeting with a few people turned into meeting a lot of people and by no time we had already become great friends with so many people. New friendships tend to seem fragile, but the Scots have a way of making bonding so much easier with a Ceilidh. I won't spoil what a Ceilidh is if you don't know it yet, though you can easily Google it, but in my words, it is an amazing dance-party that is actually team-bonding in disguise (you must go to it!!).
Starting my studies with newfound friends was easy, because I knew that I had great friends surrounding me and after meeting with my personal tutor I felt more secure than ever. Studying here gives me a great peace of mind, because I know that everyone is looking out for me and they all want me to do well. Whenever I feel like I don't have the motivation to study or I am feeling down, my course mates always motivate me to do better and I feel like having a support grid like this is what helps me do well.
What about the study experience?
It's definitely not easy, but the learning curve I've had so far has been tremendous! This university really pushes you to become the best version of yourself and they trust you to do a lot of research on your own. Having this kind of responsibility on yourself is what really makes you try harder. While I know that a lot of people fear they cannot handle the academic work, as someone who had feared the same thing, I promise, it is not as tough as it seems! It helps me if I remember that I've been chosen out of so many people to study in this programme and all of my fellow peers are so smart, so even if I am the dumbest of them all I am still here and I have all these smart people next to me who will always help me!
So what do we take of this – don't feel too bad if you almost get scammed and continue looking for your future home with more caution and bravery; take all your carrier bags with you to your first trip to IKEA; go to the Welcome Week events; and don't be afraid of academic pressure, it's actually great!
So what have I done so far – I've adjusted to living in Edinburgh, I've met so many interesting people (like the complete stranger that gave me a lift home) and I've joined the Equestrian Club. And I promise to tell you guys all about these things in the next posts!
Some support websites to help you in your accommodation search: