A reflection on first year…
A reflection on first year…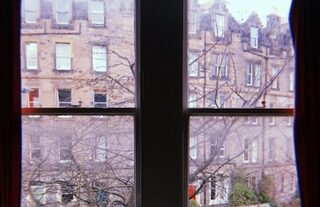 …by Katie / from the United Kingdom / PhD Centre for Inflammation Research / 2nd Year
I am Katie, a second year PhD student at the Centre for Inflammation Research studying the role of antimicrobial peptides during central nervous system disease. Saying aloud that I am in my second year of my PhD still seems very strange, as my first year has passed by in a flash. It has been a rollercoaster of emotions, from moving to a new city, getting to grips with a new work environment, dealing with failed experiments and feeling elated when lab work is a success. Entering my second year has allowed me to reflect on my first year and I thought I would share my advice, suggestions and general thoughts on PhD life so far.
If starting a new PhD isn't daunting enough, moving to a new city alongside it can be even more overwhelming. It will be scary, but my advice is to try and get involved! Whether that be joining societies (postgraduates can join all societies too), or a gym in the city, or simply chatting to people on your postgraduate course or peers in your work environment. This will make is easier to establish relationships and make a new city feel like home.
An important part of your PhD journey is establishing a good relationship with your supervisor. The availability of supervisors varies; however, it is important to think about what you expect of your supervisor – ask yourself questions such as: how often would I like meetings? Would I prefer to communicate in person or is email ok? How much input do I need from my supervisor regarding ideas or experiments? Understanding how you want this relationship to be early in your PhD will make your supervisor experience a lot better.
Sometimes the start of a PhD can be slow. This is often due to waiting for resources required for your research or experiments. Take this opportunity to carry out a literature review in your research area. Additionally, set up a good filing system so that you and others can find important data easily. These things may seem premature, but you will thank yourself in the long term.
Throughout your PhD things aren't always going to go the way you have planned. This is normal and can happen at all stages, however it is hard to get used to the idea of disappointment. Data takes time to acquire – try to be patient and resilient and remember there is something new to learn every time something doesn't go as hoped. I recommend reading "The importance of scientific stupidity" by Martin A. Schwartz to give some perspective on this.
Lastly, and most importantly – you are here for a reason. You have been selected for the position you are in and you are the right person for the job. Be open to learning and developing throughout your PhD and believe in your abilities as a researcher!
I continue to learn every day as a researcher, but I hope some of these points can make your first year postgraduate journey slightly easier.