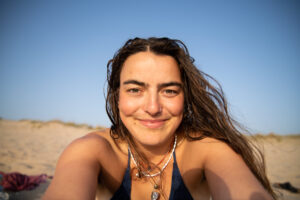 The Edinburgh College of Art nurtures so many extraordinary artists and will be a close working partner of the Edinburgh Futures Institute in many creative endeavours.  For this reason, we were very keen to showcase the work of one of the 2022 Edinburgh College of Art Degree Show artists. Though it was a very difficult choice with so much beautiful work on show, we chose the breath-taking, living seascape "Constant Flow" by Olivia-Grace Smith.
At the Degree Show, it was projected onto a white wall and had a soft, dreamy quality to it. At South College Street, we're showing it on an enormous digital screen where the shimmering texture of the light on the water takes on a physical presence and it feels as if you could jump right into the waves.
"Constant Flow" is part of a bigger project by Olivia-Grace titled "Wilding". Discover it on ECA Graduate Show website.
Explore other work by Olivia-Grace on her website.