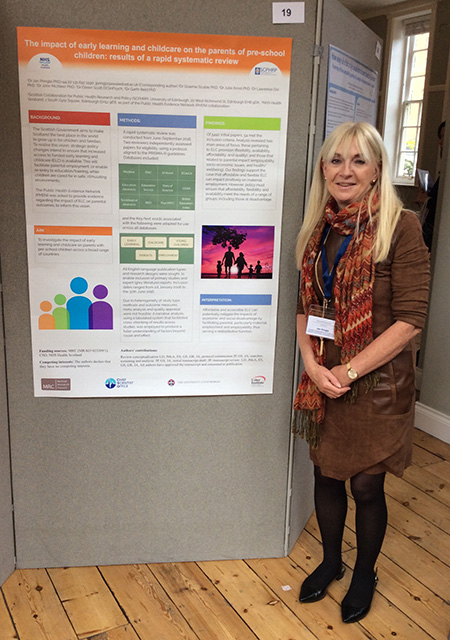 SCPHRP systematic reviewer, Jan Pringle, attended The Lancet Public Health Science conference in London on 24th November. Scotland's lead in minimum alcohol pricing was mentioned several times during the day, including during the first few introductory comments by Richard Horton from The Lancet.
Jan gave an oral poster presentation regarding the early learning and childcare review, carried out with colleagues from NHS Health Scotland as part of the Public Health Evidence Network (PHEN) collaboration. Jan was also able to make new contacts for future research collaboration, including a researcher investigating mentoring for secondary school children.
A great variety of new research was highlighted, including topics relating to physical activity, air pollution, and the impact of Brexit on food policies. Keynote speaker for the day was Helen Walters, former advisor to Boris Johnson, and now with the National Institute for Health Research. Her talk focussed on how to carry out research that the public actually need, and included several questions that we need to ask ourselves when planning research (such as how to ask the right questions, asking them in the right way, and thinking about how to, and who will use, the answers).
Altogether it was a very interesting and useful event.