Neural tube defects?? What exactly are they and why is it important?
These were questions I had when I first learned that reducing neural tube reductions held the top spot in the 2018 report by the Public Health Association of Australia, Top 10 Public Health Successes Over the Past 20 Years.
So, what exactly is a neural tube defect (also known as NTD), and why does it matter?
As the report states, "neural tube defects (anencephaly, spina bifida, encephalocoele) are severe birth defects, with high mortality and lifelong morbidity. They are a major cause of perinatal and infant death, and were estimated to cause 71,000 deaths globally in 2010."1 Additionally, researchers Lo, Polsek and Sidhu found that NTDs may present life–long economic problems, especially to poor families. Which is of particular importance as they also showed that low and middle-income countries are likely to have a NTD burden twice the rate of high-income countries.2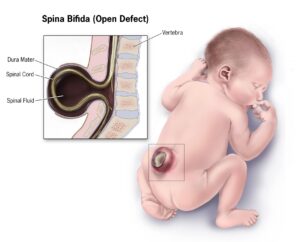 Learning about these conditions made me think about a young patient I once saw in Haiti with spina bifida and how the condition will affect him and his family for the rest of their lives. Was it preventable? Can all countries reduce the prevalence of these types of birth defects? How did Australia go about doing so?
It turns out, that many neural tube defects can be prevented when women of reproductive age consume an appropriate daily amount of folic acid.3 And it appears that is exactly what Australia did. In 2009, a mandate was established that required the addition of folic acid to wheat flour bread making. During the period to follow from 2009 to 2016, Australia was able to reduce neural tube defects by 14% across their total population and by 74% among Indigenous Australians.1
I find this successful public health effort fascinating for many reasons, but what stands out the most is the comprehensive approach taken. Rather than focusing solely on how to treat and care for children born with neural tube defects (the "symptom" of maternal nutritional deficiency), the program focused on ensuring that all potential mothers had sufficient nutritional health to prevent the condition in the first place (addressing the "root cause" of NTDs).
When looking at this issue through the approach of planetary health solutions (defined as examining the health effects associated with changes to a natural system and then taking a collaborative, interdisciplinary approach to optimize health outcomes),4 I have even more questions than when I first read the report on neural tube defects. Was the birth of the little boy I saw years ago with spina bifida affected by poor nutrition in his mother? Was this poor nutrition related to a lack low crop diversity in her area? Was the low crop diversity connected to deforestation and/or climate change?
I certainly don't have the answers, but I look forward to exploring these questions and topics as we progress and learn through this Global Health Challenges course.
---
Citations:
1. Public Health Association of Australia (2018) Top 10 public health successes over the last 20 years.   Available at: https://www.phaa.net.au/documents/item/3241 (Accessed: Sept. 27th, 2020).
2. Lo, A., Polšek, D., & Sidhu, S. (2014) 'Estimating the burden of neural tube defects in low- and middle-income countries', Journal of global health, 4(1)-010402, p.1-9. Available at: https://doi.org/10.7189/jogh.04.010402 (Accessed: Sept. 27, 2020).
3. WHO Guideline At-A-Glance:  Optimal Blood Folate Concentrations for the Prevention of Neural Tube Defects (2017) Available at: https://www.cdc.gov/ncbddd/birthdefectscount/obf-guideline.html (accessed Sept. 27th, 2020).
4. Myers, S. (2017) 'Planetary health: protecting human health on a rapidly changing planet', The Lancet, 290(Dec.23/30), p.2860-2868.
Photo source: https://www.houstonchronicle.com/local/prognosis/article/Umbilical-cord-patch-good-for-fetal-spina-bifida-8354902.php