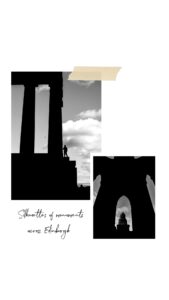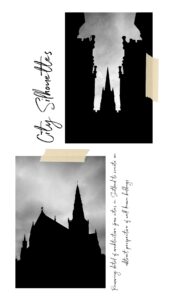 Revised Study PlanStudy Plan – Year 3
ABSTRACT SILHOUETTES
This semester I would like to extend my second-year project 'City Silhouettes'. Near the end of last year, I developed abstract works which incorporated architectural silhouettes. To manipulate the images, I used online software to mirror and distort the images. To develop this process, I would like to experiment with double exposures – trying digital techniques such as scanography. By using a flatbed scanner I can layer different images printed on tracing paper and normal photopaper and add materials such as tape and stickers to create a completely different version of this image. To explore new avenues, I would like to attempt analogue approaches such Photograms and Vortographs which both require a darkroom and enlarger. The addition of light sensitive paper and chemicals may create interesting results.
Using ink would be another avenue of experimentation I would like to explore – the liquid element may create some interesting abstract pieces. Solid black ink would distort my black and white imagery, transforming it with unusual shapes which will be unique to each print. This semester I want to push boundaries and create less structured work. By working digitally, you can control the outcome but working with inks and Scanography will achieve many possibilities.
For primary research I will conduct a series of images that look at lines and shadow and their formation and composition. Capturing how lines and shadows omitted by everyday objects influence my manipulations and the connection between reality and the abstract (See images below for examples). The combination of these images layered will create the base line of my abstracts.