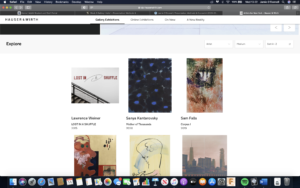 For my "gallery visit", I looked at the Artists of New York Exhibition from Hauser & Wirth. This is a physical and online exhibition (I viewed it online) which was organised to raised money for artists and visual arts organisations that have been affected by the Covid-19 pandemic.
In recent months, online exhibitions have been on the rise because many galleries have closed. The website itself is very user-friendly, although I feel like the presentation of the work could be more exciting. It's almost set up like an online shop, not a gallery. I'm not sure if that was intentional or not. I think an online 3D tour or using virtual reality would have been more interesting. It would give us more of a sense of scale and what the works look like in context. When you click on the images, it only shows you information about the artist, but not the work itself. I would be good to know what the work is about and why it is in this exhibition.
I think the context of this exhibition, and every exhibition at this time, is particularly important because of the things that our government has been saying about people in the arts and how we should "retrain". By having more exhibitions, we can raise awareness of why the arts are so important in our society.