As I have already looked at floor construction, this week I began looking at different types of columns and column construction, and the way in which the curved beam structure that supports the void will be secured in place. Because my interventions are so colossal the support structure needs to be capable of not only supporting the floor and void, but it must also be able to span the entire height of the structure from the ground to second floors.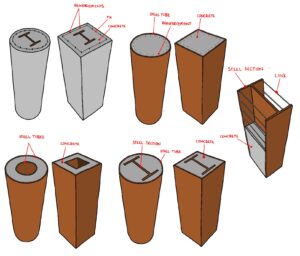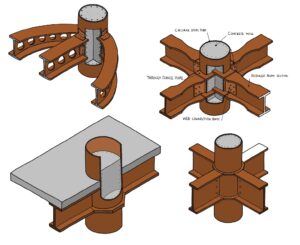 Although there are a variety of column types many of which are cheaper and easier to construct the safest and most secure, as well as aesthetically appropriate for my design scheme would be precast, circular reinforced concrete columns with a steel tubes around them. The steel tube is perfect for attaching beams, particularly with a simple filet weld which is cheaper and more effective than other options. As well as this, the steel material works perfectly with the other materials in my space outlines in week 8.
After researching into columns and floor construction I began developing my Main Space 1:100 detail drawings. I however intend to begin developing and looking primarily at the construction of the curved glass curtain wall surrounding the void in my main space first floor viewing gallery.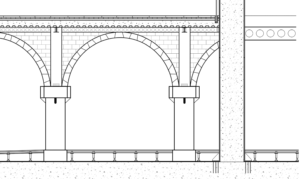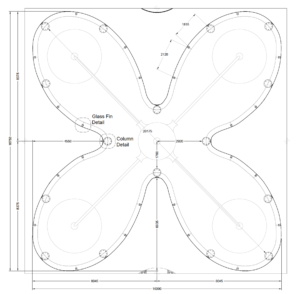 Although I have an understanding of the floor, column and beam construction as well as the measurements of the individual glass panels I am not yet sure how the glass structure itself will be constructed or supported. I have briefly sketched a few ideas of the construction joins however I need to do more research before attempting to draw larger and more accurately finalised detail drawings at 1:20 and 1:5.
As the final teaching has come to an end I will continue to conduct more research into glass wall construction. With my current understanding of how my building structure will work and the research I will undertake, I can begin looking in more detail at the connection elements, how the glass is connected to the floor, ceiling, columns and glass fins and begin working at a closer scale (1:5) before researching materials and companies that supply the specific elements required.