Reading Time:
2
minutes
Edinburgh University Students' Association's Student-Led Teaching Awards are back to recognise outstanding members of learning and support staff. After a challenging year for everyone, we're celebrating our worthy nominees by shouting about their successes across our digital platforms.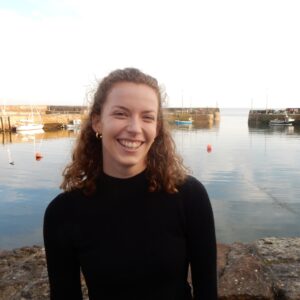 What is your full name?  
Eleanor Platt 
What is your job title? 
PhD student and tutor 
What school or service do you work in? 
School of Informatics 
Please tell us a little bit about yourself and your role. 
I am a second year PhD student in the School of Informatics and have been tutoring the Introductory Applied Machine learning course for the last three semesters, including for students from the Business School and distance learning students. My teaching duties include delivering the tutorials, answering questions on the class forums, marking coursework and exams, and generally spreading love of machine learning! 
What does it mean to you to have been nominated for a Teaching Award this year? 
It means so much to be nominated for the teaching award, I smiled so much when I found out. I am passionate about providing a welcoming, supportive and exciting environment for learning in, and I have been particularly mindful of this when delivering tutorials virtually. To know that students have gained both knowledge and confidence in themselves makes it all worthwhile. 
What's your favourite part of your role and working with students? 
My favourite parts are when students have the light bulb moments and the questions and methods make sense. 
How have you adapted your approach to teaching and supporting students under the Hybrid Model this year? 
I have been mindful of creating a welcoming and inclusive space where people hopefully feel as comfortable as possible contributing to the class. I have used the shared Microsoft Whiteboard which can be saved and shared with the students after the session. I have also created tutorial summaries to send to the students after the classes to alleviate some pressure. 
What's been the biggest challenge in your role this year? 
It has been challenging not being able to observe body language to help with pacing the tutorial. 
What would you say to the student(s) who nominated you, or students who are considering submitting a nomination for a staff member who has had an impact on them? 
Thank you for your kind words, best of luck with your exams and future ventures! 
To find out more about the Teaching Awards and browse nomination categories, please visit the Students' Association's website.