Creating Groups
If you need to create tutorial groups, there is a simple way to do this in Learn. Learn has a Groups tool which allows you to create manual enrol groups, random enrol groups or self-enrol groups. To access the tool, go to the Course Management panel and select Users and Groups>Groups.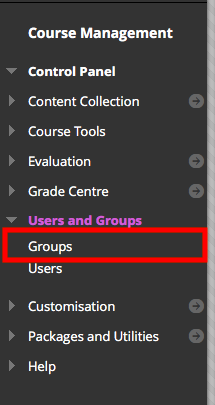 Select 'Create' and then choose the appropriate option from the Group Set list. If you are creating multiple groups, it's advisable to create a group set. This means a student can't accidentally enroll on more than one group.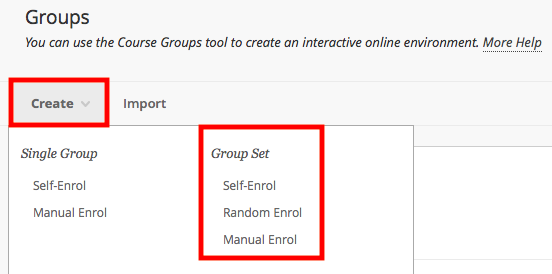 ---
Self-enrol groups
If you are going to ask students to select their own (tutorial) group, you will need to create a sign-up sheet, in addition to the groups themselves. Firstly, give the group set a name (eg tutorial). Leave as 'Yes' the default option for 'group is visible to students'.
You can select which tools the group will have access to as a group. For example, if the course organizer would like the students to work in groups and produce their own group blog / wiki / discussion forum, select this here.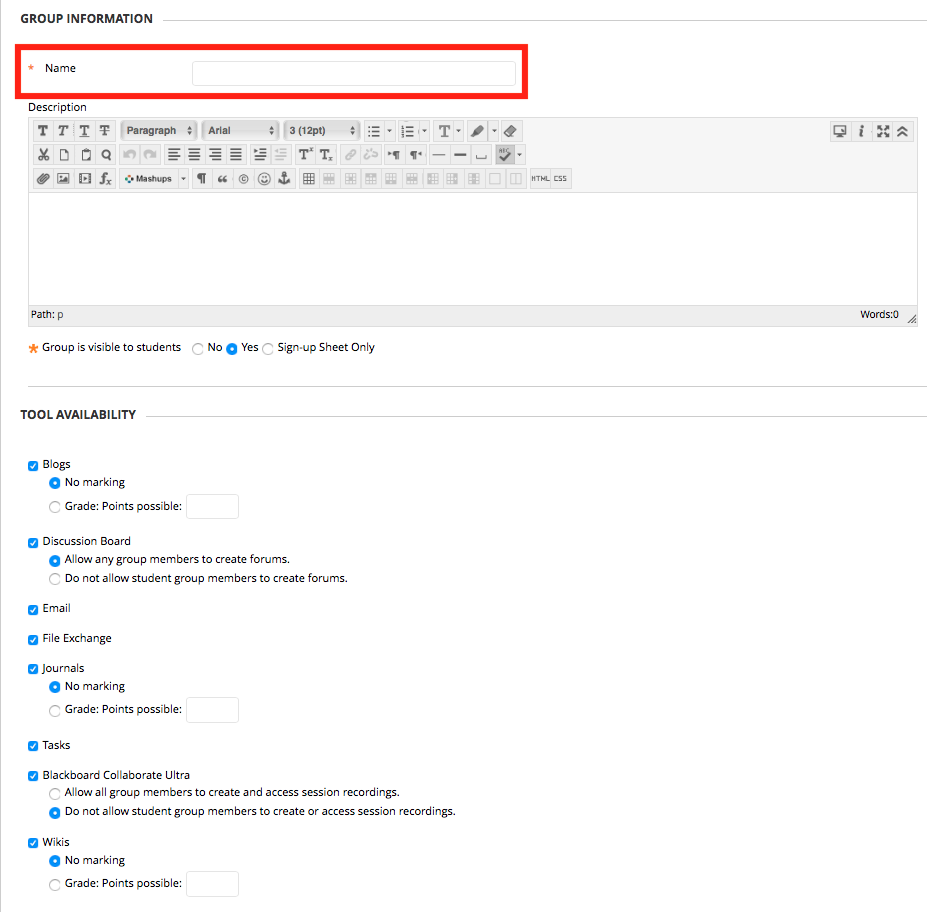 Now give the sign-up sheet a name (eg Sign up here for tutorial group).
Choose the maximum number of members per group.
Select 'Show members' if you want students to see who has already signed up to that group.
Select 'allow students to sign-up from the groups listing page'.
Select the number of groups you need.
Select Submit.
Learn will automatically name your groups by adding 1, 2, 3 etc after the name you gave for your group set.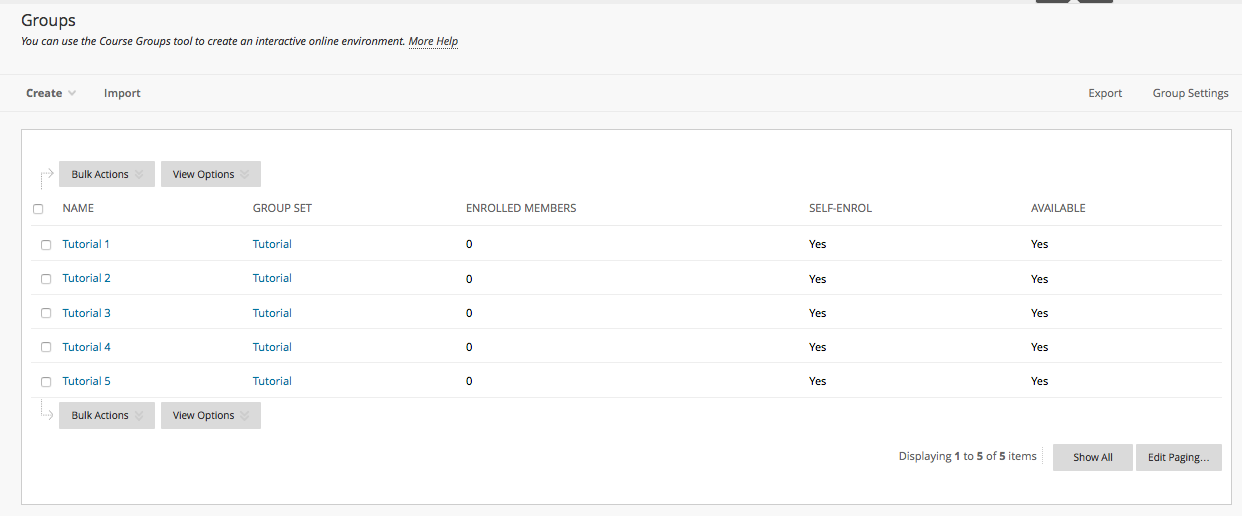 You can edit these names by selecting the action button next to the group name and choosing Edit Group. You may want to name the group by including the name of the tutor (eg Tutorial – Jane Doe). Please note: if your group name is very long (c >75 characters) a group ID is not generated. This can cause issues when exporting group lists and group membership. You can add additional information in the 'group description' field if this is the case.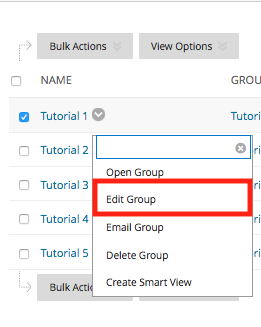 You now need to ensure students can't create their own group, or edit their group. To do so, select Group Settings button in the top right of the Groups page.

Deselect both options to allow students to create and edit student created groups.

You have now created your groups. In order for students on the course to see this, you need to add a tool link in the Learn course menu. Ensure Edit Mode is switched to 'on' and select the + symbol to the top left of the menu. Select 'Tool Link'.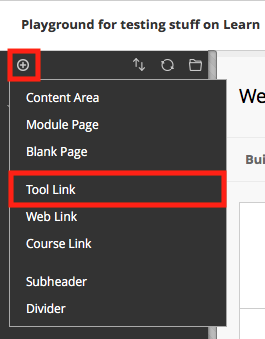 Select 'Groups' from the drop-down selection of tool links type, give an appropriate name and be sure to tick the 'available to users' (AKA visible to students) option.
Now, when a student selects the Groups tool link, they will see the instruction to sign-up for a tutorial group.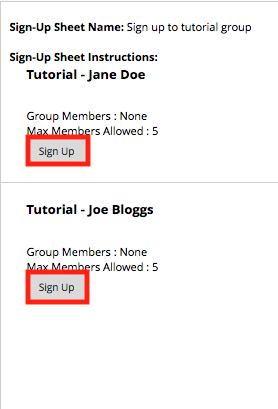 ---
Manual-Enrol Groups
If you know how you want to assign students to groups, select the Manual Enrol option within Create>Group set. Give the group set a name and select which tools should be made available at group level. Choose how many groups you want to create and select Submit.
Edit the name of the individual groups within the set and select Add Users.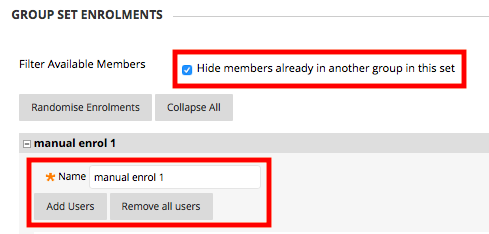 Select the users you want to add to the group. You can sort by username, first name, last name or role. Sort by selecting the column header.

---
Randon-Enrol Groups
If you wish to randomly allocate students to groups, select Create>Group Set>Random Enrol. Give the group set a name and choose which tools you wish to make available at group level. Choose how you want to determine the number of groups and how to enrol any remaining members.

---
Editing Group Membership
Irrespective of how initial group allocation has been awarded, you can edit group membership easily. From the Course Management panel select Users and Groups>Groups.
Select All Users in the top right of the screen.

In the Groups column, select the X next to a group you wish to unenroll a student from. Select + Add Group to add the user to another group.

---
Related Links
Managing Group Tool Availability
Group Tool Availability: Student View
Share