There is a new LTI integration to Piazza which has been setup for your Learn course via the School of Informatics template.
Why do I need to use this Link?
During Academic Year 2020/21 Piazza changed its licence to a charged model which restricted the use of many existing Piazza Classes. The University has now created an integration to Piazza via the LTI link which allows classes to be set up officially within the University of Edinburgh license.
Additionally anyone enrolled on your Learn course (Students and Instructors) will have an easier approach to enrolling into your Piazza.
How do I create my Piazza Class now?
To create courses within the paid-for license you will need to use the LTI Link in your Learn course. When you open the LTI link as an instructor for the first time you will be faced with a form for creating a new class or linking to an existing class.
Please create a new class for the new academic year to ensure that the correct license is applied.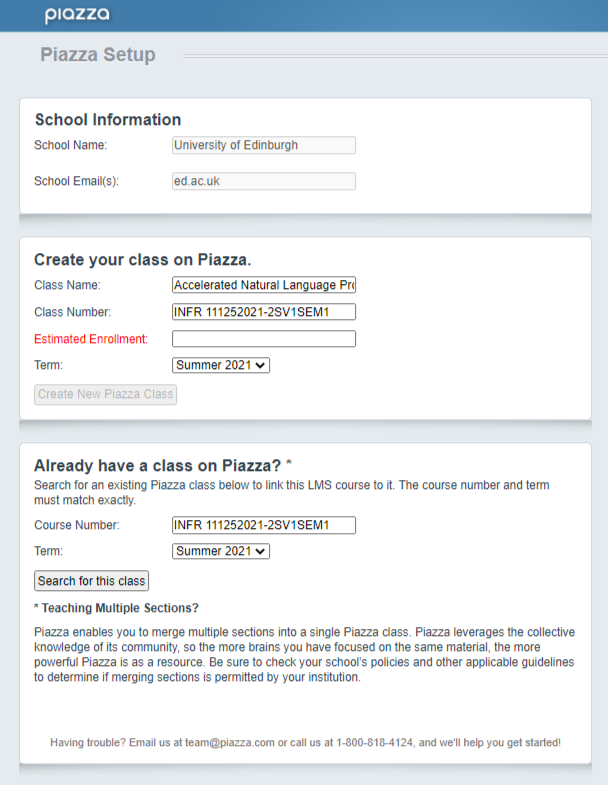 When creating a new class the Course Name and a suggested ID will be auto-populated from the information in Learn, all you have to do is add the estimated roster size for the class in terms of numbers of students.
Once created completed the additional fields that are suggested by Piazza, or alternatively skip this step using the link at the bottom of the form page.
Your Piazza Class is now ready for use.
Share