As of 28 January 2021, we have decided to (temporarily) disable the LTI integration between Learn and Gradescope.
WHAT DOES THIS MEAN?
You will still be able to access Gradescope. However, you will be directed via a web link, where you will be prompted to login direct to Gradescope.
When I select the link to Gradescope, I'm prompted to login but I don't know my login details. How can I find these?
If you have previously used Gradescope you will already have an account. If you are a student enrolled on the course using Gradescope, you will also have an account. The email address that's linked to your Gradescope account will be your student number @ ed.ac.uk (eg s12345@ed.ac.uk). You can access this account directly by going to gradescope.com and clicking Log In. The first time you do this, you'll need to set a Gradescope-specific password for your account, and you can do that by selecting "Forgot your password?" from the login page or go directly to: https://www.gradescope.com/reset_password. You will then receive a personalized emailed link to set a password for your Gradescope account.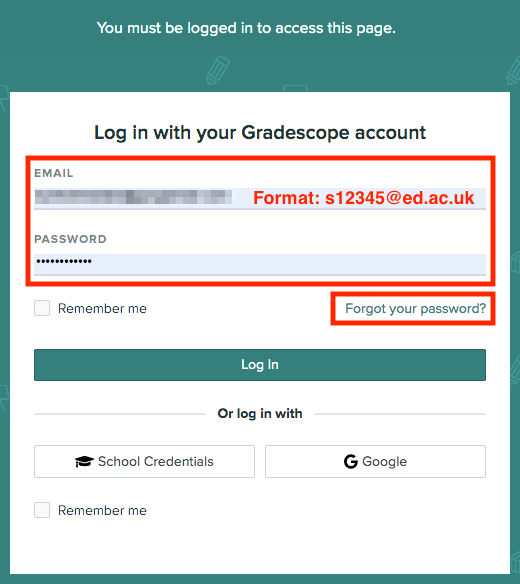 Share