The Teaching Hour session on 8 October focussed on "Building a Sense of Belonging for Students". The session has been recorded so you can see Cathy Bovill from the Institute of Academic Development, and Ross Ward talking about different aspects on the topic at the link below:
Recording: Teaching Hour | 8th October
Slides: Creating a sense of belonging online; Dr Catherine Bovill
This post will focus on some of the reporting tools that are available to help get some additional insight into your course and how students are "engaging" during the course of the semester.
Note: I will use the term "engagement" throughout this article. In this case it will mean accessing the course materials, and interacting with the course activities. This engagement does not indicate a level of understanding or competence in the subject. It is also limited to the Learn environment and some integrated tools.
Instinct not Automation
I want to start by stating that the reporting tools in Learn are not a replacement to your natural instinct or other forms of student support mechanisms available within the School of Informatics. The reports and triggers highlighted here act as an additional form of input (especially in the Hybrid Teaching Model) to help ensure your students get the support that they might need.
Important:
If two weeks have passed and a student has not engaged, or you have other reasons to be concerned please contact student support in the first instance.
Finding the reporting tools in Learn
There are some useful reporting tools available within Learn that help to see patterns of activity, how course materials are being accessed, and give insights into student "engagement" (or lack thereof).
The reporting tools are available under the "Evaluation" section of the Course Management menu.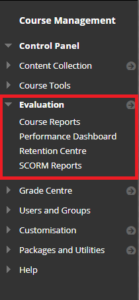 Course Reports – provides some very basic analytics about access to the course and content
Performance Dashboard – provides a quick overview of student "engagement"
Retention Centre – highlights students that do not meet defined activity thresholds to identify students that are potentially "at risk".
We will not be looking at Course Reports in this post.
Performance Dashboard
As a dashboard tool you are able to review some high level information relating to student activity within the course. This includes:
Date/Time of last access to the course
Days since last access to course
Overview of number of course elements "marked as reviewed"
Discussion Board activity
Review which course elements a student can see via Adaptive Release
Review the number of Retention Centre triggers that a student meets
Quick link to the student record in the Grade Centre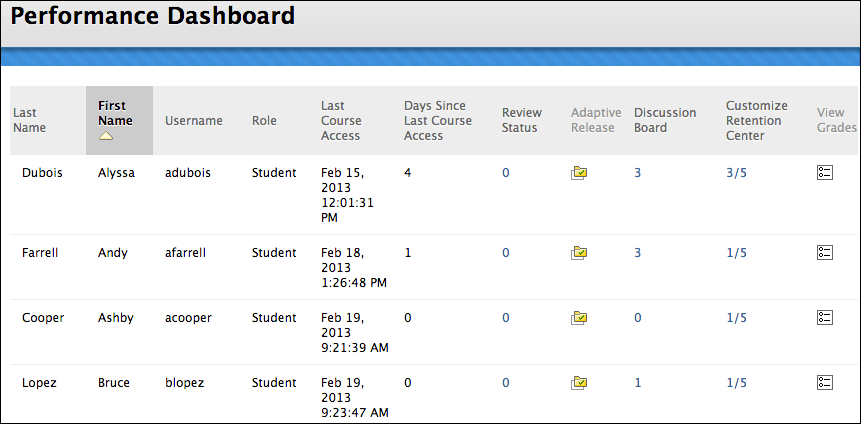 The performance dashboard doesn't really provide any in-depth analysis, but it can be a good starting point for reviewing some basic activity within the course.
Blackboard | Performance Dashboard
Retention Centre
If the Performance Dashboard provides an overview of what students have been doing in the course, the Retention Centre highlights the students who perhaps haven't been meeting expected levels of engagement or achievement in the course.
It is important at this point to stop and think about "what does an 'at risk' student look like in my course?". The amount of "triggers" available to give you an oversight of students who might be deemed 'at risk' is fairly limited; so it is better to start from your perspective rather than trying to let the data drive your definition.
Triggers
There are four pre-defined triggers in the Retention Centre. You can choose to customise these, add new triggers, and choose whether or not to use the triggers to flag students who may be 'at risk'.
Course Activity – activity within the Learn course compared to the cohort (this is not a particularly good indicator)
Course Access – flag students who have not accessed the course within a specific time range
Mark – flag students who do not meet, or exceed a certain score. This can be overall, or on specific columns in the grade centre.
Missed Deadline – flag students who are not meeting deadlines
You can have multiple rules in your course, and you can choose to include them in the Risk Table.
At Risk
Students who trigger an alert will appear on the Risk Table they will have a coloured-dot within the trigger column, and can be expanded to view more details.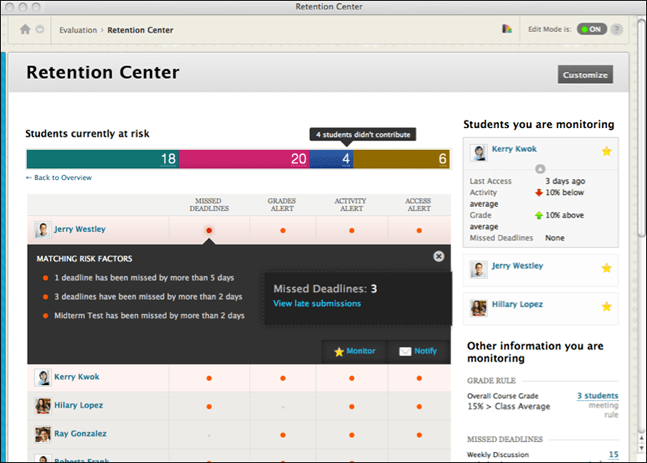 You can choose to "monitor" students by adding them to a list in the Retention Centre.
Students are not automatically notified about being considered "at risk". This tool is for information purposes only and should not be used as the sole reason for raising a concern about a student. If you do have a concern about a student please contact Student Support.
Share