These are instructions for marking exams where the same marker is marking all questions within a component of an exam. If you are marking an exam horizontally, that is where different markers mark different questions within a component of the same exam, please visit the instructions here.
Go to your course in Learn and in the Course Management panel navigate to Grade Centre>Needs Marking.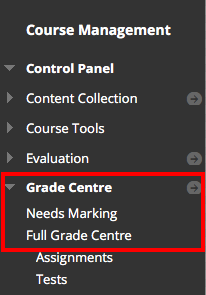 You will find a list of submissions. Each submission is for a single question. You can filter the list to the question you want to mark. Select a particular attempt you want to mark by clicking on it.
Depending on the submission type, you can either read the submission in the browser, or you may need to download it. To record a mark for the component you are marking, you need to use the attached rubric. Select the rubric (called INFR11131 – Question 1 in the example below) to open.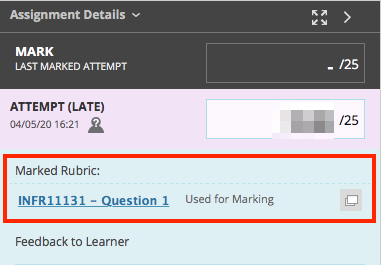 Select the mark for each component from the drop down menu. All component marks will be automatically totalled in the 'Raw total' field. Press Save Rubric to save your marks.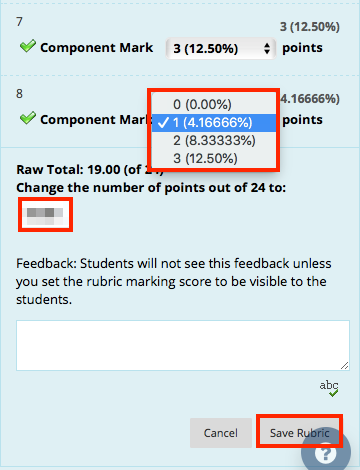 IMPORTANT – if you feel that the marking rubric is not correct for this paper contact the ITO immediately for a review. Changes to the rubric design and structure cannot be made once marking has begun.
You will now be presented with the overall marking interface for the paper. Check the totalled mark is what you're expecting. You can add marking notes to other markers or moderators by selecting 'Add Notes'. This is not visible to the student. Once marking for all question parts is complete, press submit. If you are marking horizontally, and only completing part of the rubric, do NOT press submit. Simply move on to the next submission paper.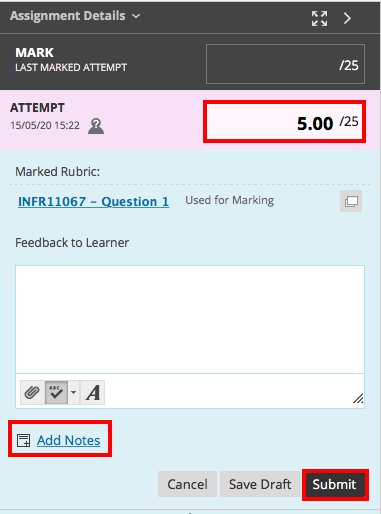 You can move on to the next submission to mark by either:
returning to the Needs Marking view or
you can navigate between students using the left and right arrows (see below). As you navigate from student to student, usernames are replaced with "Anonymous Student." You can also see how many gradable items are in the queue. If you wish to navigate between questions and attempts, select the 'Jump to…' button.

All marking is anonymous so we recommend taking a note of the attempt or examination number of the submission, should you wish to revisit it at a later time. Once marking has been submitted, the submission will move from the "needs marking" area and can be found by searching in the grade centre using the attempt ID.
Share