There will most likely come a time when you want to communicate with some, or all students in your class. Learn provides a variety of ways to do so. If you wish to communicate with the whole class, the best way to do so is to use the Announcements tool.
Use the Announcements Tool
The Announcements tool is included in the Informatics Learn template. Select the tool from the main menu. Give the announcement a subject header. You can use the full editor to style your announcement text.
NB. sending an announcement via Learn means it appears in a the MyEd area for students enrolled in the class. It also appears on their Learn homepage, as well as the announcements page for the class. If you select the 'email attachment' option when composing your announcement, an email will also be sent to the students in your class.
If you wish to communicate with a sub-set in your class, for example, a particular tutorial group, you can use the email tool within Learn.
To email a particular group of students, ensure Edit Mode is switched to 'on'. Go to the course management panel in Learn (below the main menu) and select Users and Groups>Groups.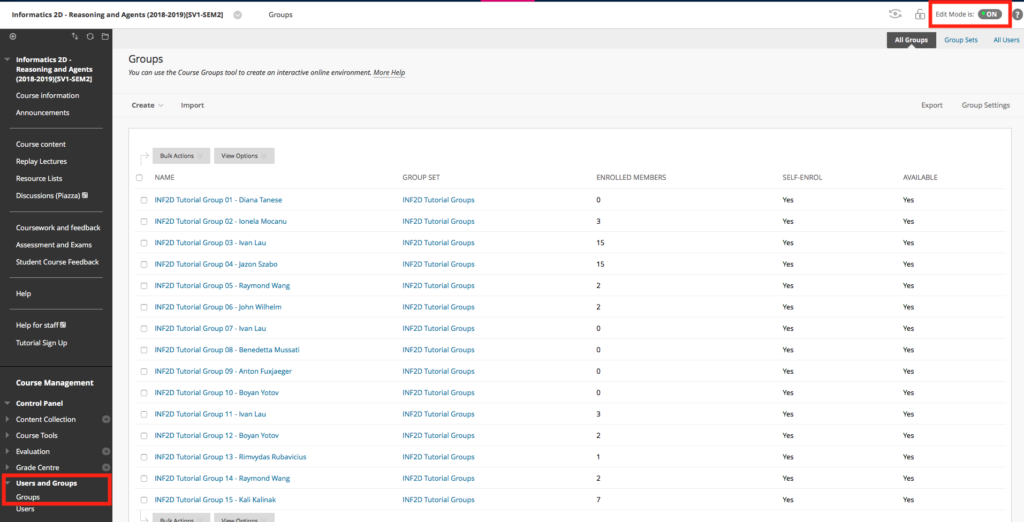 Secondly, select the action button next to the group you wish to email (downwards facing chevron) and select 'Email Group'.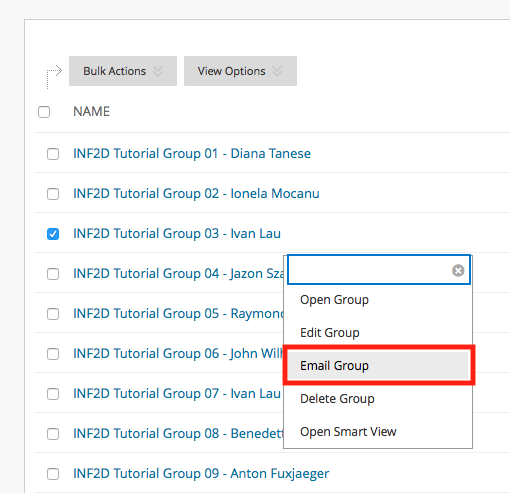 Finally, select the group members you wish to email. If you want to email all in the group,  click 'select all' and then the right facing chevron to move the selected users into the 'selected' panel. Compose your email using the editor. Remember, you can add an attachment. When you're happy with your email, select 'Submit'.
NB: A copy of the email will be sent to the sender, but is not retained for viewing by other instructors on the course.
Share