Frontiers: Explosive Eruptions with Little Warning
Frontiers: Explosive Eruptions with Little Warning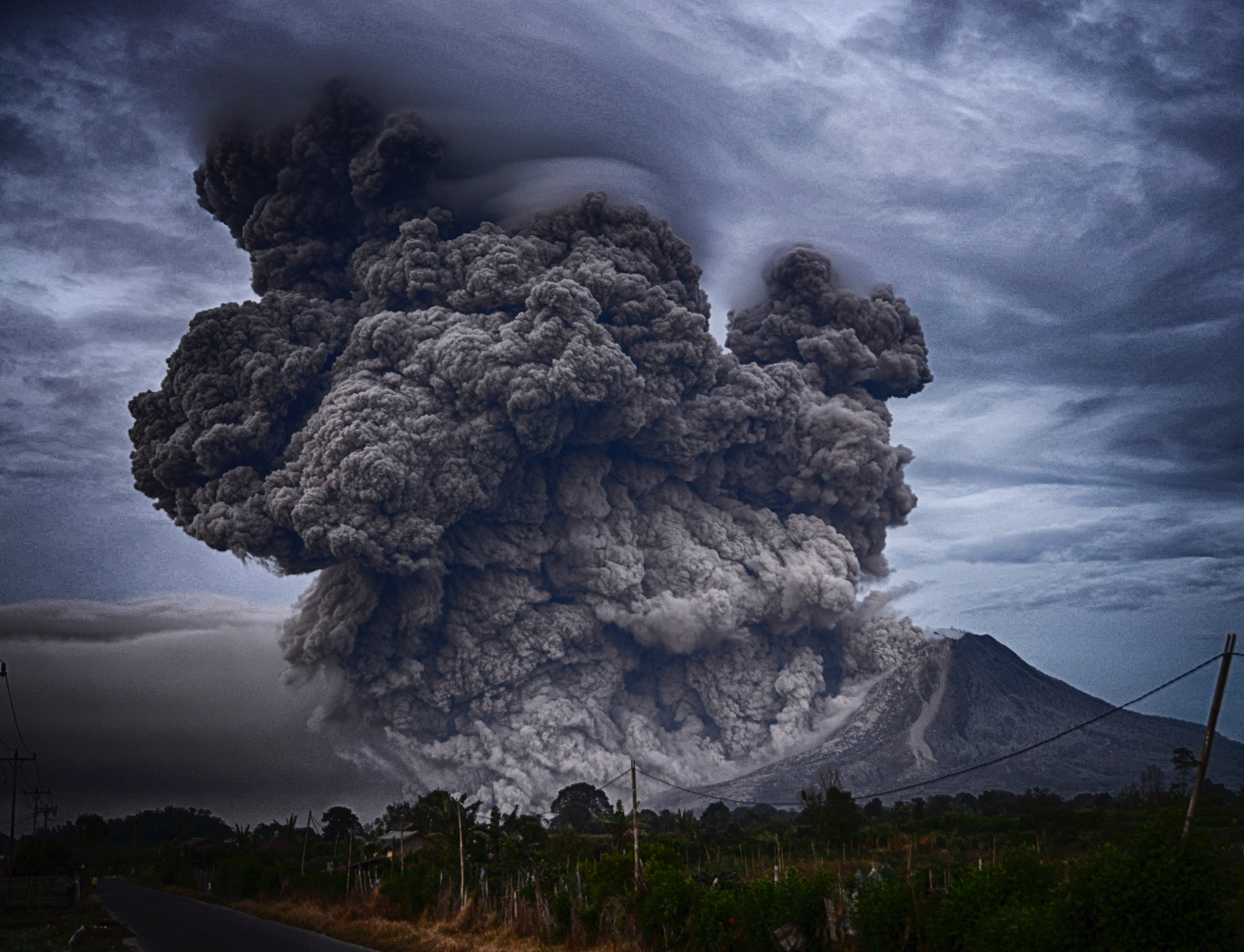 Reading Time:
6
minutes
In the millennia since the first written observation of volcanism, the study of these geological hazards has improved considerably. Volcanology in and of itself is steadily getting better at predicting the timeline of volcanic eruptions, with advances in remote sensing now employing techniques such as InSAR1, in-field seismicity and gas geochemistry. Alongside a widening scope of interdisciplinary studies into cultural geoheritage2, volcanologists are also improving their methods in assisting local governments and communities with hazard risk reduction strategies.
However, the field of volcanology has yet to accurately forecast whether impending eruptions will become effusive or explosive—the latter being infamous for its destructive reputation. While some studies report that volcano-tectonic seismicity is often the earliest precursor to volcanic eruptions3, other studies suggest that explosive eruptions can also occur with little to no early warning signals4.
In a seminar delivered in early October for the School of Geosciences Petrology and Volcanic Group, Dr Mike Cassidy outlines how linking volcano monitoring data with processes that cause volcanic unrest can provide insight into whether a volcano will erupt effusively or explosively. The duration of pre-eruptive unrest is linked to the conditions of magma storage and its ascent rate5; thus, experimental petrology studies like those used in Dr Cassidy's research into the Javanese volcano of Kelud in Indonesia can potentially reconstruct magma storage conditions prior to effusive and explosive eruptions.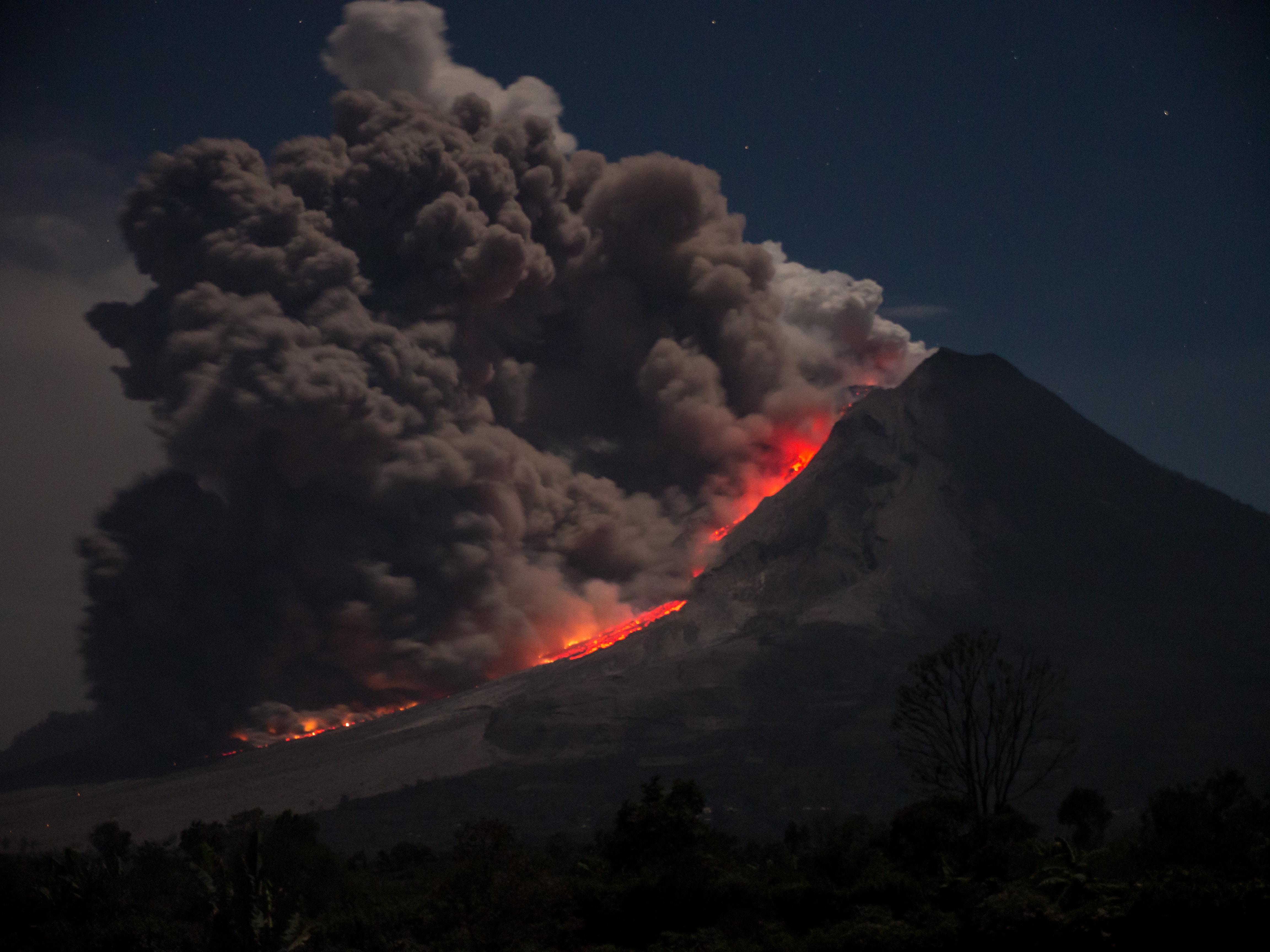 Photo by Marc Szeglat on Unsplash
The foundation of Dr Cassidy's study begins with an understanding of the inter-related factors that can induce a volcanic eruption. In physical geography, we are taught that magma viscosity is one such factor, because magma viscosity is generally influenced by the amount of silica that it contains. This is because silica limits its potential for outgassing, or the amount that gases and other volatiles that can be released. In short, more silica means thicker magma, which means less outgassing; therefore, more volatiles trapped in magma increases its explosive potential. Hence, it is highly silicic magmas that generally produce explosive eruptions because of their high viscosity and high volatile content.
However, Kelud has consistently produced basaltic andesite6 lava that only contains a moderate level of silica; in reality, magma viscosity is not the only factor that determines whether a volcano will erupt effusively or explosively. Suffice it to say, the explosive potential of an active volcano is influenced by numerous factors inter-related with one another. Therefore, Dr Cassidy's study employed a multiparameter approach to analyse magma conditions under Kelud. Using monitoring data, the study also investigated the history of Kelud's unrest prior to several notable eruptions to further determine what caused some eruptions to be effusive, and others to be explosive.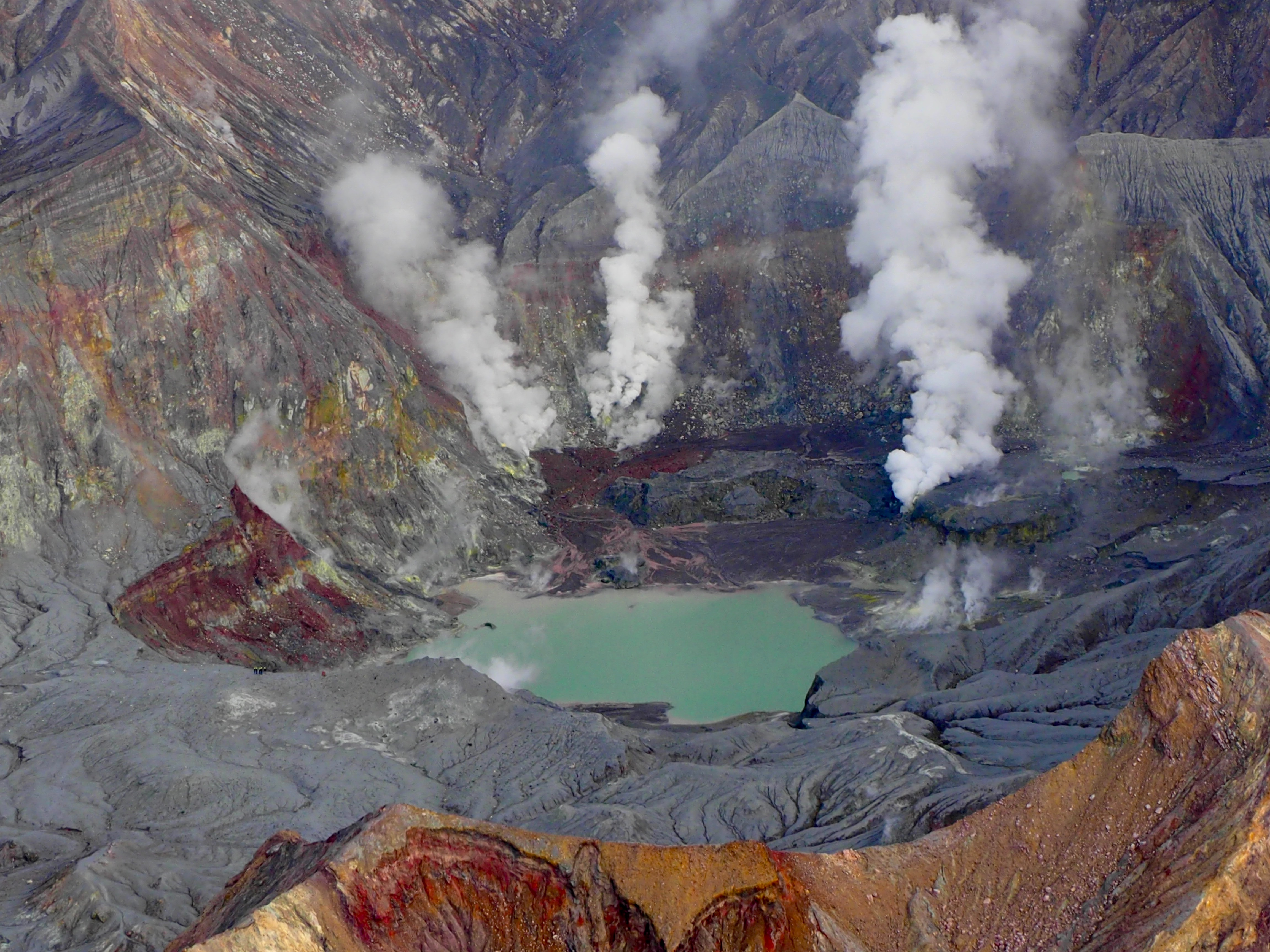 Photo by Farrah Fuerst on Unsplash
Of particular interest to this study were explosive eruptions that occured in 1990 and 2014, as well as an effusive eruption in 2007. By analysing the eruptive products collected from their deposits around Kelud, the study determined that the eruptions had likely originated from a steady source of magma at relatively shallow depths. Thus, the study was able to recreate the conditions under which this magma was stored prior to eruption. Overall, it was found that experiments conducted at water-saturated conditions were consistent with data from the explosive 1990 and 2014 eruptions, whereas the effusive 2007 eruption was found to have occured under water-undersaturated conditions with raised levels of carbon dioxide (CO2).
Because increased seismicity, elevated CO2 outgassing and increased temperatures from Kelud's crater lake were observed in the four months prior, it is likely that the effusive 2007 eruption was triggered by an intrusion of CO2-rich magma at depth. Furthermore, data from the explosive 1990 and 2014 eruptions presented no similar indications of magma recharge. Alongside petrological evidence of increased water content in the rims of feldspar crystals, it is likely that magma was able to cool and crystallise prior to the explosive 1990 and 2014 eruptions, thereby allowing for greater amounts of water to separate from the magma and encourage magma decompression. Subsequent pressure reduction of the magma will then have resulted in a positive feedback cycle that enabled the rise of magma water and volatile content. This not only would have increased the viscosity of the magma, but also bolstered the magma's rate of ascent to the surface and inevitably produced eruptions of explosive nature.
In the context of the 2007 eruption, the intrusion of CO2-rich magma into the system was instrumental in changing its impending eruption from potentially explosive to effusive. Unlike water, CO2 tends to separate from magma at shallow pressures; therefore, it is likely that this volatile did not contribute to the decompression, viscosity increase and subsequent ascent of the magma in creating an explosive eruption like the 1990 and 2014 events.
To summarise, this investigation into a series of eruptions at Kelud indicated that the potential for magma to become explosive is strongly determined by its storage conditions. Generally, these which must be conducive to its decompression and the subsequent rate of ascent to the surface, which must be quick enough to limits its ability to outgas. When saturated with water and volatiles without a suitable pathway for their release, these conditions create a magma ideal for explosive volcanic eruptions—and sometimes at a Plinian scale.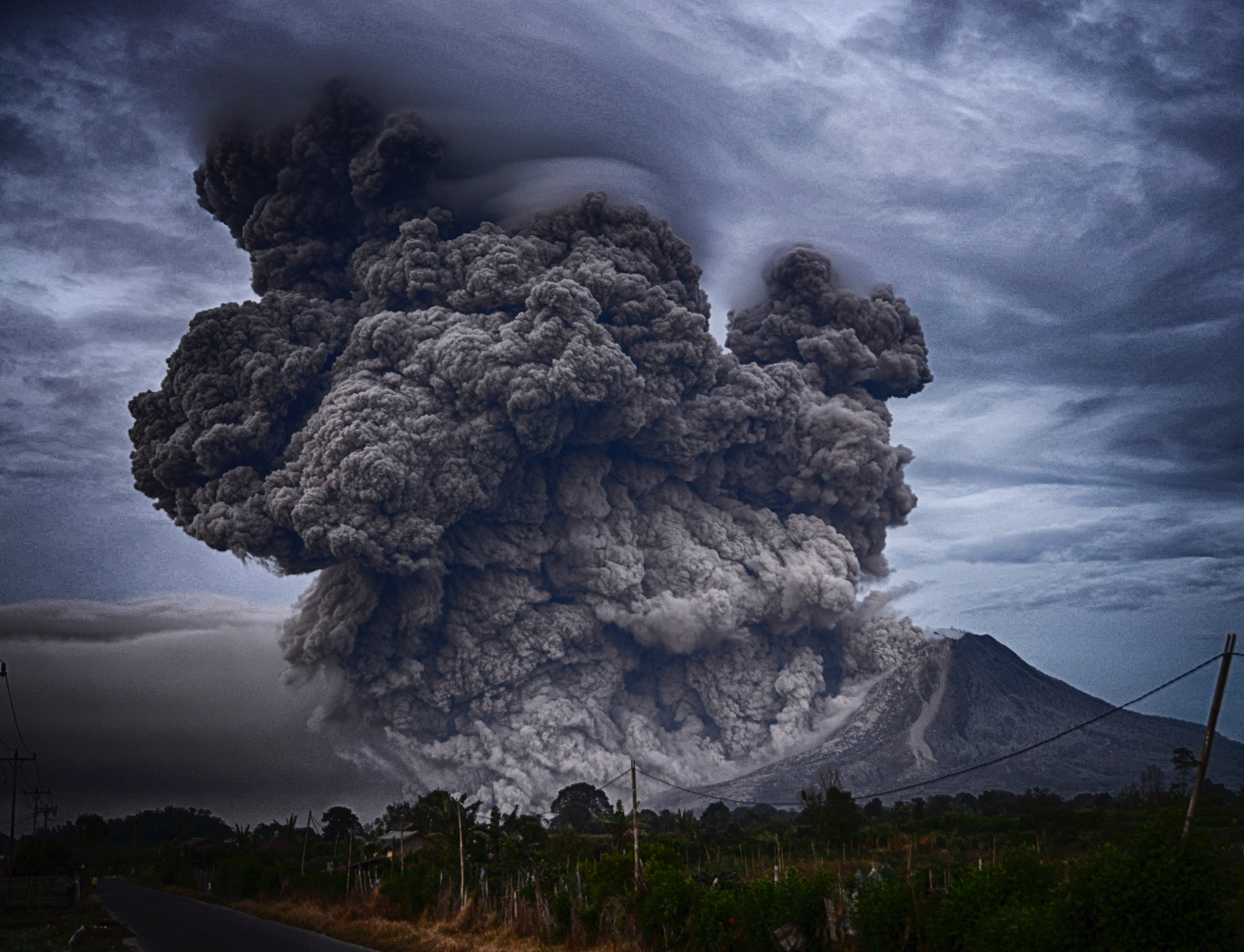 Photo by Yosh Ginsu on Unsplash – Eruption of Plinian Scale on Mt. Sinabung, Indonesia
Although insightful from a scientific perspective, the conditions in which explosive eruptions can occur are only substantially significant in the context of volcanic risk hazard reduction. Sitting on a subduction zone stretching from northwest Sumatra to Flores in the east, Kelud is actually one of the most dangerous volcanoes in Indonesia. Having erupted eight times both effusively and explosively in the past century, the 1,731m-tall volcano has long posed a danger to the 2 million inhabitants that live within 30 km of it.
With no significant signs of deformation observed around Kelud's edifice, the 2014 Plinian eruption was only preceded by limited seismicity over a single month prior to its occurence. Thus with little warning indeed, Kelud erupted on the 13th of February 2014 at 10:50pm local time9 in two pulses. The first destroyed the dome that was deposited from its last eruption in 2007, whereas only 15 minutes later and within a span of 2 hours, the second pulse ejected a vast ash plume reaching up to 3 km high10, thereby blanketing the island of Java in 120,000,000 to 160,000,000 cubic metres of volcanic ejecta9. Altogether, this unprecedented eruption killed around 7 people and displaced more than 100,000 people10. The second pulse of this eruption was likely caused by rapid decompression of the magma as it ascended to the crater in only 7 to 16 minutes6.
While Kelud's 2014 eruption only exhibited seismic activity that exponentially increased over a month, the earlier eruption on the 16th of October 2007 at 3pm local time had a longer warning time. Not only was the impending eruption clearly indicated by significant seismic readings during the event, but also gradually increased in amplitude and frequency in the two months prior10. Although this eruption produced a 120 metre-high lava dome that ejected lava into Kelud's crater lake9, the impacts of this eruption were considerably less severe than the 2014 eruption that followed.
All in all, explosive eruptions are truly a force to be reckoned with. Not only are they capable of extensive destruction and harm, they are also likely to occur with very short periods of unrest within a month or less prior to magma ascension—which can happen within minutes or hours, even when sourced from deep reservoirs6. In conclusion of this seminar, Dr Cassidy summarises that a combined analytical and experimental petrological approach has been instrumental in providing insights into the cyclical evolution of the magma reservoir of Kelud. He further posits that the style of Kelud's future eruptions can potentially be predicted by the point at which they initiate in its cycle of magmatic reservoir growth.
References
1 Interferometric Synthetic Aperture Radar (InSAR) (2018)
United States Geological Survey
2 The Dark Geocultural Heritage of Volcanoes: Combining Cultural and Geoheritage Perspectives for Mutual Benefit (2019)
J. Scarlett, F. Riede
3 Volcano-tectonic earthquakes: A new tool for estimating intrusive volumes and forecasting eruptions (2016)
R. White, W. McCausland
4 Magma supply, magma ascent and the style of volcanic eruptions (2007)
R. Scandone, K.V. Cashman, S.D. Malone
5 A basalt trigger for the 1991 eruptions of Pinatubo volcano? (1992)
J.S. Pallister, R.P. Hoblitt, A.G. Reyes
6 Explosive Eruptions With Little Warning: Experimental Petrology and Volcano Monitoring Observations From the 2014 Eruption of Kelud, Indonesia (2019)
M. Cassidy, S.K. Ebmeier, C. Helo, S.F.L. Watt, C. Caudron, A. Odell, K. Spaans, P. Kristianto,
H. Triastuty, H. Gunawan, J.M. Castro
7 Differences of precursory seismic energy release for the 2007 effusive dome-forming and 2014 Plinian eruptions at Kelud volcano, Indonesia (2019)
Nakamichi H., Iguchi M., H. Triastuty, M. Hendrasto, I. Mulyana
8 Insights into eruption dynamics from the 2014 pyroclastic deposits of Kelut volcano, Java, Indonesia, and its implications for future hazards (2019)
L.R. Goode, H.K. Handley, S.J. Cronin, M. Abdurrachman
9 Kelud (2019)
Wikipedia
10 Report on Kelut (2014)
Global Volcanism Program, Smithsonian Institution
11 Differences in the seismicity preceding the 2007 and 2014 eruptions of Kelud volcano, Indonesia (2019)
S. Hidayati, H. Triastuty, I. Mulyana, S. Adi, Ishihara K., A. Basuki, H. Kuswandarto, B. Priyanto, A. Solikhin
(Photo by Yosh Ginsu on Unsplash)
Share