10 Reasons Why Geology at UoE is the Best Undergrad Degree
10 Reasons Why Geology at UoE is the Best Undergrad Degree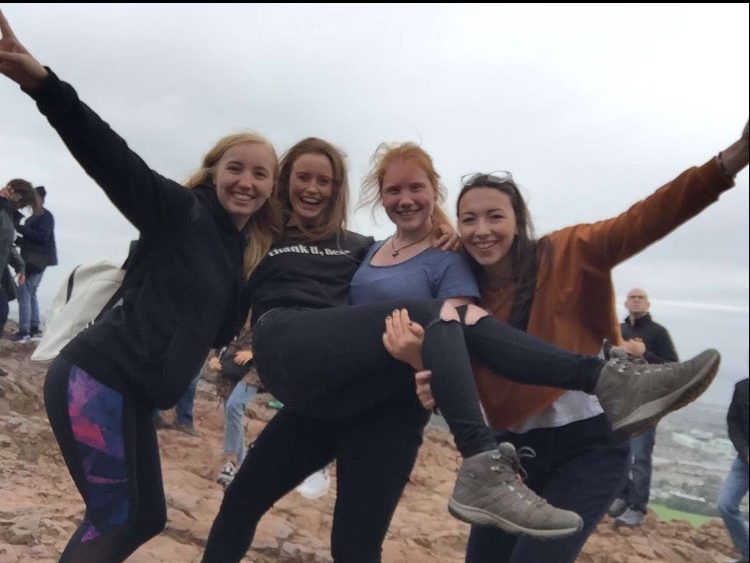 Reading Time:
4
minutes
If you are reading this you probably already know that geosciences are pretty great, but I'm here to tell you exactly why geology is the best undergraduate degree. 
Many of my friends still don't understand exactly what we study, many call us a 'glorified Duke of Edinburgh' or a 'colouring in' degree. However, whilst we still love climbing mountains or a sketching an intricate thin section, we are also so much more than that! 
So here's a list of the top 10 reasons why geology at Edinburgh is the best degree. 
1- Field Trips 
The most obvious reason why geology is amazing is that we get field trips every year. Whilst all your flatmates are studying for their law moot or their computing practical; you are being jetted off across the world to Northern Scotland, Spain and even Cyprus.  
In first year we visited Siccar Point and Arthurs Seat in the first semester then we had a week-long trip to Lake District in the second. These trips are not only great learning opportunities but also are the perfect time to get to know your course mates more! 
2- Real Science 
If you want to study science then why commit to just one? Geology incorporates elements of all the traditional sciences. One day you might find yourself in a chemistry lab doing experiments, the next week you could be looking at fossils then later you could be using physics to understand an earthquake.  
3- Amazing lecturers 
Most people see their lecturers as 'Bob who does accounting' or 'Janet who teaches physics', when really most of them are accomplished researchers and leaders in their fields. Taking the time to talk to your lecturers about their work or doing a quick google search on their past research will certainly inspire you. 
4- The best friends 
As much as I love my non-geology friends, there really is something special about finding a group of friends that love Earth science as much as you. 
Where many other courses are very much lecture based, we have the chance to enjoy labs, tutorials and field trips meaning that by the end of first year, you'll know everyone on the course!  
5- Huge variation in subject matter 
Geology deals with a great variety of issues, from volcanoes to mapping and minerals to fossils, there is something suited to everyone.  
6- Grant Institute 
The building where you will be primarily based, The Grant Institute, was built in 1932 and was largely funded (and named after) Alexander Grant who invented the digestive biscuit. 
Inside the Grant Institute you can find the Cockburn Geological Muesum, a pond and the main lecture theatre. 
7- Edinburgh: the home of geology 
Many consider Scottish geologist James Hutton to be the father of modern geology. Hutton was born in Edinburgh in the 1700s and studied at the University of Edinburgh. Many of his theories were developed looking at the rocks in Edinburgh and around Scotland. 
Not to mention Arthur's Seat (an extinct volcano) is situated right in the middle of the city, as well as the Pentland hills right on our doorstep and the Cairngorms only a short drive away.  
8- Great career prospects 
It is no secret that right now the world needs geologists! With an ever-increasing demand for practical and sustainable solutions to the world's energy crisis, natural hazards still killing thousands each year and the thirst for knowledge about past environments that could be the key to saving the future: geologists are needed now more than ever! After all, 'the past is the key to the future'. 
9- Clubs and Societies 
If you haven't had enough of geology by the time your lecture finishes, don't worry. There are some amazing clubs and societies at the university to get yourself some extra practice. 
The geological society runs regular socials such as pub crawls and scavenger hunts (all geology themed of course); the hillwalking club can fill your gap in between field work; and you can give back to the environment with the community BEES. 
On top of these amazing societies there are hundreds more to suit every interest outside of geology. 
10- Geology really is 'a bit of everything' 
On top of it all, geology really is a bit of everything! You get the chance to be active, go outdoors, use computers, work with microscopes, try out experiments, learn about exciting research and so much more. 
If you are looking for a fun, fulfilling degree in a beautiful city with amazing people then look no further, Geology at Edinburgh is the one for you. 
Thanks for reading!
-Alex
Share