Student societies – the best prescription for a healthy social life at university
Student societies – the best prescription for a healthy social life at university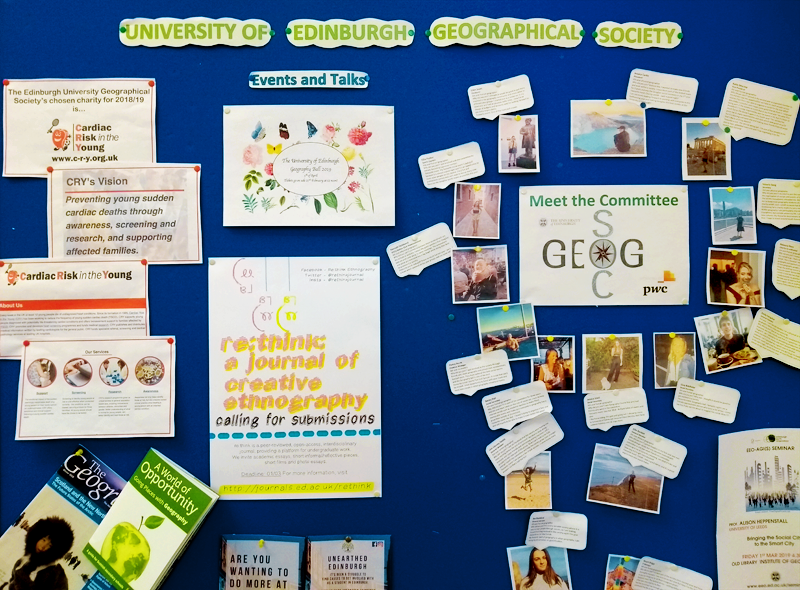 Reading Time:
3
minutes
Of course you're at university to study and learn new things and get a degree. But sometimes, when the working day is done, girls (and boys and non-binary people) just wanna have a social life, amiright? And the great thing about the University of Edinburgh is that with more than 280 student societies, it's easy to find kindred spirits who share your interests!
Below I've compiled a (by no means exhaustive) list of student societies I can recommend from personal experience, but of course taste is subjective and you might have different interests. If you want to find out more about any of these societies, you can find them here: https://www.eusa.ed.ac.uk/activities/societies/.
I'll start with the Geographical and Geological Societies (GeogSoc and GeolSoc) since they are obviously the most relevant to you. Both of them are really good for getting to know that attractive guy who always sits in the row in front of you in lectures your peers – they organise a couple of socials each semester. A notable highlight are the Geography and Geology Balls in spring, but they also host Christmas dinners, offer free entry to RSGS and Hutton Club talks and lectures and have trips away!
I only joined the Sustainable Development Association (SDA) this year, but I wish I'd done it earlier because they're brilliant. They're classed as an academic society, but the members are a colourful mix from different degree programmes, so don't hesitate to join even if you don't study Sustainable Development. Their flagship event is the Sustainability Action Forum, a day of talks and workshops all about the circulating economy which is bound to be super interesting! Additionally, SDA host events like clothes swaps or panel discussions, you can join their working groups on single-use plastic, food, energy, social policy and more, AND the society owns a garden where you can grow your own herbs and vegetables! If you're interested in other societies focusing on sustainability, climate change and Co., check out the Green Hub!
If I'd have to describe the Hearty Squirrel in one word, I'd be 'wholesome'. This society is a co-op run by student volunteers that sells healthy, organic and seasonal vegetable bags that are locally produced at Whitmuir Farm in Edinburgh (these veggies are really the whole deal) as well as bread, eggs and dried goods. You can find their stall on Thursdays at the Gorden Aikmain Lecture Theatre from 11:00 – 17:00. They're always in need of volunteers to keep that stall alive, so if you can spare an hour, it's for a good cause!
The Buchanan Institute is a student-led policy thinktank that teaches you how to put forward your solutions to the problems you think matter. They're super professional – so professional, indeed, that I almost found them intimidating when I first joined. Yours truly is currently part of a group that is aiming to reduce food within university catering, but with topics ranging from 'Marginalised Students in STEM' to 'Sex Ed in Scotland' to 'Artificial Intelligence', there's bound to be something for everything.
For those of you interested in international issues, debating and diplomacy, Edinburgh Model United Nations is the society to join! They host weekly debates on various topical problems the international community faces. It's good practice for public speaking and you'll always be up to date on everything that's wrong with the world! (Plus, their mascot is an adorable plush penguin called Edmund who currently lives in my flat. That's slightly irrelevant but I need you to know that.)
You're less into debating and more into actually doing something? Angry about the many human rights abuses in the world? Consider joining Amnesty International on campus and take part in their letter writing campaigns, protests (the most recent one, for example, was in solidarity with the Stanstead 15) and, of course, more light-hearted socials.
If you're particularly passionate about politics (like I am), most of the UK parties' youth branches are represented on campus. They'll go campaigning, join protests and write letters to MSPs, but also do pub quizzes and other activities, depending on your party. You can
The Female Voice Choir is great if you're into singing but don't want to go through some serious auditioning process. All the girls are super lovely and because it's such a big choir it also sounds amazing.
That's all the societies I have first-hand experience of, but if none of them appeal to you, don't worry, there are also plenty of other societies  postcards, African drumming, ballroom dancing and more!
Cheerio, until my next blog post, Julie
Share