Yarrow Frost Introduction; group 3
Yarrow Frost Introduction; group 3
My name is Yarrow and I am going into second year Performance Costume.  I am doing textiles as my elective course, which will be very useful within my costume making! For the past two years I have been studying a HND at City of Glasgow College, in Applied Arts. Throughout which I found myself always steering my studies in a textiles and costume direction, even when I was doing more fine art style projects.
At the beginning of lockdown I had to move back to my mums, and she had very little room so my work space over the summer was a bell tent in the garden, which was an unusual experience. although very nice, it did start to get a bit cold in the evenings.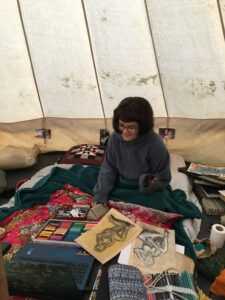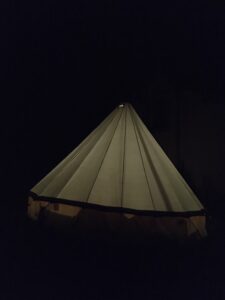 Working from home work-wear confession: One aspect of working from home that I have been enjoying has been the fact that you can wear absolutely anything you like and no one will be judging you. It sounds silly but I love dressing up in crazy outfits and just staying in the house, although some of them are less practical to actually do work in haha.
This is my favourite dress to wear at the moment.
Inspiration: I actually really struggle to pick one favourite artist/designer for inspiration, however I have been really in love with Nick Cave's sound suits recently. I was very excited when there was an exhibition of his work on at the tramway in Glasgow, his installation was even more impressive in person, the sheer scale of his work was mind blowing!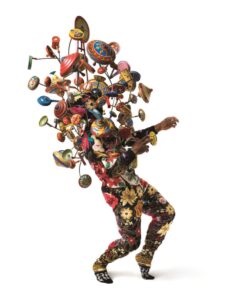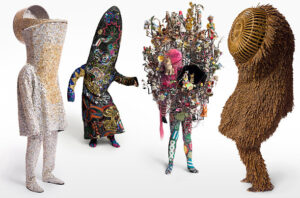 Tactile fear: I'm not sure if I have any real tactile fears although I'm not a big fan of really fluffy plastic/polyester fabrics.
My Workspace: I feel super lucky to have a really cosy little room in a shared flat. Although I don't have much space to work on my desk, I have found a creative solution, by putting a big board on top of my bed I then have essentially a big table to work on!!